In this season of flashy footwear (glass slippers a la Cinderella; Kinky Boots courtesy of Cyndi Lauper and Harvey Fierstein), superstar clout (Tom Hanks, David Hyde Pierce, Sigourney Weaver, Cicely Tyson, Nathan Lane, et al.), and tour de force performances (Holland Taylor as Ann Richards; Bette Midler as Sue Mengers; Fiona Shaw as Mary, mother of Jesus; and Alan Cumming as pretty much everyone in Macbeth), the pressure is on to pick wisely from a blitzkrieg of options. Pedal to the metal my friends: the 67th Annual Tony Awards are just around the corner -- Sunday, June 9th to be exact.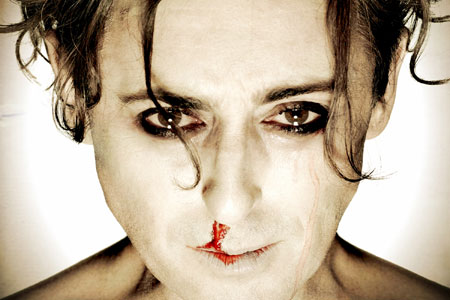 Alan Cumming in Macbeth. Photo: Albert Watson
The good news is that TonyAwards.com, in association with IBM, recently launched a little something called "Spotlight On" to keep Broadway buffs up to date on the current roster of new plays and musicals, as well as those contenders that appeared earlier in the 2012-2013 Broadway season. The program, featuring plot summaries, trivia, cast albums, scripts, production history, downloadable music and links to show websites, is available by logging onto TonyAwards.com and tapping "Nominees."
Moving on to the present galaxy of new shows, here are a trio of personal favorites… so far!


Ann: Holland Taylor is terrific in this solo show with about the former Governor of Texas—big hair and all.
Kinky Boots: Billy Porter diva-ed to the nth; Stark Sands, the nicest nice guy ever; and Annaleigh Ashford singing the socks off her solo shot "The History of Wrong Guys"—in fact, the whole cast is in top production number form.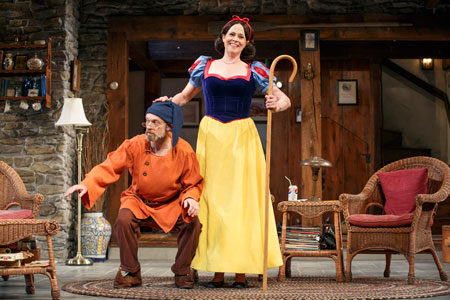 Hyde Pierce and Weaver in Vanya and Sonia... Photo: Carol Rosegg
Vanya and Sonia and Masha and Spike: First-class fun laced with Chekhovian mores. Be on the lookout for a couple of show-stopping monologues, the first from Kristine Nielsen (Sonia), the second from David Hyde Pierce (Vanya) at his most manic.
And now for the Inside Info Portion of the Program…
Of the actors appearing on Broadway this spring, three are Oscar winners: Keith Carradine (Best Original Song, Nashville); Cuba Gooding, Jr. (Best Supporting Actor, Jerry McGuire); and Tom Hanks (Best Actor, Forrest Gump and Philadelphia).
Cady Huffman (The Nance) and Keith Carradine (the recently departed Hands on a Hardbody) were both nominated for Tony Awards when they appeared together in The Will Rogers Follies.
When Jessica Hecht (The Assembled Parties) arrived in L.A. in 1993, she worked as a nanny to George Wendt's (the recently shuttered Breakfast at Tiffany's) children.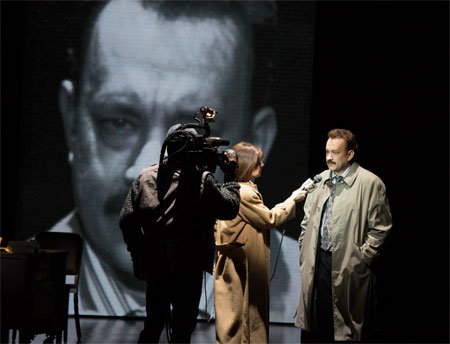 Lucky Guy. Photo: Joan Marcus
Lucky Guy reunites Tom Hanks and his Bosom Buddies costar Peter Scolari. Also among the cast members of the classic sitcom? Holland Taylor (Ann).
Andrea Martin (Pippin) appeared in the 1993 TV version of Gypsy starring Bette Midler (I'll Eat You Last: A Chat with Sue Mengers), the latter starring as Mama Rose.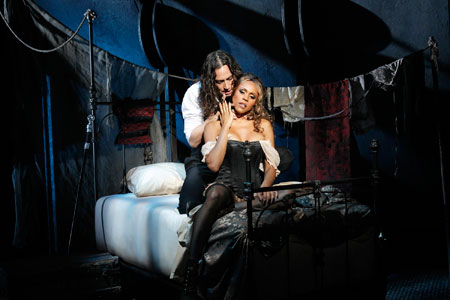 Maroulis and Deborah Cox in Jekyll & Hyde. Photo: Chris Bennion
Constantine Maroulis, currently playing the lead in the revival of Jekyll & Hyde, is reprising the dual role of good scientist/crazed villain originated by Robert Cuccioli, currently starring as good scientist/crazed villain Norman Osborn/the Green Goblin in Spider-Man, Turn Off the Dark.
Kinky Boots star Billy Porter won Best Male Vocalist on TV's Star Search, reality TV's precursor to American Idol and, presumably, whatever talent hunts lurk in our viewing futures.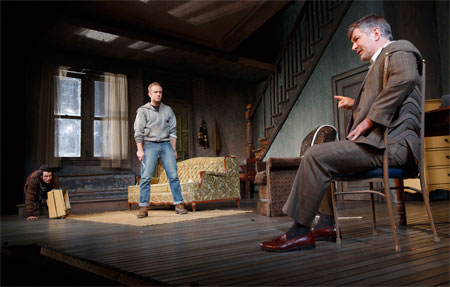 Tom Sturridge, Ben Foster, and Baldwin in Orphans. Photo: Joan Marcus
Alec Baldwin (Orphans) once worked as a busboy at the iconic disco Studio 54 before it was transformed into a Broadway house by Roundabout Theatre Company for its first production: Cabaret with Alan Cumming (Macbeth) as the Emcee. Oh yes, Cumming took home a Tony for the role.