Broadway's Sparkling Brush with Royalty - Priscilla Queen of the Desert
May 1, 2012 - by Elliott Richards
Priscilla Queen of the Desert surprises you. The year-plus-old musical at the Palace Theatre is about a three drag performers traversing the Australian outback in a bus. It moves to a rousing pop/disco score and sports Broadway's most outrageous costumes. Yet, more than anything, it is a poignant show about family and fatherhood.
"Our secret weapon is that most people come to the show with low expectations," says Tony Sheldon, who earned a Tony nomination playing Bernadette, the classy transsexual/semi-retired drag icon who joins the road trip to allay her grief following the loss of her young lover. "I think people don't know what they're in for, and somewhere among the feathers, frippery and silliness of the show, people are caught off-guard by the heart of it: the story of people creating a family."
Like the 1994 film it is based on (The Adventures of Priscilla Queen of the Desert), this effervescent jukebox musical, orchestrated by director Simon Phillips, follows Bernadette, Tick (Will Swenson, whose drag stage name is Mitzi) and Adam (Nick Adams, aka Felicia) as they journey from Sydney to Alice Springs to perform in a distant at a casino owned by Tick's estranged wife, Marion (Julie Reiber). It's Marion who orchestrates the trip so that Tick can reunite with their young son.
Sheldon, Swenson (a Tony nominee for Hair), and Adams (a former La Cage Cagelle) create a memorable trio. Sheldon plays the wise, gravelly voiced mentor (with touches of Rosalind Russell, Greer Garson and "Carlotta," the real Aussie drag queen upon whom Bernadette is based). Swenson's Tick/Mitzi is torn between his drag stardom and settling down to become a dad, while Adams portrays the young, buff, hyperkinetic up-and-comer in the drag arena.
Priscilla (the name of the bus, if you're new to the storyline) is a conspiracy of camp with a score designed to push theatergoers' favorite retro buttons ("I Will Survive," "MacArthur Park," "Material Girl," etc.), and a triad of singing divas (women!) who are lowered onto the stage from above to bring an additional dose of over-the-top spice -- and big hair -- to a show borne of glam garb and bewigged zest.
"Backstage is utter chaos," says Sheldon. "The Palace has no wing space and you walk offstage and crash into a brick wall. And here are all our enormous costumes, like the cupcakes." (Yes, a chorus line of oversized cupcakes.) "It's probably as complicated a show offstage as it is onstage, and sometimes you have four or five dressers at a time."
Notably, Priscilla is Sheldon's Broadway debut after decades of performing entirely in Australia. "I was doing Roger DeBris in The Producers, so maybe it was the dress I was wearing that put me in Simon Phillips's mind. I very nearly turned it down because two roles back-to-back in a frock is not an advisable career move," he says.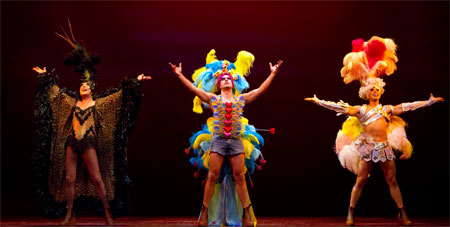 Yet, after taking part in the workshop of Priscilla, Sheldon badly wanted to be Bernadette. Still, he had a knuckle-biting wait before the call came telling him he had the role.
At his first wardrobe fitting, he was asked to don the same dresses Terence Stamp wore in the film. "But he's built like a pencil and I'm a bit rounder," Sheldon recalled. "I looked ludicrous, so Lizzy Gardiner [one of the show's two costume designers, who won a Tony for their work] said, 'Honey, I'm going to turn you into Rita Hayworth.'"
The new fashions fit him fine, but over-padding "made me look like Jayne Mansfield. People laughed whenever I got onstage so I told Simon, 'I demand a breast reduction!'"
Sheldon, who looks upon Bernadette as his Mame (or Dolly), offers the following bit of practical advice for men (and women) wearing high heels: stretch your calves and take magnesium tablets. "I still wake up at night with leg cramps," he says.
According to the veteran actor, the strongest reactions to Priscilla come from young women. "Some fly from around the world to see the show," Sheldon says. "Some see it four or five times a week. Some women in London have come hundreds of times and baked cakes," he continues, adding that the demographics are not what one might think. "We don't get many drag queens. It's not a gay audience; it's couples and grandmothers and women coming in groups…wearing feather boas."

Priscilla is playing at the Palace Theatre, 1554 Broadway btw. 46th & 47th Sts. For tickets, call 877-250-2929 or click here.
Looking for Free Group Planning Services?
Get free advice on planning your group's trip to New York.
RESTAURANTS

Conveniently located in the Port Authority Bus Terminal, the...

THEATER

Kander and Ebb's "musical vaudeville" in which Roxie Hart ga...

SHOPPING

Specializing in the great vineyards of California, France, A...

SIGHTSEEING

Manhattan's premier all-glass, European-inspired dining crui...