These Are the Drones You're Looking For: Celebrating Pilotless Flight at Intrepid
May 11, 2017 - by Linda Sheridan
Drones: Is the Sky the Limit?, now open at the Intrepid Sea, Air, & Space Museum, is the first ever major museum exhibition in the United States to explore the ever-growing industry of pilotless aircraft, or unmanned aerial vehicles (UAVs). The exhibit includes a large display of drones, photos, a theater showing a beautiful drone video compilation, kiosks with film clips, an interactive station where visitors can read drone news in real time, and even a cage where kids can try their hand flying mini drones. It's all housed in a large custom pavilion on the museum's Pier 86.
Drones' Military Origins
The first section of the exhibit explores the origins of drones, which date back as early as 1860 in the form of balloons. British actor Reginald Denny, who also had a penchant for model planes and was an airman during WWI, opened the Denny Hobby Shop in Hollywood, CA, in 1935, explained Curator Eric Boehm. In 1939 he created a drone, the Radioplane OQ-2, used for target practice during WWII. In a surprising bit of trivia, Boehm noted, a 16-year-old Norma Jean Baker (better known as Marilyn Monroe) worked at the Radioplane Company, assembling target drones.
Boeing Insitu ScanEagle
The origins section explores models of military-based drones, including the Boeing Insitu ScanEagle, developed in 2002 to gather weather data—initially used by fishermen to locate schools of fish. "It can be catapulted off land or the side of ship and is simply told to come home," says Boehm. There's also the compact Israeli Cormorant, which transports supplies in combat zones, and the Dragon Eye, a small recon drone developed by the Marines. It weighs just six pounds and can fit into a backpack (it played a key role in the rescue of Capt. Richard Phillips by US Navy SEALS during the 2009 hijacking of the Maersk Alabama by Somali pirates).
Medical/Humanitarian/Weather Drones
In 2016, Zipline developed a drone that could travel 62 mph and deliver medical supplies to hospitals in Rwanda and other countries lacking in infrastructure. Hoverfly is a drone used by firemen to get aerial footage of fires. Farmers also rely more and more on drones to manage their fields and problem solve. In addition to the Boeing Insitu ScanEagle, the Coyote Drone can assess hurricanes at 400 feet, and is capable of traveling in 175 mph winds.
Drones in the Arts
The Volantis, the first ever flying drone dress; design by Lady Gaga with TechHaus. It can fly three feet in the air.
One of the greatest features of the exhibit is the battery-operated Volantis, the world's first-ever drone dress, which can fly three feet above the ground. It was designed in 2013 by Lady Gaga in collaboration with TechHaus. Drones have also been used in Cirque du Soliel's Sparked show.
Drones at your doorstep, dropping off supplies a la Hunger Games? Thanks to Amazon, that will soon be a reality. Still in development (and still in need of legal clearance) is the Amazon Prime Air drone, which can deliver up to 5 pounds of goods.
Drones in the News
The exhibit includes an interactive station, created by the team of Arthur Holland Michel and Dan Getteinger from the Center for the Study of the Drone at Bard College, where visitors can read drone news in real time.
Drones and the Future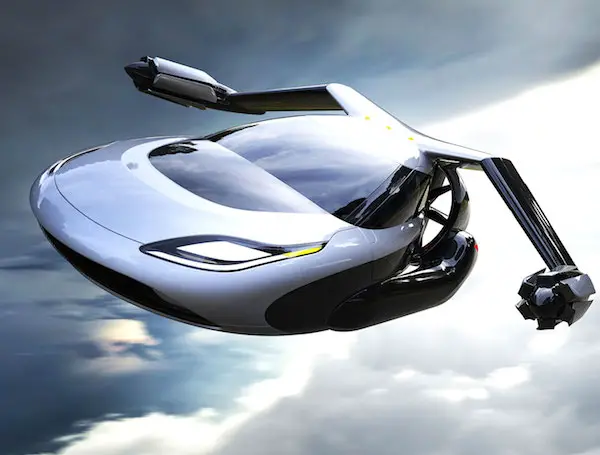 Scenarios such as the flying taxi driven by Bruce Willis in The Fifth Element aren't that far-fetched anymore. The Massachussetts-based company Terrafugia is working on the TF-X, a pilotless drone car. Also on display at the Intrepid Museum is a NASA prototype of a Mars flier drone that could be used to explore other planets. (Before the Earth versions take to the sky, air space rules and regulations, which vary all over the world, will need to be considered.)
Several years in the making, the Drones exhibit is the brainchild of Eric Boehm, Curator of Aviation and Aircraft Restoration at Intrepid, co-curated with Dr. Mary L. "Missy" Cummings and Dr. Alexander J. Stimpson, of Duke University and Autonometrics, LLC. Cummings was one of the Navy's first female fighter pilots, serving with the Navy from 1988 to 1999. "This exhibit truly captures our new transformative golden age of aviation, and will leave visitors amazed and excited by the future of autonomous flight," says Cummings. Throughout the duration of the exhibit, a variety of talks and special events will be held at the museum.

Drones: Is the Sky the Limit? will be open through Dec. 3. The exhibit is free with admission. City Guide readers can take advantage of an exclusive coupon here, providing $5 off your Intrepid visit. For more information, visit intrepidmuseum.org.
Looking for Free Group Planning Services?
Get free advice on planning your group's trip to New York.
RESTAURANTS

Multi-concept restaurant offering modern Japanese cuisine, a...

THEATER

In a heartbeat, 38 planes with 6,579 passengers were strand...

SHOPPING

An array of quality branded merchandise showcasing HBO's® aw...

SIGHTSEEING

In addition to 360-degree views from Midtown Manhattan, the ...