Phillip Boykin of the Tony-Winning Musical Revival, The Gershwin's Porgy & Bess
July 25, 2012 - by Elliott Richards
There is murder, music, dancing, joy, fear, gambling, racism, religion, and poverty on Catfish Row, the main setting of The Gershwins' Porgy and Bess at Broadway's Richard Rodgers Theatre. There is also one of musical history's most emotional love triangles.
Bess (Audra McDonald) enters the musical as the debauched girlfriend of Crown (Phillip Boykin), a hulking stevedore with brute strength and malevolent charisma. But when Crown flees from a crime, Bess finds refuge with Porgy (Norm Lewis), a crippled beggar with deep wells of dignity that tempt Bess toward a better life.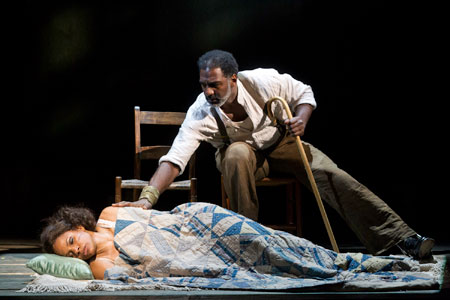 McDonald, Boykin, Lewis, and David Alan Grier (Sportin' Life) lead a magnificent cast that not only infuses 1930s Catfish Row with life, but helped to bring the show two Tony Awards: for best musical revival and best lead actress in a musical.
The awards were no surprise. McDonald, one of Broadway's most powerful performers, now has five Tonys. And the show's pedigree is impeccable, adapted by playwright Suzan-Lori Parks and director Diane Paulus from the groundbreaking 1935 opera with music by George Gershwin, lyrics by Ira Gershwin and DuBose Heyward, and libretto by Heyward.
The show's iconic score is filled with songs as well known as those of any musical written for the stage: "Summertime," "Bess, You Is My Woman Now," and "It Ain't Necessarily So."
Having played Crown and other characters in several productions of Porgy and Bess since the 1990s, Boykin has a singular perspective on the show. Contrasting the current, shortened Broadway musical adaption with the original, Boykin notes: "Both versions are wonderful but they're apples and oranges. What Diane and Suzan-Lori have done is to highlight the love story between Porgy and Bess."
Boykin, who was nominated for a Tony for his portrayal—his Broadway debut, no less—speaks rapturously about McDonald. "She's absolutely brilliant—the voice, the acting. Everything has a purpose," he says. "If it's not real, you won't see it on the stage. When I grab her, she really wants me to grab her. When I hit her, she wants it to be real."
He is nearly as awestruck by Lewis. "There are things I see him do that I've never seen in a Porgy," he says. "I've never seen such depth in Porgy's character."
As for Grier, Boykin says, "I'd tell him, 'Man, you can sing this with any opera company.' Usually, Sportin' Life dances and spins around in flashy clothes and is maybe a little more in touch with his feminine side. But Grier plays him as a pimp, drug dealer, and hustler trying to survive."
Boykin was inspired to think big about his future while growing up in Greenville, S.C., listening to an album of the opera featuring Leontyne Price and William Warfield singing the title roles. "I saw the album cover and said, 'Whoo! If they can do that, if these beautiful African-Americans can make a recording, I can identify with that." Years later, when Warfield became a mentor, he autographed the cover for Boykin.
Growing up, the young singer had an intensely personal reason to succeed professionally: his mother. "She battled with asthma, and I'd tell her, 'I'm going to be a star and make so much money I can have you hire a personal nurse and get the best medical treatments,'" he recalls. "I'd look in her eyes and I'd see her smile when I said, 'I'm going to sing with an orchestra in Europe.'" But she would only venture out once before her death to watch him perform, fearing that she would embarrass him if she had a bad asthma attack.
"Crown, I believe, is a person who may have seen some real bad trauma in his life as a young boy, and something made him angry with the world," Boykin concludes, adding, "I based him on a guy I grew up around. He would fight for you or fight you; you never knew which one you got. Add alcohol and he'd fight anybody."
Still, to assure the audience that he is not a menace in real life, Boykin's curtain call is usually a baleful stare at those who've just booed him, followed by a dainty curtsy.
The Gershwin's Porgy and Bess is playing at the Richard Rodgers Theatre, 226 W. 46th St. For tickets, call 800-745-3000 or click here.
Looking for Free Group Planning Services?
Get free advice on planning your group's trip to New York.
RESTAURANTS

Burke's dual-concept restaurant opened in 2005 and spans the...

THEATER

Beloved diva Bette Midler and Tony winner David Hyde Pierce ...

SHOPPING

Find the right gear for your workout. ...

SIGHTSEEING

Sweeping, unobstructed, open-air views of NYC from the top o...