Election Year Heats Up for Gore Vidal's The Best Man and Its Slate of New Stars
August 1, 2012 - by Griffin Miller, Theatre Editor
Gore Vidal passed away at his home on July 31, 2012. Click here to read more about his work and his life.
Towards the end of Act I in the current revival of Gore Vidal's The Best Man, James Earl Jones, as former President Arthur Hockstader, unleashes his bold face baritone on the line, "I tell you there is nothin' like a dirty, low-down political fight to put the roses in your cheeks."
On stage it's Philadelphia, 1960; in the audience it's New York City, 2012. But whether you're a post-Eisenhower politico in a fictional hotel suite gearing up for a presidential convention or a 21st-century voter dealing with increasing "vote for me, not him" ads on TV, the subtext is clear: "dirty, low-down" doesn't even graze the epidermis of campaign machinations. No matter how much he's come to relish his own biscuits-and-gravy rhetoric, deep down Hockstader knows he's the coveted cog in an electoral machine programmed to determine which of two candidates will make it to the November ballot. No wonder he's upbeat: power is fun.
That said, an intriguing, somewhat unprecedented casting situation recently took place at the Schoenfeld Theatre that cannot help but impact Hockstader's penchant for chucking curveballs at the status quo: four of the original celebrities recruited for the show -- including Eric McCormack, who played Presidential hopeful Senator Joseph Cantwell, and Kerry Butler, as his wife Mabel -- have left the show, replaced by a quartet of equally high-profile stars.
McCormack's role has been assumed by John Stamos (last seen on Broadway in Bye Bye Birdie) while Mabel is now played by Kristin Davis, best known as Charlotte in all things Sex and the City. And while Tony winner John Larroquette (How to Succeed in Business Without Really Trying) will continue on as Cantwell's key adversary Secretary William Russell, his wife Alice (formerly Candice Bergen) is now Cybill Shepherd.
Even more intriguing, Elizabeth Ashley—who played Women's Division Chairman Sue-Ellen Gamadge in the 2000 revival—has taken over for Angela Lansbury, while Mark Blum, who played Russell's campaign Manager Dick Jensen in 2000, returned to his role earlier this season after Michael McKean had to drop out of the show after being struck by a car on Manhattan's Upper West Side. (FYI: Thankfully, McKean is going to be fine, but will not be returning to the production.)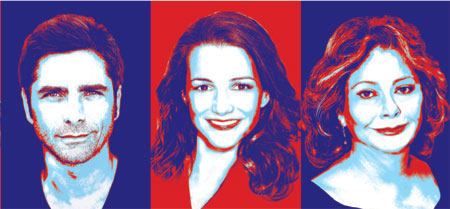 Tony-winning actor Jefferson Mays (I Am My Own Wife), who plays Sheldon Marcus—a hand-picked pawn in the back-and-forth blackmail game that propels the storyline—calls the infusion of new actors in the middle of the run (the production's limited run ends on September 9) "a gift."
"For those of us who have been with the production since the beginning, it's a collective rediscovery of the play," he says, adding that the arrival of Stamos, Davis, Shepherd, and Ashley not only keeps the cast on its toes by providing a layer of extra drama for everyone, but their varied take on the characters "really gets our adrenaline pumping during performances."
For anyone who has worked with director Michael Wilson, this comes as no surprise since he has a reputation for encouraging actors to follow their impulses. "They definitely bring something quite new to the undertaking," says Mays, whose two-scene role allows him the actorly indulgence of observing the action onstage from the wings.
As for the timeliness of Mr. Vidal's script, rich with verbal nods to Oliver Cromwell, WWII, and Bertrand Russell, any question of whether or not it still holds up in our front page/internet world of Barack Obama, Afghanistan, and Mitt Romney is rendered moot by the enduring hot-button topics of promiscuity, homophobia, infidelity, and religion.
Concludes Mays, "Whenever I talk to people from the audience after the show, almost all of them say they came in expecting political nostalgia from the 1960s and walked out taken aback by the present-day parallels."
Gore Vidal's The Best Man is playing at the Schoenfeld Theatre, 236 W. 45th St. For tickets, call 212-239-6200 or click here.
Looking for Free Group Planning Services?
Get free advice on planning your group's trip to New York.
RESTAURANTS

Conveniently located in the Port Authority Bus Terminal, the...

THEATER

Kander and Ebb's "musical vaudeville" in which Roxie Hart ga...

SHOPPING

Specializing in the great vineyards of California, France, A...

SIGHTSEEING

Manhattan's premier all-glass, European-inspired dining crui...