Stepping into a role immortalized on celluloid 65 years ago by Hollywood icon Leslie Caron has to be all kinds of daunting, particularly if it includes stepping out of your ballerina comfort zone into the Broadway spotlight where the skill pool includes singing and acting. Yet for over a year and a half (more if you count the show's Paris previews), 2015 Tony nominee Leanne Cope has been embracing the challenge in An American in Paris. And she has no desire to return to the restrictive world of classic ballet.
"I don't miss ballet at all. I can't imagine going back and being silent and not being able to make my own choices," she says. "With ballet you have to achieve technical skill but with acting I get to ask questions. Doing this show I feel I've been set free."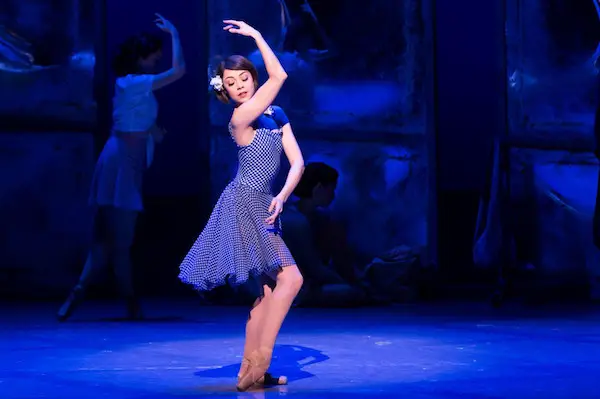 photo: Matthew Murphy
Cope, a native of the English town of Bath, began her professional dance training at London's Royal Ballet School when she was 11. It was in 2014, while dancing Swan Lake, that she caught the eye of An American in Paris's director/choreographer Christopher Wheeldon. On the lookout for a triple-threat performer to play the show's female lead, Wheeldon heard that Cope could sing. A man on a mission, he arranged a unique audition. Wearing her warm clothes, Cope stood in a dressing room shower (location, location, acoustics!) and sang "The Man I Love"—a winsome solo ballad from the show's Act I.
Once cast, Cope began her vocal training in earnest. "But I still don't feel that comfortable singing—I find it very scary," she says.
Audiences and critics, however, love everything about her performance as Lise Dassin, the elusive Parisian shopgirl/dancer that GI Jerry Mulligan (Dimitri Kleioris, from the Royal New Zealand Ballet) falls for at the end of WWII.
Wheeldon's romantic dance numbers, choreographic masterpieces in which Lise and Jerry surrender to the to the moment, have a life of their own -- from the effusive playfulness of "Liza" to the heart-stopping passion of "An American in Paris," with each one juxtaposed against the shimmering backdrop of George and Ira Gershwin's haunting score, designer Bob Crowley's lush sets and costumes, an homage to once-upon-a-time Paris.
"Dance is something you're constantly working on...and never completely satisfied with, even if it's something small, like my finger needs to be a certain way," says Cope, who designates certain days for working on a specific thing. "For instance I might want to concentrate on my turn-out on Wednesday and my alignment on Thursday. I'm always looking for challenges. I think if one is ever satisfied, that's when it's time to give up."
Another aspect of the dancing that's kept things fresh for Cope has been her four leading men over the course of the run: a small revolving door, but an interesting one. "New partners bring different things, and it takes time to find the moments," explains Cope. "No words can show what we're feeling at any given time, but there's something wonderful about working with new partners; discovering emotions I hadn't felt before."
As it happens, come next year, Cope will be reuniting with her original costar (New York City Ballet principal Robert Fairchild) when An American in Paris transfers to London. (It closes in New York on October 9th, with the London opening slated for March.)
And while Cope admits she'll miss Broadway, she's also pleased that her parents and grandparents will now be able to see her breakthrough performance. "They've all seen me in ballet, but it will really be something for them to see me sing. I do look forward to that.
An American in Paris is playing at the Palace Theatre, 1564 Broadway at 47th St. For tickets call 877-250-2929 or visit americaninparisonbroadway.com.