LOOT: MAD About Jewelry Opens at Museum of Arts and Design
April 4, 2017 - by Linda Sheridan
Gilded silver. Repurposed skateboard. Paper. Enamel. Aluminum. Driftwood. Pearls. You'll find the most unique pieces of jewelry, and personally get to meet the artists that make them, at the Museum of Arts and Design's 17th annual pop up LOOT: Mad About Jewelry, an exhibit/shopping event running April 4th through 8th.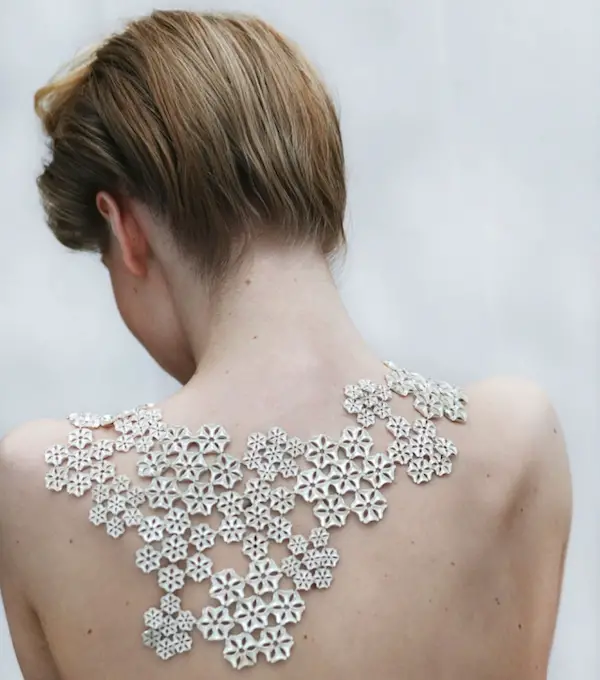 Inspired by nature, Icelandic jewelry artist Guðbjörg Ingvarsdóttir is the founder of store Aurum, in Reykjavik.
LOOT showcases wearable art pieces designed by some 54 artist-jewelers from 21 countries around the world, including the US, UK, Spain, Italy, Israel, Germany, Australia, Korea, Iceland, France, and others. For many, it's their first time showing their work in New York.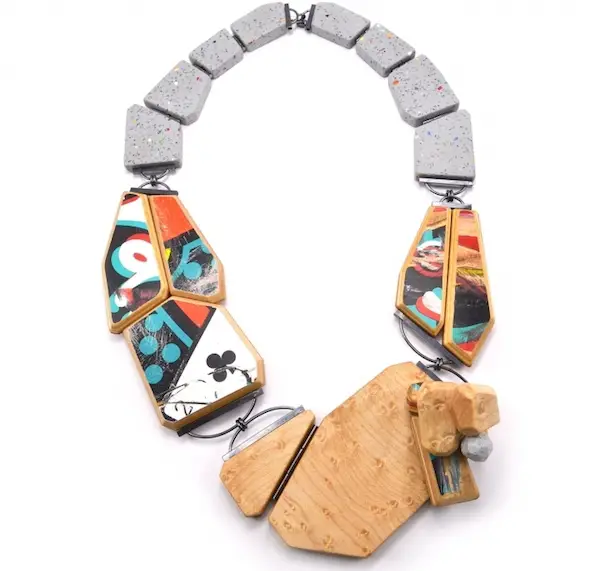 Inspired by urban landscapes, Tara Locklear's Foundation Hinge necklace is made with repurposed skateboard, sterling silver, and stainless steel.
"MAD and LOOT celebrate not only the work of the artists, but also the artists themselves," say LOOT Curator Bryna Pomp. "The artists love to discuss their jewelry with LOOT visitors and to meet their international colleagues. In this way, MAD fulfills its mission not only to the public but to the artists."
A necklace by Korean artist Sowon Joo. She uses her pieces to create fairytales for grownups.
The Museum of Arts and Design is the only American museum with a gallery dedicated to the display of both contemporary jewelry exhibits and its own collection of contemporary and modern studio and art jewelry. The exhibit is sponsored by jeweler Paolo Costagli.
Brooklyn based artist and recent Pratt Institute graduate Andrea Rosales-Balcarcel, inspired by NYC cityscapes, uses watercolors to document scenes in her pieces.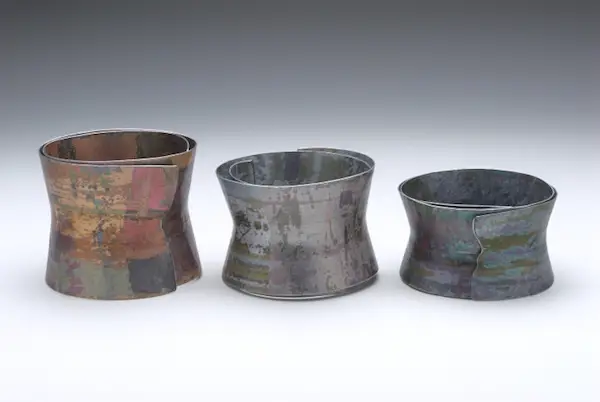 UK artist Jane Adam creates bracelets from dyed anodized aluminum.
French artist Marianne Batlle uses glass beads to make one-of-a-kind pins of famous personalities. Here, Barack Obama.
LOOT Exhibit Hours
Tues, April 4 10am-7pm
Wed, April 5 10am-8pm
Thurs, April 6 10am-9pm
Fri, April 7 10am-6pm
Sat, April 8 10am-6pm
Entrance to the LOOT is free with museum admission. For more information, visit madmuseum.org.
Looking for Free Group Planning Services?
Get free advice on planning your group's trip to New York.
RESTAURANTS

Brings together the character of Hell's Kitchen past with th...

THEATER

Gaston Leroux's famous period thriller is now one of Broadwa...

SHOPPING

Specializing in the great vineyards of California, France, A...

SIGHTSEEING

Opened to the public in 1913 thanks to the ingenuity and amb...