From Monet's famed "Water Lilies" to Van Gogh's "Starry Night," it's no wonder the Museum of Modern Art (MoMA)'s collections are some of the most renowned in the world. But the museum's temporary exhibitions are often worth a trip in themselves, and with displays for spring 2016 that focus on Edgar Degas, Jackson Pollock, and World War II, visitors to MoMA will find plenty to enjoy.
Jackson Pollack, Untitled, 1950
Jackson Pollock: A Collection Survey, 1934-1954 runs from now through March 13, showcasing the work of the famed abstract painter. The exhibition features art from throughout Pollock's career, including both his most famous masterpieces and rarely seen lithographs, drawings, and engravings.
Running through March 20 is Soldier, Spectre, Shaman: The Figure and the Second World War, an exhibition that features artistic responses to World War II from over 30 artists from around the world. The selection includes works in a variety of artistic mediums, but all are focused on the human figure. For something a bit more current, museumgoers can visit Scenes for a New Heritage: Contemporary Art from the Collection (now-April 10), a reinstallation of the museum's Contemporary Galleries featuring works by international artists created over the past 30 years. The collection seeks to explore the various political, social, and cultural movements that have shaped our current global landscape.
Also on view this spring will be a slate of new exhibitions that are sure to excite. Occupying the museum's Special Exhibitions Gallery will be Edgar Degas: A Strange New Beauty (March 26-July 24) and Marcel Broodthaers: A Retrospective (February 14-May 15). Degas is primarily known for his stunning Impressionist paintings of dancers, but this new exhibition will highlight his rarely seen monotype prints, which depict a variety of subjects in modern and daring ways. The Broodthaers exhibition, meanwhile, will focus on the career and trajectory of the influential Belgian artist, whose career began in poetry before moving on to depict language through visual arts. Broodthaers also operated the traveling museum Musée d'Art Moderne, Département des Aigles from 1968-1972, which focused on the function of art in society, and created immersive, large-scale displays in the final years of his life. The exhibition is the first retrospective of Broodthaers's work organized in New York, and will tour to Madrid and Dusseldorf following its MoMA run.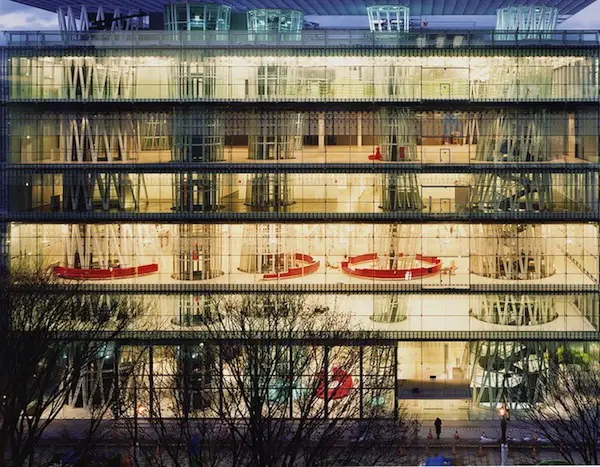 Toyo Ito. Sendai Mediatheque, Miyagi, Japan. 1995–2001. © Naoya Hatakeyama
MoMA visitors this spring will also be able to discover the art and design of several Asian artists and architects. Running from March 13–July 4 is A Japanese Constellation: Toyo Ito, SANAA, and Beyond, which focuses on the career and influence of award-winning Japanese architect Toyo Ito and Japanese architecture firm SANAA. The exhibition will explore Ito's career and influence on a new generation of Japanese architects, demonstrating the innovation and global impact of Japanese architecture from the 1990s to the present. On display from April to August will be the first solo show in the United States of work by Beijing-based artist Cao Fei, a young artist who creates multimedia pieces that explore the young Chinese generation and how they overcome and escape China's rapid societal changes.
Of course, MoMA is renowned not only for its visual art collections, but also for its excellent film screenings. This spring's screenings will include the first complete retrospective of the films of French filmmakers Jean-Marie Straub and Daniele Huillet, who created political films that dared to critique and subvert conventional cinematic tropes and techniques. The series will tour to venues across the U.S. and Canada following its MoMA debut, which will run from May 6 through early June.
For more information about MoMA and its exhibitions, visit moma.org.