This February, the China Institute unveils an exciting new exhibition called Art of the Mountain: Through the Chinese Photographer's Lens, running from February 8 to December 2, 2018. Featuring over 60 photographs from a range of modern Chinese photographers, this exhibition will allow visitors to consider the role of mountains in China's geography, history, art, and philosophy.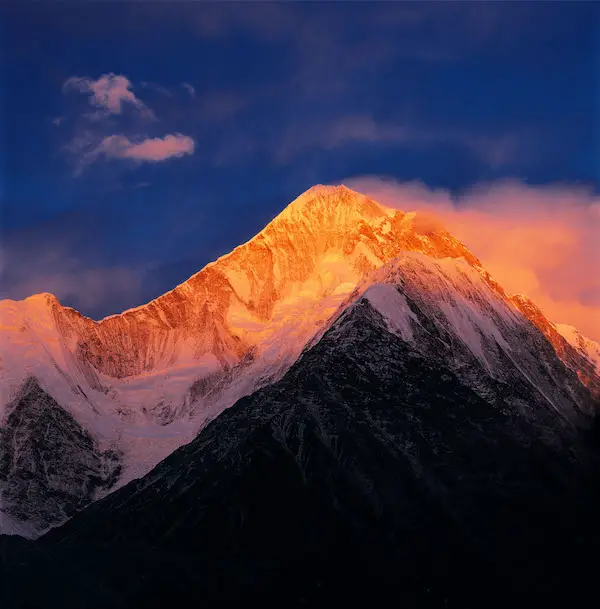 Zhang Anlu
The photographs come from renowned modern names like Taca Sui, Wang Wusheng, Zhang Anlu, and Yang Yongliang, taken in the modern era, between 1990 and 2017. The China Institute Gallery has divided the work of over 20 artists under three subheadings.


The first section, "Lofty Mountains Revered in History," surveys photographs taken of China's famous mountain ranges and peaks, and the selection orients visitors to views of mountains throughout Chinese history and culture. Viewers can expect to see photographs by Kang Songbai, Kang Liang, and Hou Heliang. Heliang is known for photographs of mountain ranges in the Shandong province, taken from the air to better document man-made environmental changes in the region.
This segment of the exhibition will also feature work by Wang Jing, a prodigious mountain climber who has reached the Seven Summits, which are the highest peaks in every continent on the globe and include Mount Everest. She also holds the women's world record for the Explorers Grand Slam, which requires not only scaling the Seven Summits but also hiking the North and South Poles. As if these credentials aren't impressive enough, she's also a celebrated photographer!
Zhang Jiaxuan, Flower out of a dream brush.

The second section, "Landscape Aesthetics in Photography" will focus on the work of one photographer, Wang Wusheng. Wusheng has built a career out of his mystical black-and-white photographs of Mount Huangshan in Anhui province. The 72 peaks of this mountain, surrounded by fog and dotted will small brush and trees, evoke "inner worlds," according to Wusheng, and seem drawn out of dreams. His representations of the mountain also recall ancient Chinese landscape painting, bringing the art history of China to the fore through the work of one master photographer.
Li Xueliang
Finally, the exhibition explores the most recent approaches to mountain photography in China in the third section, "New Landscape Photography."
This portion will feature photography by Taca Sui, who has also shown his work at the Metropolitan Museum of Art in New York. His quiet black-and-white photographs of mountain peaks decked with animals, plants, or small flames evoke ancient Chinese poetry from The Book of Odes.
Yao Lu's photographs are deceptive images of mountains and in fact resemble paintings at first glance. His images represent Chinese landscapes under construction, and the mountains represented are often covered with bright green netting. On top of these photographs, Lu superimposes images from Chinese painting like clouds, trees, and pagodas, in order to contrast the untouched ancient landscapes with the constant new builds in China today.
Three curators partnered to obtain and present these photographs: Jerome Silbergeld, Princeton University's emeritus professor of Chinese Art and Archeology; photographer and critic Jiang Rong; and Willow Weilan Hai, the Director of the China Institute Gallery and the exhibition's chief curator.

Yang Yongliang, Peach Blossom Colony.
Through these thoughtful representations of Chinese mountains, viewers can consider the mountain as a pillar for the sky (a common image in ancient Chinese folklore), mountain as cradle of life, mountain as escape, and mountain as ecstasy.
"The search for eternal happiness, a happiness of spirit that reflects harmony, where nature heals all, is an essential part of Chinese culture," says Hai. "Chinese artists are employing photography to depict nature—and man's complicated relationship with it—often derived from Chinese philosophy about the natural world."
The China Institute Gallery, founded in 1966, is an offshoot of the China Institute, which was itself founded in 1926. The Institute, and the Gallery along with it, seeks to celebrate Chinese culture and educate visitors through scholarly activities, art exhibitions, special programming, and more. The China Institute moved downtown to the Financial District in late 2016. This is the first contemporary art exhibition at the new facilities.
China Institute Gallery is located at 100 Washington St., with a temporary entrance at 40 Rector St. Visit the Gallery Monday through Saturday. Call 212-744-8181 or visit chinainstitute.org.