The Museum of the City of New York welcomes its new permanent multimedia exhibit, New York at Its Core, the first-ever museum show of its kind—exclusively dedicated to 400 years of NYC's rich history. The exhibit, opening November 18th, is the culmination of a 10-year project (it included a $100 million renovation of the entire museum) that will find both visitors from around the world as well as lifelong New Yorkers coming to learn more. As NYC Council Member Dan Garodnick put it during the ribbon-cutting ceremony, "This museum is the holy grail for understanding this city."
Photo: Filip Wolak, courtesy MCNY. New York at Its Core, in the gallery, World City, 1898-2012.


Focusing on recurring themes of money, density, diversity, and creativity, New York at Its Core takes up three sprawling galleries on the first floor, making use of artifacts, photos, and smartly designed video installations. The first gallery, Mapping NYC 1609-1898, examines when Dutch settlers first arrived at Flushing Meadows (Queens) in 1609, moving on to the city in the Revolutionary War, Alexander Hamilton's establishment of the first Bank of New York, the first New York newspaper, the birth of labor unions, and the steady influx of immigrants that shaped Manhattan's Lower East Side.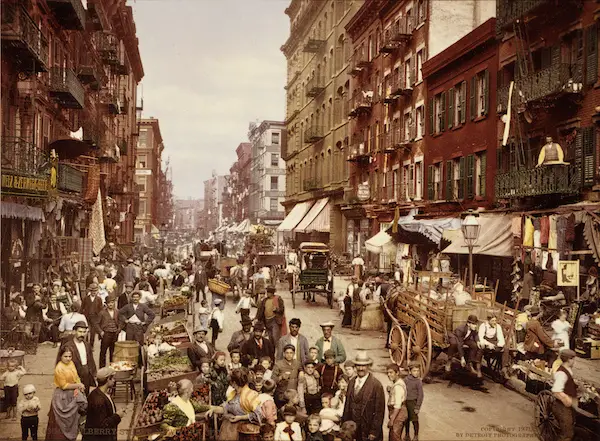 Mulberry Street, 1900. Photograph by Detroit Publishing Co., Library of Congress Prints and Photographs Division
The second section, The World's City 1898-2012, offers a breakdown by decade of the city's evolution, from the formation of boroughs through The Great Depression and Mayor Fiorello LaGuardia's bold experimentation, and on to the rise of Broadway, disco, hip hop and NYC's burgeoning nightlife in the '80s, all the way through the devastation of 9/11 and 2012's Hurricane Sandy.
Photo: Linda Sheridan
The third and final section, Future City Lab, slows things down a bit, creating a space for reflection and dialogue. At a station called "What If," paper and pencils are out for visitors to write questions, or offer solutions on papers marked "Then." In another section, visitors can dust off their city planning skills at the "Design a Street" station, choosing from varied New York neighborhoods across four boroughs: Bed-Stuyvesant, Fordham Heights, Jackson Heights, or Midtown Manhattan. At the end of the exercise they'll get results on the practicality of their plan, which is shown on a giant screen display for the whole room to see. There's a "Design a Park" station, too.
The opening of New York at Its Core will feature a kick-off celebration like no other, Gotham Groove, 32 Hours of Nonstop NYC. The 32-hour weekend festival begins Saturday, November 19th at 10am, and will continue through Sunday, November 20th at 6pm, with morning yoga, a Broadway showcase of songs from Hamilton, Hair, Guys and Dolls, and On the Town, a silent disco, performances by NYC's best a capella groups, a presentation of Walt Whitman's New York-themed poetry, an overnight marathon of classic NYC films, gospel music, scavenger hunts, a trivia competition, and much more. Admission to the exhibit will be FREE all weekend. To participate, register at mcny.org/gothamgroove.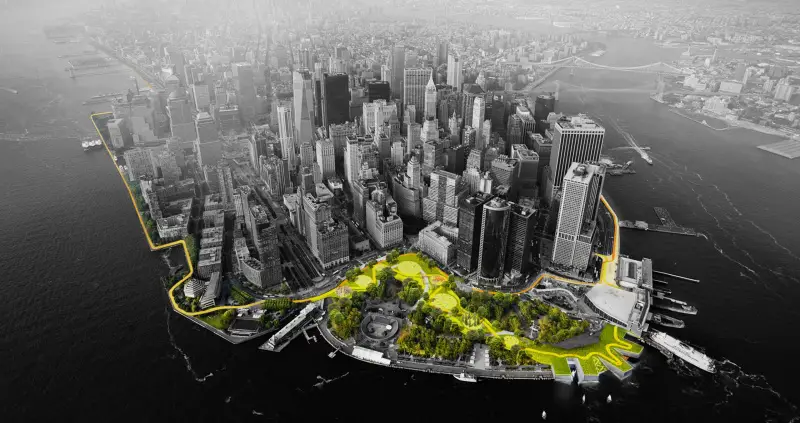 Image courtesy of BIG Team / Rebuild by Design competition
While you're at the Museum of the City of New York you'll want to check out another exhibit, Gay Gotham: Art & Underground Culture in New York, exploring NYC's significance as a home base for the birth of the nation's LGBT movement, featuring key artists as Richard Bruce Nugent, composer Leonard Bernstein, filmmaker Andy Warhol. There's also a mapping of the LGBT's expansion throughout Greenwich Village and much more. On December 6th, the event Making Queer Nightlife will feature a panel of performers and writers including Michael Musto, June Thomas, Julie Tolentino, and Linda Simpson, at 6:30pm. The exhibit will remain on display through Feb. 26, 2017.
For more information on Museum of the City of New York, visit mcny.org.