Every statue has a backstory, and these 10 famous New York City sculptures are no exception. If you're headed to Manhattan with a large group, spending some time checking out these iconic pieces of bronze can be a fun and creative way to spend your time exploring the city. You can learn a lot about New York City and its history by way of these public-art fixtures, and making time to artfully reflect in the city that never stops is never a bad thing, either.
Please give me free group travel information now!
1. Atlas Statue (Midtown)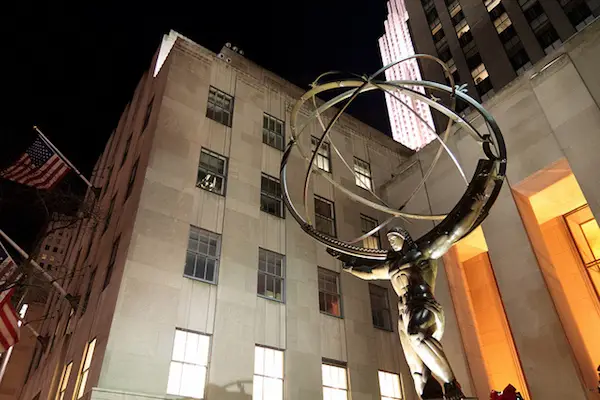 Standing tall in front of Rockefeller Center is the Atlas Statue, reveling in all its glory. Associated with Ayn Rand's famous novel, Atlas Shrugged, and featured in the opening shots of 30 Rock and just about every establishing shot of Rockefeller Plaza, this statue is perfect for a group photo op.


2. Statue of Liberty (Liberty Island)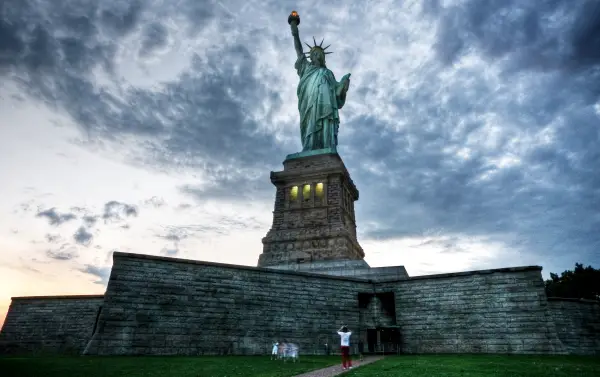 Image: Alan Strakey/Flickr
Groups can make special arrangements with Statue Cruises to get an up-close look at the beloved Lady Liberty. Providing a fun ferry ride over to the Statue of Liberty and grounds access, there's no better way to check out one of NYC's most famous landmarks. The tour also includes an audio guide and a stop at the Ellis Island Immigration Museum — bonus! 
3. Charging Bull (Financial District)
Take your group down to the Financial District and stop by the Charging Bull statue in Bowling Green Park. This was originally a piece of guerrilla artwork, being illegally installed in 1989 by the New York Stock Exchange. Though the statue was impounded by the police, it was later resurrected due to popular demand. Wall Street Walks also give informative group tours in the area, led by those who have been in the industry.
4. William Shakespeare (Central Park)
A stroll down Central Park's Literary Walk will take you right to the sculpted feet of William Shakespeare. Undeniably the best known figure in all of literature (we don't think anyone gets through high school without reading at least a couple of this guy's classics), it's no surprise that his statue was the first to be placed on Literary Walk.
5. Life Underground (West Village)
Explore the 14th Street A,C,E subway station and find all of Tom Otterness' "Life Underground" sculptures. Over 100 of these miniature bronze sculptures can be seen throughout the station, depicting cartoonish characters and animals that comment on social anarchy and human relations.
6. The Library Lions (Midtown)
Guarding the steps of the New York Public Library are two statues that are often referred to as "New York's most lovable public sculpture." Named Patience and Fortitude, these majestic lions have been in place since the early 20th century when the Library was dedicated in 1911, and they serve as a testament to the city's strength and perseverance.
8. Angel of the Waters (Central Park)
There are more than a few hidden gems to find throughout Central Park, but another one that we must bring to light is the Angel of the Waters statue that can be found in the center of Bethesda Fountain. Take some pride in this ladies, because this sculpture was the first public-art piece created by a woman in New York City!
8. Prometheus (Midtown)

Atlas isn't the only major sculptural draw in Rockefeller Center. Paul Manship's Prometheus may be the most-photographed sculpture in NYC and it's a main attraction in the Lower Plaza, at the end of the ice rink. Check out the accompanying quote from Aeschylus: "Prometheus, Teacher in Every Art, Brought the Fire That Hath Proved to Mortals a Means to Mighty Ends."
9. Christopher Columbus (Midtown)
At the corner of Central Park you can't miss the statue of Christopher Columbus resting on top of a 70 foot granite column in the middle of one of New York City's busiest traffic circles (Columbus Circle). Fun fact: every official distance in New York City is measured from this point!
10. Alice In Wonderland (Central Park)

If you're looking for a statue that you can climb on and pose with, not just in front of, then Jose de Creeft's Alice In Wonderland should be your first stop. You'll find the Mad Hatter, the White Rabbit, the Cheshire Cat, and of course Alice sitting atop of bunch of bronze mushrooms in Central Park near East 75th Street.