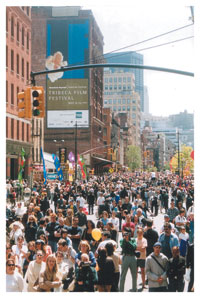 Named for the TRIangle BElow CAnal, Tribeca's cobblestone streets are lined with former industrial buildings that have been converted into large, luxurious lofts and apartments with outrageous price tags. Many contend that its biggest draw for out-of-towners is the food, though there are also several art galleries and shopping worth investigating.
This triangular neighborhood starts below Canal Street and is bordered by Park Place to the south. It extends from Broadway on the east to the Hudson River on the west side. It was once known as Washington Market or the Butter and Egg District for its many food vendors in the 19th century. The area turned industrial in the late 1800s. As is so often the case, artists overtook the industrial space, which had been abandoned, in the 1960s and 70s. The area's popularity accumulated as creatives brought new life into what became known as Tribeca. 
Today, these clean and quiet streets are trodden by well-heeled residents who can afford the staggering rents. It's also said that many celebrities keep apartments there. During the day, the area is filled with students of all ages, including those from Borough of Manhattan Community College and New York Law School. 


Tribeca's greatest claim to fame is The Tribeca Film Festival, chaired by actor and longtime neighborhood resident Robert De Niro. This film fest draws the established and up-and-coming talent from the industry and highlights lower Manhattan's cultural vitality. The popular Tribeca Family Festival Street Fair takes place on the final day from Hubert to Chambers Street. 
Other cultural fixtures include the art scene, with prestigious galleries like the Cheryl Hazan Gallery and Taymour Grahne Gallery at the forefront of the contemporary art scene. 
A gorgeous green space with peaceful waterfront views, Rockefeller Park provides welcome respite overlooking the Hudson River.
Just east of Tribeca is the municipal district of downtown Manhattan, the seat of the city government. City Hall offers free, guided tours of its extraordinary facilities, which were completed in 1812 and are still in use today.
Shop international fashion with an edge at Patron of the New, dressing men and women. For femme basics, go to Nili Lotan. For home goods, go to Schoolhouse for lighting and Stella for fine linens. 
There are no shortage of dining options in Tribeca. Find exceptional Italian at Locanda Verde and fuss-free haute cuisine at Marc Forgione. 
Ninja New York provides a two-for-one experience with both food and entertainment. The high-end Japanese fusion cuisine is served by waiters in ninja robes who also perform high-flying stunts and tricks. 
The closest neighborhood to Tribeca is The Financial District, where ferries leave twice an hour for the Statue of Liberty and the new World Trade Center welcomes visitors to the top of the Freedom Tower.   
Dining in Tribeca: For a list of our favorite restaurants in Tribeca, click here.