In Vivid Bloom—New York Botanical Garden's Orchid Show Returns
March 2, 2018 - by Linda Sheridan
This year marks the 16th anniversary of The New York Botanical Garden's extremely popular Orchid Show, opening March 3 in the sprawling Enid A. Haupt Conservatory.
While they've worked with many designers in the past, this year the garden gave carte blanche to world renowned Belgian floral artist Daniel Ost, even giving him access over the arrangements in the Nolen Greenhouses, working alongside Marc Hachadourian, Curator of The Orchid Show and Director of the Nolen Greenhouses for Living Collections.
Photo: Linda Sheridan
Ost is a self-proclaimed bloembinder, Dutch for an artist that works with flowers. He designed three installations in the exhibit that pay homage to his training in ikebana, the Japanese art of flower arranging. Its philosophy, wabi-sabi, finds beauty in imperfection, assymetry, and impermanence. His large-scale artworks are tailored to the space, utilizing bamboo arranged in grids and clear tubing meant to evoke water and connect to the Conservatory's glass.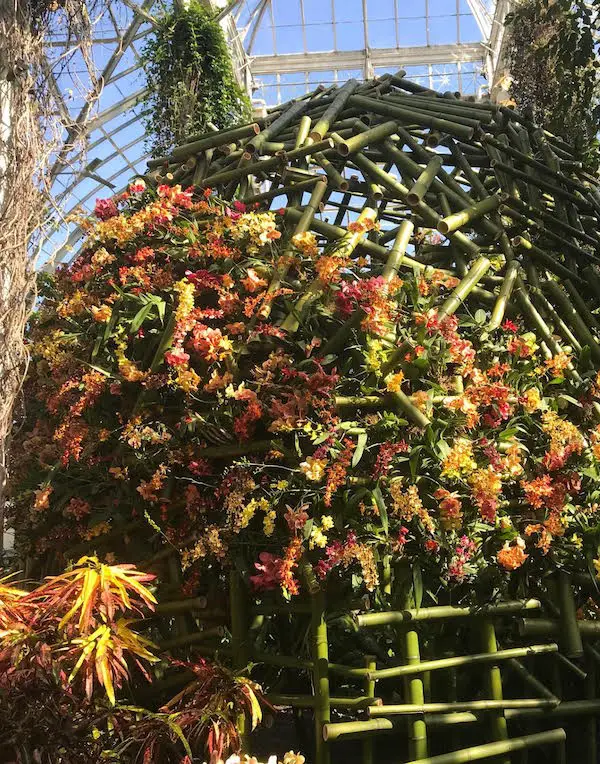 One of Daniel Ost's installations at this year's Orchid Show. Photo: Linda Sheridan.
With proper care, some orchids can live 100 years, says Hachadourian. Unfortunately, many people tend to give too much attention to their orchids—for example, they water them too frequently. A great resource for one-stop orchid care information, Hachadourian recommends, is the American Orchid Society, aos.org.
Photo: Linda Sheridan
Since 1990, the garden, which houses one of the largest orchid collections in the world, has been a designated Plant Rescue Center. Hachadourian and his team also nurture confiscated wild orchids back to health in the Nolen Greenhouses.
ORCHID SHOW HIGHLIGHTS
*In addition to the show, there will also be orchid care demonsrations, an Orchid Expert Q&A panel, and more.
*On the final weekend of the Orchid Show, April 21-22, there will be an Earth Day Celebration. Meet NYBG scientists and students to learn how they collect, study, and conserve plants and fungi, from the Bronx to Brazil. Join behind-the-scenes tours of the Plant Research Laboratory, where cutting-edge studies probe plants' molecular mysteries.

Beginning in March, NYBG will be offering a series of dates for its Orchid Evenings. (March 17, 24, 31; April 6, 7, 14, 20, 21.) Offered on Friday and Saturday evenings from with entry times 6:30pm, 7, 7:30pm; $38 admission includes access to The Orchid Show, as well as the chance to enjoy cocktails, music, dance, light bites, and unmatched beauty. This year's cocktail selection, the Dancing Lady, was created by Edible Bronx's head mixologist. Alice Farkey's whimsical Orchid Ladies roam the Conservatory.The elements together create one of New York City's most memorable evening outings.
The Orchid Show runs through April 22. The NYBG is easily reached via Metro-North out of Grand Central Terminal. For more information about this and other NYBG exhibits, visit nybg.org.
Looking for Free Group Planning Services?
Get free advice on planning your group's trip to New York.
RESTAURANTS

Brings together the character of Hell's Kitchen past with th...

THEATER

A new musical following a wannabe rock star who poses as tea...

SHOPPING

An array of quality branded merchandise showcasing HBO's® aw...

SIGHTSEEING

CitySights' hop-on, hop-off bus tours are operated on a flee...