In Vivid Bloom—New York Botanical Garden's The Orchid Show: Thailand
February 17, 2017 - by Linda Sheridan
This year marks the 15th anniversary of The New York Botanical Garden's extremely popular Orchid Show, in the sprawling Enid A. Haupt Conservatory, opening February 18th. To add a new spin, NYBG created a Thailand-themed show this year, with good reason. "The orchid is symbolic of Thailand," explained Karen Daubmann, NYBG's Associate Vice President for Exhibitions and Public Engagement. Thanks to its diverse ecological zones, Thailand is home to more than 1,200 native orchid species. For more than a century it's been a major center for orchid production.
Step out of the cold outdoors into the Conservatory, and the balmy temperatures quickly put one at ease. The visually dazzling exhibit begins with a presentation of a variety of Thai Elephant Ear orchids, which can be found in the country's northern mountains.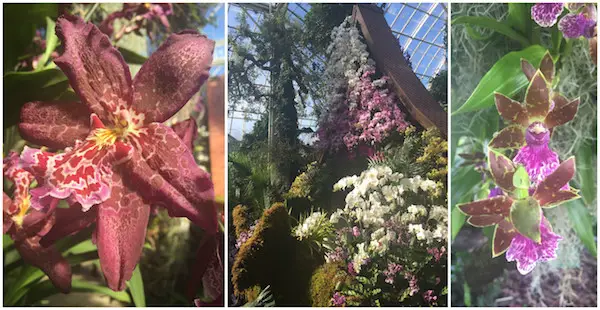 Photos: Linda Sheridan
In the Seasonal Exhibition Galleries, visitors enter a lengthy garden of orchids with a grand centerpiece that is reminiscent of a Thai pavilion, called a sala. "Color plays a very important part of Thai culture; there are lucky colors, depending on the day of the week. They use color unabashedly," explained Christian Primeau, Exhibition Designer and NYBG's Conservatory Manager. The walkways are lined with objects traditionally found in Thai gardens, such as replica "spirit houses" that can often be found by homes, businesses, and public buildings. At the spirit houses, offerings can be made to guardian spirits that protect the land, ranging from flowers, fruit, and incense to strawberry soda—popular because of its color.
An example of a spirit house in the New York Botanical Garden's The Orchid Show: Thailand.
With proper care, some "orchids can live 100 years," says Marc Hachadourian, Curator of The Orchid Show and Director of the Nolen Greenhouses for Living Collections. Unfortunately, many people tend to give too much attention to their orchids—for example, they water them too frequently. A great resource for one-stop orchid care information, Hachadourian recommends, is the American Orchid Society, aos.org.
Since 1990, the garden, which houses one of the largest orchid collections in the world, has been a designated Plant Rescue Center. Hachadourian and his team also nurture confiscated wild orchids back to health in the Nolen Greenhouses.
EXHIBIT HIGHLIGHTS
*During the weekend of Feb. 18-19, visitors can enjoy film screenings of Vanilla: The Sacred Orchid (1pm, 1:30pm, 2pm). On Feb. 25-26 there will be screenings of the Meryl Streep film based loosely on The Orchid Thief, Adaptation (2pm).
*On weekends between March 4-April 9, enjoy performances of Magical Thailand—A Journey with the Somapa Thai Dance Company (1pm, 3pm).

*Beginning in March, NYBG will be offering a series of dates for its Orchid Evenings. (March 4, 11, 18, 25, 31-LGBT Night, April 1, 7, 8.) Offered on Friday and Saturday evenings from 6:30pm-9:30pm, $35 admission includes access to The Orchid Show: Thailand, as well as the chance to enjoy cocktails, music, dance, light bites, and unmatched beauty. The elements together create one of New York City's most memorable evening outings.
The Orchid Show: Thailand runs through April 9. The NYBG is easily reached via Metro-North out of Grand Central Terminal. For more information about this and other NYBG exhibits, visit nybg.org.
Looking for Free Group Planning Services?
Get free advice on planning your group's trip to New York.
RESTAURANTS

A sophisticated, elegant steakhouse with generous portions o...

THEATER

Kander and Ebb's "musical vaudeville" in which Roxie Hart ga...

SHOPPING

Indulge in natural luxury with the softest bedding on the pl...

SIGHTSEEING

Enjoy the best prices for deluxe double decker, hop-on, hop-...