Robert Rauschenberg: Among Friends at MoMA
May 19, 2017 - by Troy Segal
Cardboard boxes and gauzy Indian silks, crumpled stop signs and stuffed goats: there was nothing Robert Rauschenberg couldn't use to make art, as a new show at The Museum of Modern Art makes clear. The first major retrospective since the artist's death in 2008, Robert Rauschenberg: Among Friends takes you on a mind-boggling trip across the master of mixed media's career, celebrating both the variety of his work and the diversity of his interests—and influences.
Especially the latter. The exhibit covers Rauschenberg's six-decade career chronologically, from his student days at Black Mountain College to his final years on Captiva Island, Florida. But the emphasis is on his collaborators, friends and partners. Unlike the stereotypical solitary artistic genius, Rauschenberg hobnobbed with, worked with, and was quick to credit others of a creative bent—a roster that reads like a Who's Who of post-World War II culture: Jasper Johns, Frank Stella, Niki de Saint Phalle, Susan Weil, Jean Tinguely. He learned the art of silk-screening from Andy Warhol, traveled with Cy Twombly, reworked a Willem de Kooning drawing.
By all accounts a generous man, Rauschenberg openly credited the friend, artist Sari Dienes, who found the taxidermied eagle that formed the centerpiece of "Canyon," Rauschenberg's 1959 masterwork. And when some colleagues weren't allowed to exhibit in one group show, he incorporated their pieces into a collage of his own; he titled it "Short Circuit"—perhaps a cheeky reference to his short-circuiting the official rules. "My whole area of art has always been addressed to working with other people," he once reflected. "Ideas are not real estate."
Those "other people" weren't limited to painters and sculptors. Rauschenberg collaborated with everyone from engineers to choreographers. His love of dance ran deep: in "Sue," one of a series of 1950 photos on exposed blueprint paper, his collaborator and then-wife poses like a dancer in arabesque; in the 1960s, he even performed some of his own pieces. And, of course, he's famed for his sets and designs he created for modern-dance avatars like Merce Cunningham and Trisha Brown. His first collaboration with Cunningham, "Minutiae," is represented by the original 1954 paint-splattered, paper- and fabric-paneled sculpture; alongside it plays a video, showing how the dancers wove in and out of the work. There's also a performance video of Trisha Brown's "Glacial Decoy" (1979), which featured hundreds of Rauschenberg's photographic slides; you can watch it through a gauzy screen that the artist also created for the ballet.
If it sounds like videos abound in this exhibit, they do. And they're projected everywhere, on conventional TV screens, on walls, even on floors. Particularly striking is one room, dedicated to 9 Evenings: Theatre and Engineering, a series of performance-art presentations Rauschenberg organized: a stark white space, with suspended flat-screens playing moments from the different works with commentaries from their participants (filmmaker Charles Atlas, best known for his dance documentaries, designed this installation, and consulted on the entire exhibition). And— as appropriate for an artist who incorporated auditory effects into his sculptures—the show is also filled with sound, from the jangling chords of the John Cage score for "Minutiae" to the pops and gurgles of "Mud Muse" (1968-71), a vat of actual, constantly bubbling mud.
Scattered throughout the show are works by collaborators and colleagues—mostly presented without compare-and-contrast commentary. Even so, the juxtapositions are interesting, as when a pair of Jasper Johns' "Painted Bronze"-cast Ballantine Ale cans are displayed near Rauschenberg's "Untitled," an actual tin can. While Johns made meticulously handcrafted representations of ale cans, Rauschenberg brought a found tin can directly into his sculpture, the panel points out—and adorned it with a pocket watch on a chain.
Clearly, Rauschenberg had a sense of humor—maybe not as evident as his contemporary Claes Oldenburg's, another great celebrator of found objects, but a sense of playfulness nonetheless. For a contribution to a portraits show by gallery owner Iris Clert, Rauschenberg sent a telegram with the words "This is a Portrait of Iris Clert, If I Say So." Other pieces display a more earnest side: "Retroactive I" (1964), an oil and silk-screen canvas—which tend to be his more accessible works—openly pays tribute to John F. Kennedy.
Robert Rauschenberg. Retroactive I. 1964. Oil and silk-screen-ink print on canvas. Wadsworth Atheneum Museum of Art, Hartford, Connecticut. Gift of Susan Morse Hilles. Photo: Allen Phillips/Wadsworth Atheneum © 2017 Robert Rauschenberg Foundation
In still others, there's social commentary, but more obliquely expressed. A series of sculptures from the mid-1980s, made from crushed signs and scrap metal, was inspired by a trip to a recessionary Texas, its landscape littered with abandoned cars, discarded oil barrels, and deserted gas stations. "Sor Aqua (Venetian)", from 1973, consists of a water-filled bathtub; a glass jar floats in it, suspended from a tangled mass of metal above—representing Venice's decay, perhaps with the jug symbolizing efforts to bail out the sinking city?
With over 250 works sprawled across nine galleries, Robert Rauschenberg: Among Friends is a time-consuming show, but it's worthwhile to get the audiotape. It includes interviews and comments from the titular friends, as well as from the artist himself, describing how various works came to be—like "Monogram," the work that features a stuffed goat on a wood platform. It took four years to complete (1955-1959), because the goat "refused to be abstracted into art," Rauschenberg says on the tape. "I finally decided just to leave him alone, let him simply stand there elegantly in a field"—but with a rubber tire draped over his back.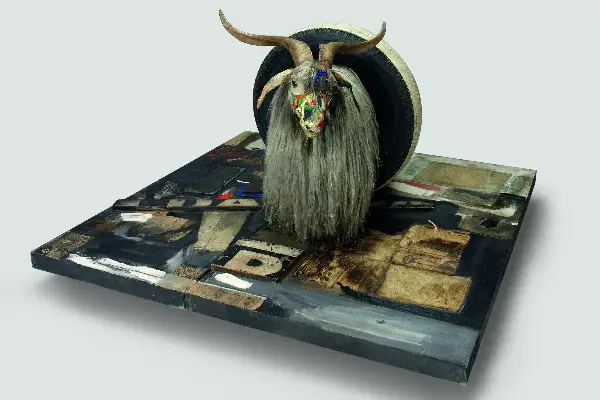 Robert Rauschenberg. Monogram. 1955–59. Oil, paper, fabric, printed reproductions, metal, wood, rubber shoe-heel, and tennis ball on two conjoined canvases with oil on taxidermied Angora goat with brass plaque and rubber tire on wood platform mounted on four casters, 42 × 53 1/4 × 64 1/2 in. (106.7 × 135.2 × 163.8 cm). Moderna Museet, Stockholm. Purchase with contribution from Moderna Museets Vänner/The Friends of Moderna Museet. © 2017 Robert Rauschenberg Foundation
Robert Rauschenberg: Among Friends runs through Sept. 17. For more information, visit moma.org.
Looking for Free Group Planning Services?
Get free advice on planning your group's trip to New York.
RESTAURANTS

Burke's dual-concept restaurant opened in 2005 and spans the...

THEATER

In a heartbeat, 38 planes with 6,579 passengers were strand...

SHOPPING

A premier destination for family entertainment....

SIGHTSEEING

Customized, state of the art fleet will get you from the air...