Royal 35 Steakhouse opened in Manhattan on January 25th of this year, and already this charming-yet-elegant steakhouse is a must-visit for visitors to NYC. No trip to the city is complete without an impressive steak dinner that you'll be talking about long after you've gone—and Royal 35 Steakhouse delivers just that.
The Digs
Royal 35 Steakhouse is a 5,000 square foot restaurant that can seat 130 patrons at any given time. Along with a grandiose dining room, you'll also find a bar and upper level private dining room that overlooks the ground floor. From its impressively high ceilings and mahogany wood walls to its dark leather tufted banquets and wine bottle adorned walls, Royal 35 manages to be both welcoming and exuding in elevated sophistication.


The Food
While Royal 35 is primarily a steakhouse, it also has a large array of high-quality seafood dishes. Appetizers include Jumbo Lump Crab Meat Cocktail, Fresh Oysters on the Half Shell, Yellowfin Tuna Tartare, and Sizzling Canadian Bacon.
Royal 35's Soup and Salads menu also whets the appetite with items such as French Onion Soup, Iceberg Wedge Salad (tomato, blue cheese, and Canadian bacon), and Beefsteak Tomato & Buffalo Mozzarella available to order.
When it comes to entrees, you really can't go wrong no matter what you order at Royal 35. The Double Porterhouse Steak for Two (dry aged in-house for 35 days using ancient pink Himalayan salt) and the Royal 35 Seafood Tower (jumbo shrimp, oysters, Maine lobster, tuna tartare, and clams on the half shell) are the restaurant's signature items. Also accompanying them on the menu is Twin Lobster Tails, Prime Bone-In Ribeye, Grilled Chilean Sea Bass, Rack of Lamb, and Filet Mignon.
The People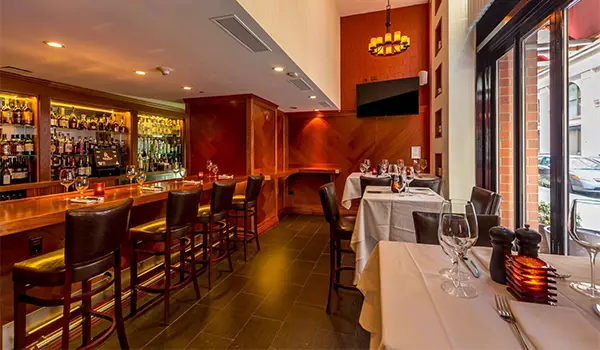 Just because Royal 35 Steakhouse may be new on the block, that doesn't mean that the people behind the operation don't know what they're doing. General Manager Alfred Cetaj has over 20 years of hospitality industry experience, having managed some of the world's most well known steakhouses (including Strip House NYC and Mastro's). Along with his own expertise, Cetaj has brought Adem Sinanaj, the former manager of Ben & Jack's Steakhouse, into the mix as a managing partner.
Joseph Paulino is serving as the Executive Chef, and with over 20 years of professional kitchen experience beneath his belt, this leader of haute cuisine has mastered the art of cooking at Michelin starred restaurants and a multitude of classic steakhouses. Paulino has studied under Jean Georges and competed on Bravo's Top Chef Miami. He has also served as Executive Chef at David Burke's Burke in the Box and at Uncle Jack's Steakhouse. 
And last but certainly not least, Sherif Nezaj will be working full-time behind the Royal 35 bar. With over 48 years of experience, you can bet that Nezaj knows how to make any drink in the book with precision. Nezaj previously worked as head bartender at Wolfgang's Steakhouse.
1 E. 35th St., 212-804-7276, royal35steakhouse.com