Halloween Theatre NYC: Shows That Go Bump in the Night
October 4, 2017 - by Griffin Miller, Theatre Editor
New York's reputation for Halloween antics—from the goes-without-saying fabulousness of the Village Halloween parade to masked balls to haunted whatnots—is in full theatrical throttle. And it looks like Frankenstein is upstaging Dracula on all fronts this year. For instance Vital Theatre Company, known for family-friendly shows like Pinkalicious and Fancy Nancy, is presenting Kid Frankenstein The Musical (through 11/5), about what happens when a young scientist's determination to win a robotics competition goes all kinds of wonky wrong. For adults, composer and book writer Eric B. Sirota has also deemed Frankenstein score worthy, only this time it comes wrapped in gothic romance and scientific hubris, closely following Mary Shelley's famous novel.
You can also follow your own Fright Night dreams with these productions, which go from relentlessly glam to heart-stopping harrowing:
Blood Manor. Do not get me started on how terrifying this is: a mind-shattering labyrinth of themed rooms, haunted corridors, and unpredictable passageways designed for the ghoulish soul in all of us. Fourteen and under require adult escorts, so that tells you something about the intensity of this "haunted attraction" teeming with blood, guts, and actors with few to no restrictions when it comes to scaring the life out of you. Dress comfortably—it may be the only comfort you can count on. bloodmanor.com
The Cooping Theory: Who Killed Edgar Allan Poe? (10/11 to 10/31). Staged in Brooklyn's legendary Williamsburg nabe, this immersive paranormal murder mystery is set in a reconstructed speakeasy (knock3xs.com).
The Sharon Needles Halloween Special 2017 (10/11 to 10/14). She may be jumping the Halloween gun by a couple of weeks, but the fab winner of Spooktacular RuPaul's Drag Race dishes up horror, music, and comedy at the Laurie Beechman Theatre (sharonneedles.com).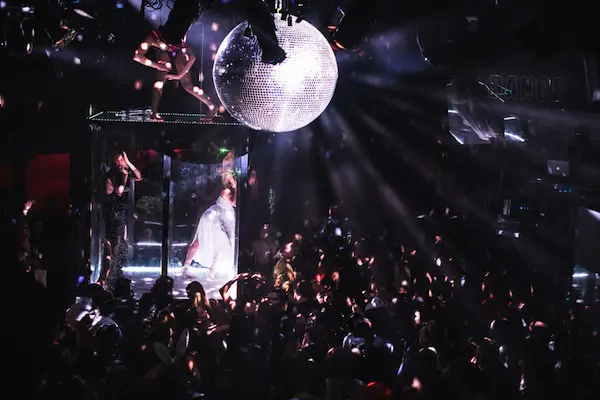 Disco ball inferno, The McKittrick Masquerade.

The McKittrick Masquerade: Inferno (10/27, 28, 31). Costumed revelry at the home of the hit interactive Sleep No More. Guests can explore the hotel's labyrinth of rooms and savor a "sexy performance-filled dance party" (mckittrickhotel.com).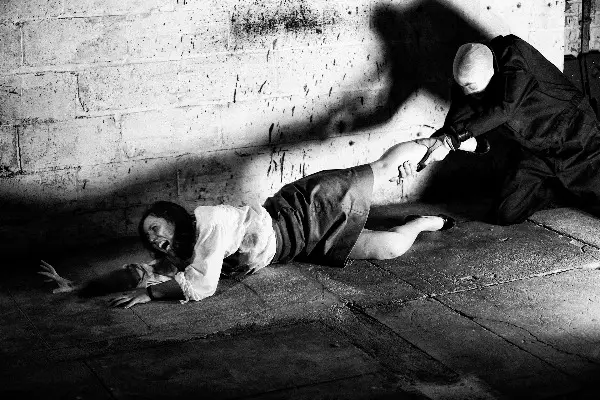 This Is Real
This Is Real (ongoing). Not for kids, people with pacemakers, or anyone unable to face a real-time nightmare in the first person. Seriously, this interactive simulated abduction is hard-core horror. Don't say you haven't been warned (thisisreal.nyc)!
Wicked Clone The Cinema Musical (through 10/29). A time-traveling vampire musical starring the identical Indiggo Twins (Translyvanians—for real!—Gabriela and Mihaela Modorcea) that reinvents myth via film, pop-gypsy music, and romance (stlukestheatre.com).
Best New York Shows for Halloween: Broadway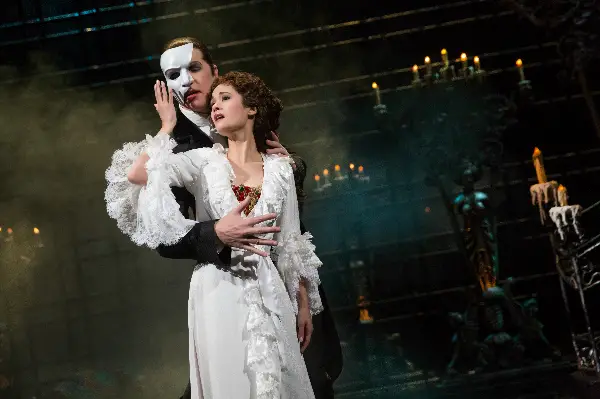 James Barbour and new leading lady Ali Ewoldt in the legendary Phantom of the Opera. Photo by Matthew Murphy.
The Phantom of the Opera. Sure, it's familiar—it has, after all, been around for nearly three decades. But think about it: a mysterious, quasi-supernatural dude in a cape and mask basically dragging an ingénue into his own creepy lair where the truth is born of nightmares and revelations come wrapped in lurid visuals. I say this baby is underrated for Halloween fodder and the Phantom—played by James Barbour—is all kinds of musical theatre spine-chilling.
Jackie Burns having a Wicked good time as Elphaba. Photo: Joan Marcus.
Wicked. Just a reminder, you can never go wrong when you wrap your Halloween heart around Broadway's long-running, "Popular," witch-ified favorite musical…get your green on at wickedthemusical.com.
Best New York Shows for Halloween: A Movable Feast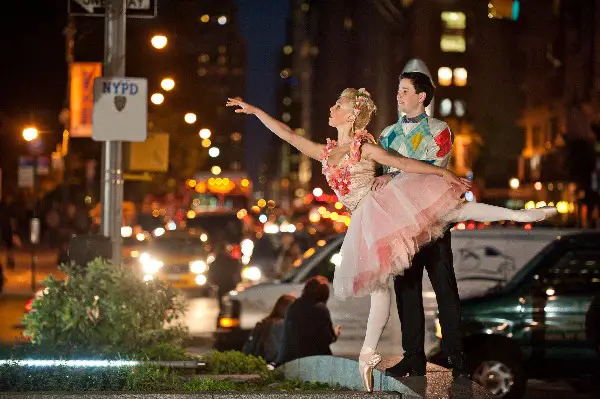 THE RIDE In Masquerade. Surprises await from the beginning when a wacky medium, Jackie Jules, and her co-host Dr. Scott, a parapsychologist, greet you on this rolling mashup of a tour bus ride and street theatre. Enjoy it from a posh perch in a million-dollar-plus motor coach with floor-to-ceiling glass windows and stadium-style seating. Dazzling with some spooky stuff thrown in when you least expect it! Through October, experiencetheride.com
Looking for Free Group Planning Services?
Get free advice on planning your group's trip to New York.
RESTAURANTS

Fogo de Chão's first churrascaria (Brazilian steakhouse) in ...

THEATER

The Tony-winning creators of "Ragtime" transport us from the...

SHOPPING

The world's largest source of cameras, camcorders, and more ...

SIGHTSEEING

Spirit Cruises is New York City's most vibrant and entertain...