Sondheim's Follies Is Back on Broadway -- Enough Said!
August 16, 2011 - by Elliott Richards
Danny Burstein, one of the stars of the new revival of Follies, Stephen Sondheim's musical about a reunion of pre-World War II showgirls, says the production at the Marquis Theatre is a chance to demonstrate anew the show's greatness.
"It is one of Sondheim's greatest scores," says Burstein, who plays Buddy. "On opening night of the original production, Michael Bennett" -- who choreographed and co-directed the show -- "said that 80 percent of Follies is the most brilliant musical ever written, and I feel everyone working on Follies is going after that extra 20 percent."
The current revival is an $7.3 million import from the sold-out Kennedy Center production that closed last June, and an opportunity for Broadway audiences to once again see two-time Tony winner Bernadette Peters in her natural habitat.
"She's quite brilliant in the role; there isn't a day when she isn't the first person in to work," says Burstein (pictured above) adding, "She's always there in the moment. Her role is always evolving, as all of ours are, and we keep finding different and new things."
Peters -- who plays Burstein's wife, Sally, in the visually lavish production, of which the New York Times' Ben Brantley wrote: "...as you watch the show's four stars....put on glittery costumes and make like comics and torch singers from a Broadway of yore, you realize anew just why Follies is one of the greatest musicals ever written" -- is nothing if not a Sondheim superstar. Her most recent Sondheim venture took place in 2010 when she stepped into the revival of A Little Night Music, taking on the role of Desiree Armfeldt vacated by Tony winner Catherine Zeta-Jones. True to form, Peters blew the roof off the second wave of reviews -- and the Walter Kerr Theatre. (As for her overall Broadway Sondheim count, she has five to date; the four others were Gypsy, Sunday in the Park With George, and Into the Woods.)
With Peters reprising her role alongside her acclaimed Kennedy Center costars -- Burstein, Jan Maxwell (Phyllis, below), Ron Raines (Ben), and Elaine Page (Carlotta) -- Follies is positioned to be one of Broadway's hottest tickets this new fall season and, most likely, the first Tony nominee shoo-in for 2011-2012. (Incidentally, last year Ms. Maxwell achieved a most unusual distinction: two Tony nominations, one as Best Actress in a Play for The Royal Family and a second for Best Featured Actress in a Play for Lend Me a Tenor.)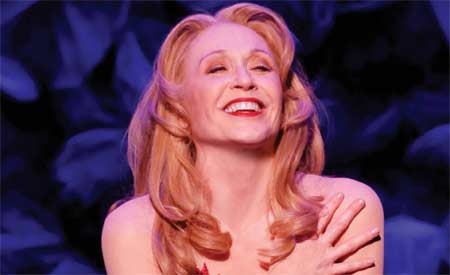 Boasting a book that netted Oscar winner James Goldman (A Lion in Winter) a Tony nomination, the new production is directed by Eric D. Schaeffer (Million Dollar Quartet) and choreographed by Warren Carlyle (Finian's Rainbow).
A melancholy look back at a part of showbiz that flourished between the world wars, Follies is also an examination of the disintegration of the marriages of Sally and Buddy and Phyllis and Ben. Actors playing their earlier selves (and those of other characters) lend Follies a ghostly quality that emphasizes their lost youth.
And in case you're not familiar with the score, it teems with memorable/famous songs, including "Beautiful Girls," "Broadway Baby," "Waiting for the Girls Upstairs," "Could I Leave You?," "The Right Girl," "I'm Still Here," and the four end-of-the-show numbers that let the main characters express themselves in unanticipated and heart-rending ways, among them the deceptively heartbreaking vaudeville number "Buddy's Blues" which, up until recently, was titled "The God-Why-Don't-You-Love-Me-Blues." ("Buddy's gone through so much inner turmoil and has swallowed so much anger and resentment that his vaudeville turn at the end is so unexpected," Burstein explains.)
Now in his third Sondheim project (Merrily We Roll Along (Off-Broadway) and the 1995 Broadway revival of Company), Tony winner Burstein (The Drowsy Chaperone) points out just how invigorating it is to have the celebrated composer present at rehearsals.
"He's completely flexible and very open," he says. "It's funny. People can be intimidated because he's Stephen Sondheim, but what he cares most about is the work; he really wants it to be the best. His opinions are strong and almost always right."
Burstein adds, "This has been a unique experience. Follies is not traditionally linear; it's a concept musical. It goes in and out of reality and it digs deep into your emotions; and not only the dark aspects, but many things human and beautiful."

Follies is currently in previews for a Sept. 12 opening at the Marquis Theatre, 1535 Broadway btw. Broadway & 8th Ave. For tickets, call 877-250-2929 or click here.
Looking for Free Group Planning Services?
Get free advice on planning your group's trip to New York.
RESTAURANTS

Conveniently located in the Port Authority Bus Terminal, the...

THEATER

In a heartbeat, 38 planes with 6,579 passengers were strand...

SHOPPING

DataVision is redefining retail with their new, fully intera...

SIGHTSEEING

From May through the summer months, Circle Line Downtown off...