Spectacle at the Museum of the Moving Image Celebrates the Art of Music Videos
April 3, 2013 - by Linda Sheridan
To be clear, Spectacle: The Music Video -- an exciting new exhibit at the Museum of the Moving Image for anyone that appreciates music videos and the process of how they're made -- "is not a retrospective. It is a celebration of the music video, as an art form," asserts Meg Grey Wells, who co-curated the exhibit with Jonathan Wells, both from Flux. The exhibit, which made its debut at Cincinnati's Contemporary Arts Center last year, opened at The Museum of the Moving Image April 3 and will be on display through June 16. Since its $67 million dollar renovation in 2011, this is the first exhibit that utilizes the museum's entire space. It's presented in partnership with Sonos and VEVO. (The exhibition was designed by Alexei Tylevich and his team at Logan, an award-winning NY- & LA-based creative studio and production company.)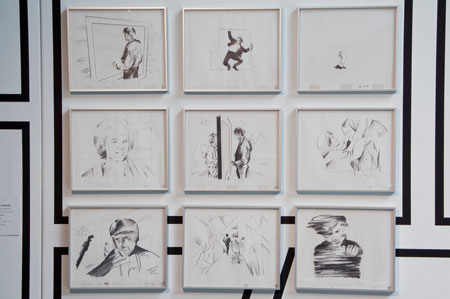 Stills from a-ha's video for "Take on Me." Photo courtesy Michael Patterson

Prepare to spend the day. Or two. Spectacle features more than 300 music videos by 'pioneers' in the medium, from David Bowie, Queen, Talking Heads, Devo, Madonna, a-ha and Bjork, to The White Stripes, Radiohead, Woodkid, Ok Go and Kanye West. It also includes a large selection of artifacts, interactive installations, projections and immersive environments.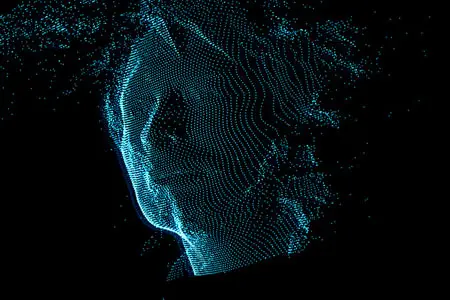 Radiohead: "House of Cards" (2008). Directed by James Frost. Image courtesy of Contemporary Arts Center
The exhibit is not organized chronologically, but thematically. The intro of the exhibit, "In the Beginning," does give a bit of timeline of video history. Original shorts date back to the 1920s to promote jazz artists (and many were shot in Queens, by Vitaphone.) They were later regarded in the 1940s as 'soundies,' music shorts shown on film jukeboxes. Other important dates include Aug. 1, 1981, the premiere of MTV and the very first video they aired, The Buggles' "Video Killed The Radio Star."
The Buggles: "Video Killed the Radio Star"
Themes/sections in the exhibit:
Epic presents a selection of videos that could be classified as short films, such as Bjork's "Bachelorette," directed by Michel Gondry and Beastie Boys' "Sabotage," directed by Spike Jonze. Gondry's work figures prominently in the exhibit, including some of the actual Legos used in his White Stripes' video, "Fell in Love With a Girl" (pictured below). It also includes a display of Gondry's yarn props from his Steriogram video, "Walkie Talkie Man."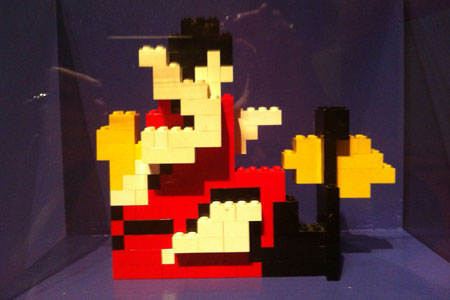 Photo: Linda Sheridan
Shadows and Light showcases a large selection of videos by Jay-Z, Johnny Cash, Nine Inch Nails, and dozens of others, as well as art photography by Floria Sigismondi, Stephane Sednaoui and others, that demonstrate a marriage of classic photography and film.
The Body Language section, complete with large mirrors, showcases videos that compel one to dance, such as Radiohead's "Lotus Flower" and The XX's "Islands."
In the section Agent Provocateur, inspired by the redlight district, viewers can listen and watch videos that were deemed too controversial and banned from television-through peepholes, such as Pearl Jam's "Jeremy," Madonna's "Like a Prayer," NWA's "Straight Outta Compton" and Aphex Twins' "Come to Daddy."
For the New York engagement of this exhibit, there's a new section highlighting how hiphop and New York based television shows such as Video Music Box and Yo! MTV Raps were instrumental in giving hiphop artists mainstream exposure.
There are also interactive installations by Vincent Morisset, Chris Milk, James Frost, and Aaron Koblin for Arcade Fire, Johnny Cash and Radiohead.
Photo: Linda Sheridan
In the installation Sonos Playground Deconstructed (above), visitors can pick a song from an iPad and watch a visualization of the music, interacting with the animation through movement.

Another section, Smoke and Mirrors, features videos with special effects that find the viewer asking, "How did they do that?" A particular highlight of section is a display of the actual drawings used in the iconic 1985 a-ha video "Take On Me," with a storyboard created and animated by Michael Patterson and his partner, Candace Reckinger.
Michael Patterson at the exhibition. Photo: Linda Sheridan

"It's very important to have an exhibit like this, in a gallery context. There are so many original ideas in this room," says Patterson. In 1985, he and (then newlywed) wife Reckinger were approached by veteran music executive Jeff Ayeroff, who "introduced us to the video's director, Steve Barron," explains Patterson. The couple worked to put together a storyboard that fit with the band's label of how they hoped to "break" a-ha in the United States. With a budget in the ballpark of $100,000, they used a mix of live-action and animation technique called rotoscoping, where they traced over live action footage, frame by frame.

"We flew out to London to shoot the video, took about two and a half weeks. It took us 16 1/2 weeks to do all the drawings [there are more than 3,000 in all]. It's all shot on camera; there are no digital effects," Patterson says. "We were young, this was our first project and it was an exciting time." The song not only went to #1 but won six MTV awards, including best new artist in a video, best concept, most experimental, best direction, best special effects and viewers' choice.
Patterson; photo courtesy of Michael Patterson

The pair also worked together on a-ha's "Train of Thought" video, as well as Paula Abdul's "Opposites Attract." They also worked with Suzanne Vega, Sting and Go West. Today Patterson, who teaches animation at USC, recently collaborated with Reckinger once more, along with some of his students, and singer Jeff Lynne, to create a beautiful animated video for Electric Light Orchestra's "Mr. Blue Sky."

In conjunction with Spectacle: The Music Video, the museum will present a series of screenings and personal appearances by directors, education programs and special events. The music film series Play This Movie Loud, from May 3 through June 16, will include big-screen concert films, documentaries and fiction films.
Looking for Free Group Planning Services?
Get free advice on planning your group's trip to New York.
RESTAURANTS

The home of decadent desserts like the famous Frrrozen Hot C...

THEATER

Gaston Leroux's famous period thriller is now one of Broadwa...

SHOPPING

Heaven for designers, artists, and antiques lovers....

SIGHTSEEING

From May through the summer months, Circle Line Downtown off...