Spiegelworld, the Big Show in the Little Tent, Transports Audiences to a Bygone Era, One Spectacular Act at a Time
June 25, 2012 - by Ellis Nassour
Spiegelworld has made its Big Apple return pitching its "heritage" mirrored 440-seat Belgian spiegeltent and 2012 edition Empire in the thick of Times Square (West 45th Street, between Broadway and Eighth Avenue) for a 15-week engagement (through September 2).
In case you're new to Spiegeltent, it's a vintage cabaret/cirque venue that's been around for 100 years. It's nothing like the early Americana three-ring canvas circus tents. Popular across Europe during the early 20th century, the luxurious traveling spiegeltents -- with intimate in-the-round seating, radical kitsch, and three tons of teak paneling, stain glass, mirrored panels and velvet and brocade-upholstered booths -- were dance halls and cabaret venues.
Under its big top, the show is a combo of traditional French Canadian cirque thrill acts, sizzling burlesque, pre-WWII Berlin cabaret, and old-fashioned vaudeville fashioned for an adults-only audience.
Jonathan Taylor and Anne Goldmann lead off, eliciting howls of laughter with shameless and often raunchy antics that make Borat's look like a cakewalk. Beware: Taylor will find you, so it's pointless to hide. Immediately you know you're not at just any cabaret, but probably the risqué fantasia that Sally Bowles and the Emcee sang about in Cabaret.
So, put down the knitting, the book, and the broom and come to a different kind of cabaret – one you might compare to Paris' Crazy Horse and Cirque du Soleil's adult Vegas show Zumanity. It's buoyed by an intrepid cast performing daredevil feats with equal amounts of sex appeal; and a marvelous glam-rocker, Lena Hall, who possesses a Merman belt. She's often accompanied by virtuoso guitarist Martin Hailey.


Highlights are roller-skating duo Sven Rauhe and Roma Hervida defy centrifugal force and will have you on the edge of your seat — if not under it – performing mindboggling acrobatics on a postage-stamp rink. Yunming Liu and Yasuaki Wei literally take ballet to new heights with an adagio that has Wei on pointe on Liu's shoulders.
The "banquine" [contortion] is performed by a stunningly limber trio: Anastasiia Gavrylenko, Olena Lomaga, and Anastasiia Permiakova. Tariku Degefa and his teenaged brother Yonas Alemu do a classic "risley" [acrobalance human juggling].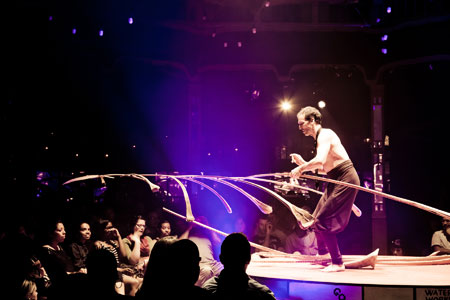 In an intense eight-minute sequence of amazing concentration and astounding showmanship, Swiss artist Mädir Eugster silences the audience to where you can her a pin drop in an act unlike any you've seen where he creates a nature sculpture balancing huge pieces of driftwood on the edges of each other and topping them with a spinning top and feather. Vladamir Malachkin closes the show with another jawdropping act as he defies gravity delicately balancing atop chairs he's stacked almost to the top of the tent.
There's also a motley crew of wild 'n wooly characters that include Moondog, Carrot Man, Polka Dot Woman, Rubbish Bag Lady, and Lime Green Lady. Oscar-winner and Tony nominee Angus Strathie (Moulin Rouge!, shared with Catherine Martin; La Boheme) is costume designer. Wayne Harrison directs.
Spiegelworld performs Monday at 7:30 P.M., Wednesday – Saturday at 7:30 and 9:30, and Sunday at 7:30. On two-show nights don't except the late show to start on time, but do expect to wait in a long line. The show is a non-stop 90 minutes (no intermission). Drinks are available from a fully-stocked bar and waitstaff.
Tickets for Empire, presented by Related Companies and Boston Properties, are $59 and $89 with a $129 VIP package that includes a glass of Champagne. Purchase at the Spiegelworld box office with the almost-nude carnival-style barkers, online at www.telecharge.com, or by calling 212-239-6200.
Photos: ©Thom Kaine
Looking for Free Group Planning Services?
Get free advice on planning your group's trip to New York.
RESTAURANTS

New York City's most famous landmark, the Empire State Build...

THEATER

Kander and Ebb's "musical vaudeville" in which Roxie Hart ga...

SHOPPING

Find the right gear for your workout. ...

SIGHTSEEING

Opened to the public in 1913 thanks to the ingenuity and amb...