When Taylor Louderman makes her entrance as "apex predator" Regina George in Tina Fey's acclaimed new musical Mean Girls, she arrives in a spectacularly gauzy burst of pink attitude. It's a pose that's met with simultaneous gasps of awe and dread from the jocks, stoners, freaks, strivers, survivors, wallflowers, skeevers, and geeks flanking the stage as Regina and her posse of two (insecure Gretchen Wieners and dimbo Karen Smith) move in to dominate an otherwise pedestrian cafeteria.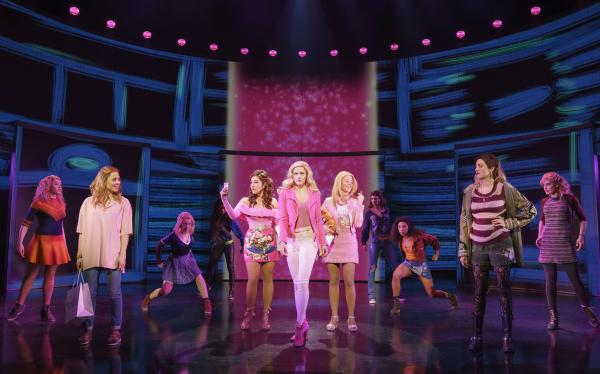 Erika Henningsen, Krystina Alabado, Taylor Louderman, Kate Rockwell, Barrett Wilbert Weed, and the company of Mean Girls. Credit: © 2019, Joan Marcus.
Murmurs and cheers from the audience as recognition sets in. These babes are "Plastics," the high-maintenance clique introduced in Fey's 2004 film about wide-eyed teenager Cady Heron (Erika Henningsen)—raised and homeschooled in Kenya "with the lions and birds and stuff"—suddenly transplanted to Chicago and thrust into the socially feral world of public high school. The learning curve from hell.
As for Regina, while she may be the fictional spawn of generations of lesser Queen Bees, Fey's exaggeration ratio for her anti-heroine isn't that far off-base. Equally skilled at the full-frontal putdown ("No one thinks you're funny and your teeth look like corn") and its backhanded cousin ("I might buy you the suede heels—to lift your butt"), Regina's sense of entitlement reads borderline pathological when stealing back ex-boyfriends or plotting revenge.


The time lapse between the film and the stage version also allows for the fun and angst indigenous to social media. "Tina brings both fresh material, including new laughs, as well as quotes we love and adore from the film," says Louderman.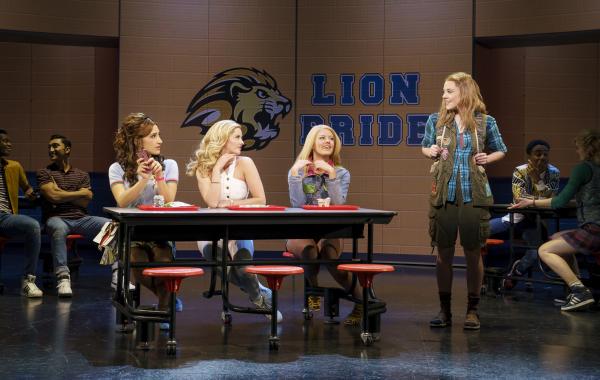 Krystina Alabado, Taylor Louderman, Kate Rockwell, and Erika Henningsen. Credit: © 2019, Joan Marcus.
And as portrayed by the 20-something Broadway vet (Bring It On; Kinky Boots), the character of Regina is "fetch" squared in a skintight catsuit. No surprise she was a fan of the film. "It was iconic for my generation," Louderman says, adding that watching it in reruns on TV has been more than a passing passion.
But she's well aware of the difference between filming a stage production and turning cinema into theatre. "The whole idea of storytelling is different because you're not playing to the camera, which is intimate," she explains. "Here, you have to go big just to reach the back of the house." Something Rachel McAdams never had to deal with when playing Regina on-screen.
Still, when talking about creating the role for the musical, Louderman was clear: she wanted to be true to McAdams' vision while instilling the character with her own perspective. "And of course there's the fact that the 2018 Queen Bee is different. Women are owning their power…and taking control, which puts an interesting spin on the show theatrically," she says.
Which is not to say the show isn't plastered with Fey's comedic stamp—in some cases verbatim from the film, in others with a giggly delirium that comes should you amp up the smear campaign in the pages of Regina's infamous "Burn Book" with giant wall projections. Suggestion: return from intermission early to take full advantage of the expansive collection of defaced photographs, snarky quotes, and evil snippets—which I'm pretty sure everyone in the audience will identify with.
Credit: © 2018, Joan Marcus.
Certainly Fey, who culled her inspiration for Mean Girls from her own high school days, and Rosalind Wiseman's nonfiction self-help book Queen Bees and Wannabes, which offers a pigeonhole for every group and groupie. It was from the book that Louderman zeroed in on her own status while attending high school in Missouri.
"I was what you'd call a 'floater'—that is a person who walks around to different cliques, which is what I did," she says. And was one of them a variation on the Plastics?
"I did try my hand at the mean girl thing, but it wasn't for me," she says. "Way too much effort. But I am grateful I was a floater—it helps me walk in different shoes."
Speaking of shoes, I do not recall any of the girls at Euclid Senior ("Go Panthers!") walking around school halls in heels—nor does Louderman, who asked her younger twin sisters if this was ever done. "They said sometimes girls do wear them for special occasions, like cheerleaders will wear them the day of the game… stuff like that."
Credit: © 2018, Joan Marcus.
In the end, however, it's the show's talented cast, from the ensemble to the leads, that makes the biggest impression on audiences. "Each character has their own sound and their own story, while the message—to treat everyone with dignity and respect—is really profound," says Louderman. "Even at the stagedoor, kids reach out to us, telling us their stories. It's so rewarding to know what we're doing can make a difference."
---
Mean Girls is playing at Broadway's August Wilson Theatre, 245 W. 52nd St. For reservations call 212-239-6200 or visit meangirlsonbroadway.com.