The Upper East Side is home to some of the city's finest cultural institutions...and culinary destinations. A great neighborhood to eat in, the UES boasts some of New York's best burgers, most delicious desserts and most expensive fine dining restaurants in the city (but don't worry, there are still plenty of cheap places to eat, too).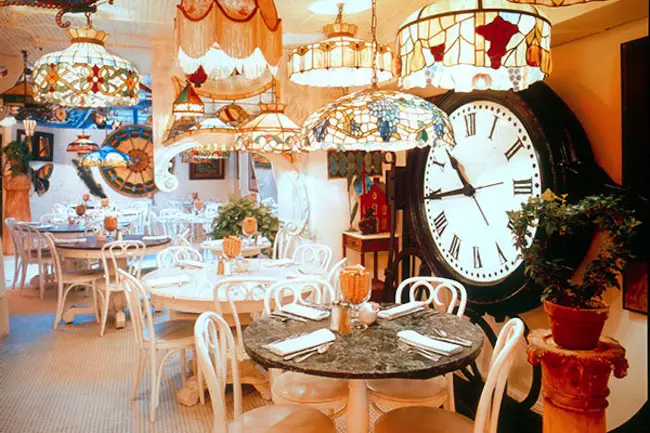 Serendipity 3
The home of decadent desserts -- such as the Frrrozen Hot Chocolate -- has been enchanting millions of patrons since 1954. Beginning with Marilyn Monroe, Andy Warhol, Grace Kelly & Cary Grant in the 1950s, the restaurant continues to attract the newest crop of hot young celebrities such as Britney Spears, Beyonce, Jay-Z, Paris Hilton and Tyra Banks.
225 E. 60th St., 212-838-3531, serendipity3.com
Texas de Brazil
This Brazilian churrascaria (think all-you-can-eat steakhouse) features an extravagant 50-item gourmet salad area that includes everything from tuna sashimi and lobster bisque to just about every vegetable imaginable. What follows is a parade of sizzling cuts of beef, lamb, pork, chicken and sausage all flame-grilled to perfection, then carved and served tableside. A hugely satisfying (and economical) option for carnivores and vegetarians alike. 
1011 3rd Ave., 212-537-0060, texasdebrazil.com
Andaz
This popular Upper East Side Indian eatery is well-known for its chicken tikka masala & vegetable samosas.
1378 1st Ave., 212-288-0288, andazny.com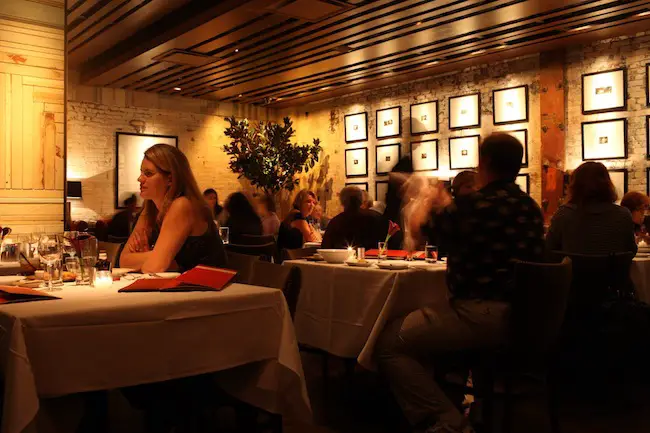 Atlantic Grill Upper East Side
Atlantic Grill has been part of the B.R. Guest family since opening on the Upper East Side in 1998. Fifteen years later, it's still a local favorite where you can enjoy fresh seafood dishes and signature service in polished surroundings.


1341 3rd Ave., 212-988-9200, atlanticgrill.com
Bella Blu Ristorante
At this Northern Italian restaurant, the Spaghetti Lobster is a classic signature dish. The Wine Spectator awarded menu is carefully selected by owner Enrico Proietti. Pair up a glass with their brick oven pizza. 
967 Lexington Ave., 212-988-4624, bellablunyc.com
Café Boulud
Café Boulud has become an Upper East Side staple, whose menu is inspired by Daniel Boulud's four culinary muses: la tradition, classic French cuisine; la saison, seasonal delicacies; le potager, the vegetable garden; and le voyage, flavors of world cuisines. Café Boulud earned three stars in the Michelin Guide. 
20 E. 76th St., 212-772-2600, cafeboulud.com
Café Mingala
Burmese eatery decorated with murals of Myanmar serving traditional stir-fries & noodles.
1398 B 2nd Ave., 212-744-8008, No website
E.A.T.
E.A.T., Eli's first shop, is still a showcase for his original ideas: salads made in small batches several times a day; overstuffed sandwiches on very thin, very good bread; and tender, flaky croissants.
1064 Madison Ave., 212-772-0022, elizabar.com
Elio's
Elio's specializes in Northern Italian fare, with an atmosphere that makes you feel like family. Check out their long list of nightly specials. 
1621 2nd Ave., 212-772-2242, No website
Fig & Olive
A local date favorite for colorful Mediterranean crostini and carpaccio (along with an extensive selection of seafood and meat entrees). This location is smaller and quieter than its downtown counterparts. 
808 Lexington Ave., 212-207-4555, figandeolive.com
Giovanni Venticinque
Robust, authentic Northern Italian cuisine, just a block from Central Park and Metropolitan Museum of Art.
25 E. 83rd St., 212-988-7300, giovanniventicinque.com
Heidelberg
A quintessential German spot that's been serving up boots of Bavarian braus, schnitzel and sausages since 1936. This one is still delightfully authentic.
1648 2nd Ave., 212-628-2332, heidelberg-nyc.com
JG Melon
A well-loved, ever-crowded local spot, JG Melon's been serving up one of the city's favorite burgers along with simple beers since 1972. This is somewhere where you want to sit at the bar.
1291 3rd Ave., 212-744-0585, No website
JoJo
Chef Jean George's nickname as a young boy, JoJo offers relaxed yet elegant dining on two floors of a quaint, turn-of-the-century brownstone on the Upper East Side. The first of Jean-Georges' restaurants in New York City, this neighborhood gem opened in 1991 to rave reviews.
160 E. 64th St., 212-223-5656, jojorestaurantnyc.com
Jones Wood Foundry
A popular, spacious gastropub for craft brews, fish and chips, scotch eggs and non-American football. Prepare to battle crowds, but that's what this kind of place is about.
401 E. 76th St., 212-249-2700, joneswoodfoundry.com
Maya
Upscale Mexican dining, with dishes created by Chef Richard Sandoval. Hearty, quesadillas and tacos, with the Tequileria, Maya's adjacent bar, focusing on agave spirits. 
1191 1st Ave., 212-585-1818, richardsandoval.com
Paola's Restaurant
Paola's Restaurant serves up classic dishes of Rome on Manhattan's Upper East Side. An icon of the Carnegie Hill Neighborhood. In addition to lunch, dinner and weekend brunch, they serve up Stuzzichini "Lite Bites" at their gracious bar. 
1295 Madison Ave., 212-794-1890, paolasrestaurant.com
Sushi of Gari
A small, beloved Japanese spot with sake-marinated, delicately blowtorched sushi and a welcoming chef's bar. A perfect spot to impress a sushi-loving date.
402 E. 78th St., 212-517-5340, sushiofgari.com
Tanoshi Sushi Sake Bar
What this eatery lacks in size, it makes up for in big, fresh taste. This tiny storefront with few seats is known for its authentic sushi & omakase tasting meals.
1372 York Ave., 646-727-9056, tanoshisushinyc.com
The East Pole
Two floors of local, seasonal deliciousness, wine and cocktails on a quaint block. This one's great for brunch, especially if you can secure a seat on the charming front patio.
133 E. 65th St., 212-249-2222, theeastpolenyc.com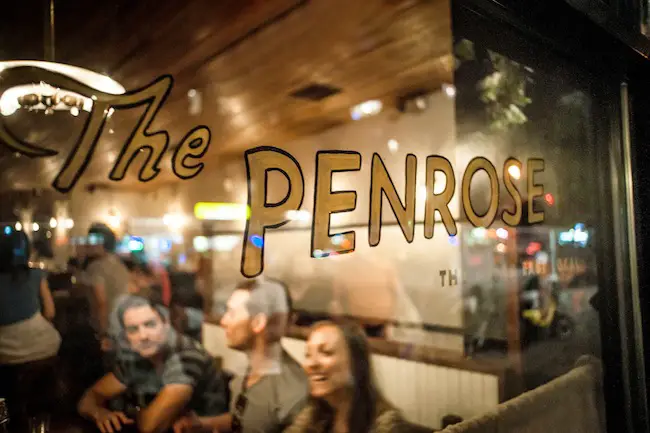 The Penrose
A spacious Irish pub for the crowds that have graduated from the Murray Hill versions. Grab one of the semi-private booths in the back, have a pint and a some shephard's pie and keep your ears open for live music. 
1590 2nd Ave., 212-203-2751, penrosebar.com
Uva
One of NYC's hottest wine restaurants, with rustic features and a back garden. Uva's menu, which ranges from small, tapas-style plates to classic and updated entrees, is perfectly complemented by an extensive wine list, as well as a full bar.
1486 2nd Ave., 212-472-4552, uvanyc.com
For our shopping tips for the Upper West Side, click here.