As vampire historians visiting the Davenport Theatre would disclose (under a full-fanged-blood-red moon), Wicked Clone the Cinema Musical is a long overdue theatrical moment—especially since it began in 15th century Transylvania, with the birth of identical twin sisters Mihaela and Gabriela.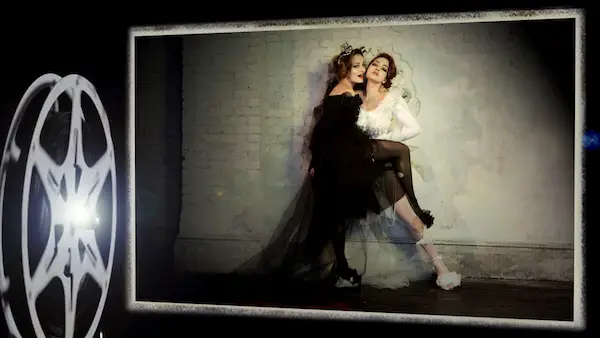 Does the storyline sweep audiences far into the future (today & beyond)? Yes…yes it does. Does it center on two drop-dead sexy brunettes who catapult vampire lore into a whole new (and unexpected) realm? Indeed. Should you be afraid? Very, very afraid? Just enough to pique your interest, since this wildly inventive show—involving singing, dancing, time-travel, film, and a symphonic soundtrack—beckons theatregoers to the underbelly of Nuevo Entertainment.
A bit unholy, and tantalizingly perched on the abyss, this rare piece of visual and audio creativity was written, composed, designed, and choreographed by the Indiggo Twins—Mihaela and Gabriela Mordorcea. Based on their 500-page bestseller Wicked Clone or how to deal with the evil, the musical turns the tables on tradition by telling "the story of a vampire bitten by a human being."
The original storyline tracks the two: Mihaela, whose desire to be human and loved takes her to the Big Apple; and Gabriela, who ventures through time and space to return her sister to her vampiric heritage.           
As for the music, the song count hits 21—from gypsy-pop to theatrical hip-hop. And the costumes: totally Transylvanian vogue.
The dark side beckons…bodaciously. So go for the glam, but stay for the supernatural ambience, unique staging, and, of course, the performances: immortal.
---
Wicked Clone the Cinema Musical (90 mins., no intermission) is currently playing at Off-Broadway's Davenport Theatre, 354 W. 45th St.  For tickets visit wickedclone.com/tickets.