The setting is a makeshift underground shelter—a converted London Tube station—in 1941 during an air strike. Bombs. Sirens. Gas masks, worn by the young evacuees as they rush back into their interim dormitory. Among them is Alice Spencer (Molly Gordon) and her childhood friend, Alfred Hallam (Colton Ryan), who arrives on a stretcher and is hustled into quarantine. As for the eclectic rest, as they settle onto cots, it becomes clear this is as much a hospital ward as it is a shelter.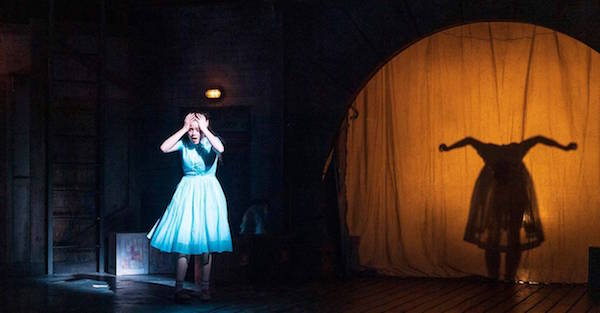 Alice By Heart. All images: Deen Van Meer
These are broken kids and young adults, torn from their families by a war that continues to resonate thanks to the History Channel, PBS, and Hollywood (11 films touching on WWII were released between 2017 and 2018 alone). And while Alfred, with tuberculosis, is the most physically unstable, the mental stress has taken hold of everyone occupying this limbo way station.
Nigel, a heartbreaking Zachary Infante, rocks back and forth repeating "My Mummy's coming for me today"; a delusional Clarissa (Catharine Ricafort) declares "Thursday's my birthday. Auntie Beardsley's throwing me a party!" while a shell-shocked young soldier (Wesley Taylor) floats in and out of reality, at one point announcing "Harold Pudding, reporting for duty, sir."
As for Alice, whose physical and mental health is about as good as it gets in these skewered surroundings, her perceived flaw (as identified by the prickly Red Cross Nurse played by Grace McLean) is her determination to soothe Albert by reading to him from the one book she dug out from the debris that was her home: Lewis Carroll's "Alice's Adventures in Wonderland." RCN, the biggest medical buzz kill since Nurse Ratched, ultimately explodes into, "We're well past make-believe," before tearing the book apart, leaving our newly minted heroine to recreate the story from memory. Enter the title: Alice by Heart, as all assembled take up the fantasy gauntlet and escape into Wonderland, poised to assume the characters that populate that world.
Like any stage production of the "Alice" books, the director is called upon to figure out ways to fall down a rabbit hole, stage an unwieldy game of croquet, create a hookah-puffing caterpillar, and so on. Jessie Nelson, a veteran film and TV writer/director (Corrina, Corrina) does a fine job finessing the actors from one chapter to another—albeit not in chronological order or verbatim from the original text, which in this case makes total sense—or nonsense.
Nelson co-wrote the book with Steven Sater, who also wrote the show's lyrics, alongside music composed by his Tony- and Grammy-winning partner for Spring Awakening, Duncan Sheik. I tend to be a sucker for Sheik's musical twists and turns and this go-round didn't disappoint. But what really hit me—both in the script and lyrics—was the ongoing homage to Carroll's delight in wordplay, nicely fleshing out the spirit of the various scenes.
As for putting the music across, the vocals were beautifully rendered by the talented cast, especially by Gordon alone and in her duets with Ryan.
So yes, introduced along with Alice and the Cheshire Cat (Nkeki Obi-Melekwe) and the Queen of Hearts (McLean), etc., is a young love through line that runs parallel to the Wonderland shenanigans played out with not much more than a rolling ladder, genius silhouette play, and the bodies of the actors themselves (deftly choreographed by Rick and Jeff Kuperman), sometimes with the addition of props like rifles and helmets. Even the brilliantly conceived costumes by Paloma Young, high as they are on the on madcap whimsy scale, showcase a Revolutionary War red coat and WWI uniforms.
(The final layer to the production is the ongoing, century-spanning inevitability of war. Even the clock that floats above the stage is set, not for Mad Tea Party time, but an unmoving 9:11.)
---
Marys Seacole, portrayed by Quincy Tyler Bernstine (center).
At the close of every theatre season, beginning in the early 2000s, I've selected my favorite Broadway show. Over the years this informal poll of one has netted a list that includes I Am My Own Wife, The Pillowman, John Doyle's Sweeney Todd, Journey's End…and more recently Hamilton (duh) and my only tie in 2017: Come From Away and Dear Evan Hansen.
For 2019, however, I find myself compelled to break from tradition and add an Off-Broadway production to the mix: Marys Seacole by Jackie Sibblies Drury, playing at Lincoln Center Theater's Claire Tow Theater through April 4th.
As stage bios go, this one is a stunner, and a far cry from anything linear, with a timeline that spirals audiences from the 19th-century, when Jamaica-born Mary Seacole lived, to contemporary times and back again. The play unfolds with scenario after scenario populated by other women loosely named Mary—Mamie (Gabby Beans), May (Lucy Taylor), Merry (Marceline Hugot), Miriam (Ismenia Mendez), and Duppy Mary (Karen Kandel), a beautiful and stoic figure who is, in fact, Mary's mother.
And then there's Mary Seacole herself, brought to luminous life by Quincy Tyler Bernstine. The character as described by Drury as "Jamaican-American with touches of patwah; she is many things, but at her core, she keeps finding herself to be a legend, a businesswoman, a fierce and charming striver." She is also a passionate healer and, as it happens, her own PR rep: at the age of 52, she wrote an autobiographical treatise, calling it, Wonderful Adventures of Mrs. Seacole in Many Lands.
On stage, she's her own force of human nature, never wavering in her determination to heal and be heard, no matter what century or period of dress. Her opening monologue, delivered in a period gown, offers an explanation as to what in her background compelled her to bring her medical skills to Crimea (her Scottish blood from her soldier father), while her medical training came from her Jamaican mother.
Towards the end of Mary's speech, Duppy Mary places a Bluetooth earpiece in her ear…the first blur of then and now, if you discount the nursing home set and Mamie, who has begun her hospital chores in the background as Mary speaks. When the monologue ends—with the ringing of her Bluetooth—we enter Drury's juxtaposed universe. Mary sheds her Victorian-era gown and faces us in scrubs. The nursing home is now the reality.
Other realities follow as the Marys grapple with age, pragmatism, compassion, the cultural divide, and racism. Nannies in a park…a nursing school… Crimean battlefield…Mary's story is all at once intimate and vast.
And glorious.