AMNH's Power of Poison Explores the History, Myths & Medical Marvels of Nature's Ongoing Struggle to Survive
November 13, 2013 - by Linda Sheridan
In Harry Potter, Lord Voldemort's wand is made of yew; a handful of these evergreen tree needles can indeed kill a person. But did you know that yew is also found in Taxol, a medication used to treat cancer?

Those who have read Lewis Carroll's Alice in Wonderland are familiar with the the Mad Hatter and his tea party. The term "mad hatter" was actually inspired by real-life symptoms of mercury poisoning suffered by workers exposed to the substance, which was used in the hatmaking industry in the 18th and 19th centuries.


From the pedestrian poisons of nicotine and caffeine, to the arsenic of Agatha Christie mystery novels, to the beautiful and deceptive innocence of the small but poisonous Golden Frog, the myriad facets of poison are explored in the American Museum of Natural History's The Power of Poison. It is curated by Mark Siddall, curator in the Division of Invertebrate Zoology.
"In this exhibition, we illuminate how poison is used in the natural world — and the evolutionary history behind it — as well as the ways in which people have used it and tried to understand its power throughout the centuries," says Siddall.

Cone snail shells. Photo: AMNH
"Poison is positively laced throughout history," says Ellen V. Futter, AMNH's President. While there is a "rich panoply" of villainous poisons used through the ages, today there is also "increasing medical use of toxins" being studied for medicinal purposes. For example, the venom from cone snails yield pain relievers more powerful than morphine and are being explored for the treatment of epilepsy, Alzheimer's and Parkinson's disease.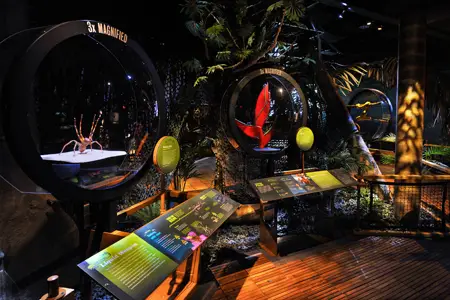 The Chocó rain forest diorama. Photo: AMNH
The exhibit is broken up into five sections. Visitors walk through a recreation of Colombia's Chocó forest, as the "Poison in Nature" section explores how poisonous plants and insects have adapted, going so far as forging 'lethal partnerships,' in order to survive.

The witches of Macbeth concoct a brew. Photo: AMNH
The "Poison in Myth and Legend" section explores the use of poison in literature. In one display, a trio of witches from Shakespeare's Macbeth stir a cauldron, using the 'magical' powers of highly poisonous plants such as wolfsbane, hemlock, and yew, to reveal the future. The section also explores various alleged poison detectors (such as silver, Venetian glass), protectors against poisons (such as garnet, emerald), poison purifiers (amethyst, fossil shark teeth) and more.
"Detecting Poison" includes a theater, plus a villains and victims gallery (Roman emperor Nero was a fan of poisoning his enemies with cyanide; Lucrezia Borgia sported an arsenic ring). Speculation still surrounds Cleopatra's death; was she poisoned, or did she commit suicide?
The exhibition also includes a "Poison by Accident" interactive section, where eyewitness accounts and clues can be used to solve poisoning mysteries and a theater, where live presenters will share dramatic stories of poisonings and forensic detection.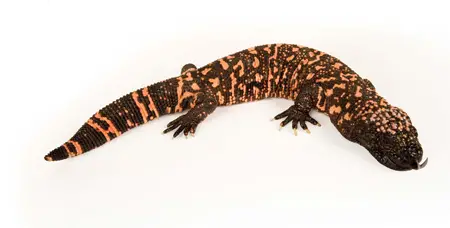 Finally, the "Poison for Good" section explores the harnessing of natural poisons for medical purposes. Vampire bats' saliva, called draculin, actually contains an anticlotting agent which could protect stroke patients from blood clots in the brain. Visitors will be able to see an actual Gila Monster (above), whose venom is found to stimulate insulin production and lower blood sugar levels.
For those who wish to continue sleuthing after they leave, visitors can download the game, "The Power of Poison: Be a Detective," a free app for iPad from the Apple App Store.
The Power of Poison will be on display through August 10, 2014.
Looking for Free Group Planning Services?
Get free advice on planning your group's trip to New York.
RESTAURANTS

The handsome, 12,000 square foot Times Square location offer...

THEATER

In a heartbeat, 38 planes with 6,579 passengers were strand...

SHOPPING

The world's only NHL store is located in the heart of Manhat...

SIGHTSEEING

Voted one of New York's most unique attractions, Madame Tuss...