For the first time in its history, the Solomon R. Guggenheim Museum in New York City will commission six artists to curate a show from the museum's vast collection of fine art. Artistic License: Six Takes on the Guggenheim Collection, which also marks the 60th anniversary of the Guggenheim's iconic Frank Lloyd Wright-designed home, will be on view from May 24, 2019, to January 12, 2020.
The Solomon R. Guggenheim Museum's painting storage facility, New York. Photo: Kristopher McKay © Solomon R. Guggenheim Foundation.


The six artists curating this show are Cai Guo-Qiang, Paul Chan, Jenny Holzer, Julie Mehretu, Richard Prince, and Carrie Mae Weems. All major figures in the contemporary art world, the artists have each received solo shows at the Guggenheim in the past.
Each artist's selections will fall under a particular theme of his or her choosing and will occupy the six successive ramps inside the museum's massive rotunda. Many selections will be little-seen works and/or the work of lesser-known artists. Collectively, the almost 300 paintings, sculptures, installations, and works on paper will portray this important institution in a new light on this anniversary. The organizers invite visitors to take new vantages on the museum's past through these highly varied works of art, as well as reconsider dominant narratives about modern art.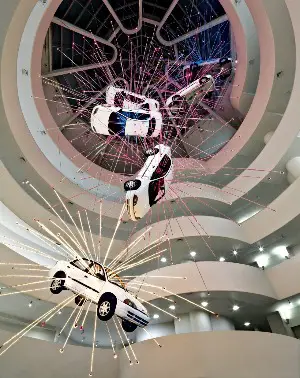 Installation view: Cai Guo-Qiang: I Want to Believe, Solomon R. Guggenheim Museum, February 22–May 28, 2008. Photo: Hiro Ihara, courtesy Cai Studio.
The Chinese artist Cai Guo-Qiang creates site-specific art using singular fireworks displays and installations. His art, at once intimately local and cosmic, was shown in the 2008 Guggenheim exhibition I Want to Believe. Cai has entitled his portion of this upcoming show Non-Brand as a challenge to the "branding" we assign to many significant artists. His scan of the Guggenheim's holdings revealed the early works of modern artists known for abstraction: Vasily Kandinsky, Piet Mondrian, Joan Miro, Mark Rothko, Hilla Rebay, and others. These artists, like so many others, began their studies and careers with figurative drawing and painting from which they later diverged. The "off-brand" theme will extend to the work of little-known artists and Cai's own early figurative work. The artist has also created new iterations of his gunpowder paintings inspired by abstract pieces from the Guggenheim collection.
On the second floor of the museum, Chinese artist Paul Chan will present Sex, Water, Salvation, or What Is a Bather? Chan is a multimedia artist known for animated video projections, drawings, and sculptures. His bathing-centric section of Artistic License will explore the many bathers that appear in Western art and what this fixation says about water, pleasure, faith, and exile. Chan's selections include Fernand Leger's haunting painting Starfish, Willem de Kooning's abstract ...Whose Name Was Writ In Water, and Laurie Simmons' dollhouse photographs like First Bathroom/Woman Kneeling.
Four Paintings Looking Right will follow on the third floor with artist-curator Richard Prince. The Pictures Generation member has painted a wide array of ironic and pulp-forward imagery, some of which were featured in his 2007-8 Guggenheim exhibition Richard Prince: Spiritual America. Prince's selections find formal commonalities among many Guggenheim paintings and sculptures from the 1940s and 50s, which came from around the world. Along with these oddly similar pieces, which call the selection process into question, Prince has brought in the work of Stuart Sutcliffe and a canvas that might have been painted by Jackson Pollock.
Ethiopian artist Julie Mehretu creates large-scale abstracts that reflect on global urbanization and political upheaval. Her section of Artistic License, wrapping around the Level 4 ramp of the museum rotunda, will be Cry Gold and See Black. These selections come from the post-World War II era and its traumas. Mehretu has gathered works from around the world including the paintings of Francis Bacon, Jean Dubuffet, Matta, and Romare Bearden. The Guggenheim recently acquired the body print Close Your Eyes and See Black by David Hammons, which will also be included in this section.
Carrie Mae Weems, the Portland photographer and video artist, has assembled her Guggenheim selections into What Could Have Been. Weems, whose captivating black-and-white photographs have found resonance in institutions worldwide, has limited her selections to those with a black and white color palette. These selections, while varied in medium, tone, generation, and geographic origin, collectively interrogate the biases that might have informed their original acquisitions. Weems has chosen Virgin by Joseph Beuys, Painting No. 7 by Franz Kline, Untitled (Black on Gray) by Mark Rothko, and excerpts from Ana Mendieta's Silueta Series, among other works.
Ohio-born artist Jenny Holzer has selected art created by women for her sixth-floor section, Good Artists. Western art traditions largely excise female artists from the canon, but Holzer will present a feminist counter to this narrative with work by sculptor Lee Bontecou, sculptor Louise Nevelson, photographer Adrian Piper, and Chryssa, whose neon works will be on display. Holzer herself has worked in light, and her 1989-90 Guggenheim exhibition featured L.E.D.s, in script wrapping the museum rotunda in the artist's singular language, at once visual and verbal.
Interior of the Solomon R. Guggenheim Museum, New York. ©SRGF, NY
Artistic License: Six Takes on the Guggenheim Collection opens at the Guggenheim May 24. The Solomon R. Guggenheim Museum is located at 1071 Fifth Ave. Call 212-423-3500 or visit guggenheim.org for tickets and more information.