Where to Find the Best Shawarmas in NYC
August 31, 2018 - by Merrill Lee Girardeau
Shawarma is a variation on the gyro. Like a gyro, the meat is grilled kebab-style (shawarma is Arabic for "turning"), but the shawarma's meat is marinated for longer, and there's a more diverse list of toppings. The following are the best spots to seek out shawarma in NYC.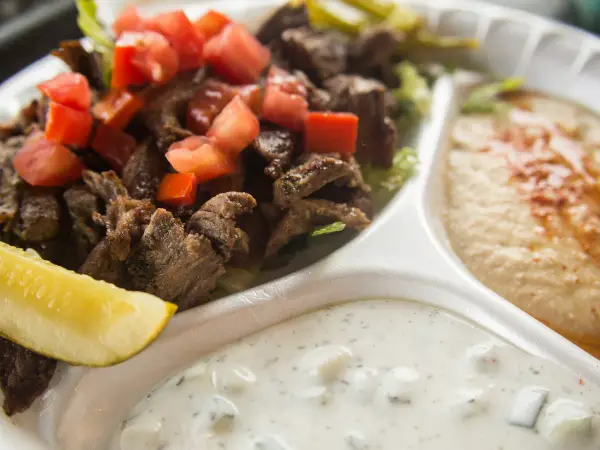 The Best Shawarmas in NYC: Lower East Side
A new Lebanese restaurant on the Lower East Side, the Lil' Gem makes some of the best Mediterranean food in the area in a vibey, low-lit space lined with high banquet seating. Their lamb shawarma comes as a plate of separate ingredients and pita (gluten-free available!) so that you can build your own, and the lamb is perfectly, delicately cooked. Toppings include greens, spicy habanero sauce, tahini, and hummus. Pairs well with restaurant's eponymous cocktail, a gin drink with labneh yogurt, lime, simple syrup, salt, and pepper. 29A Clinton St., 646-368-1392, lilgemnyc.com
The Best Shawarmas in NYC: Midtown East
The name of this restaurant and its food cart are no exaggeration. This is a shawarma worth waiting in line for. The shawarma meat (half lamb, half beef) comes in a variety of platters like the Ashley with chicken, salad, and three sauces, or the Charles with red cabbage, pickles, and pita. Eating with a vegetarian friend? They can order the award-winning falafel and be just as satisfied. Visit the food cart with the lunch crowd in Midtown East or the brick and mortar location in Astoria! Food cart: E. 53rd St. & Park Ave., 718-838-4413; Restaurant: 3015 Broadway, Queens 718-340-8068; kofnyc.com
The Best Shawarmas in NYC: East and West Village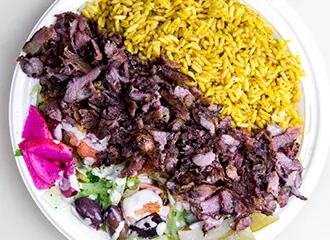 This Middle-Eastern hole-in-the-wall is the perfect place for a quick shawarma, especially during a late night of fun. Founded in 1971, its original location on MacDougal Street recalls the Greenwich Village of yore, with the legendary Comedy Cellar and Caffe Reggio on either side of Mamoun's. With all the essentials, from hummus to baklava, get full for a very low price, and see why Mamoun's is one of the most beloved pick-up places in the city. Greenwich Village: 119 MacDougal St.; East Village: 30 St. Marks Pl., 646-870-5785; mamouns.com
The Best Shawarmas in NYC: Williamsburg, Brooklyn
Wafa's appears on lists like these often, as the menu is rooted in Lebanese home cooking. Come to East Williamsburg (or order in) for chicken and lamb shawarma, marinated in spices, lemon, and olive oil and served with rice and lentils or hummus and tabouli. All sandwiches and platters are served with hot sauce: we say bring it on! Ask for a piece of crunchy, honeyed baklava as well. 812 Grand St., 718-576-3547, wafasfood.com
The Best Shawarmas in NYC: Midtown East
Egyptian-born Omar Abouzaid has established two Midtown restaurants drawing in lunch crowds with unbeatable chicken shawarma. Topped with garlic mayo, tahini, and hot sauce, the shawarma sings in both platter and wrap form. Take-out orders receive a free piece of baklava, while sit-down customers can have a little peace with their Midtown lunch. East Midtown: 20 E. 39th St., 212-213-0009; Midtown: 154 E. 55th, 212-207-8302; omars.nyc
The Best Shawarmas in NYC: Midtown West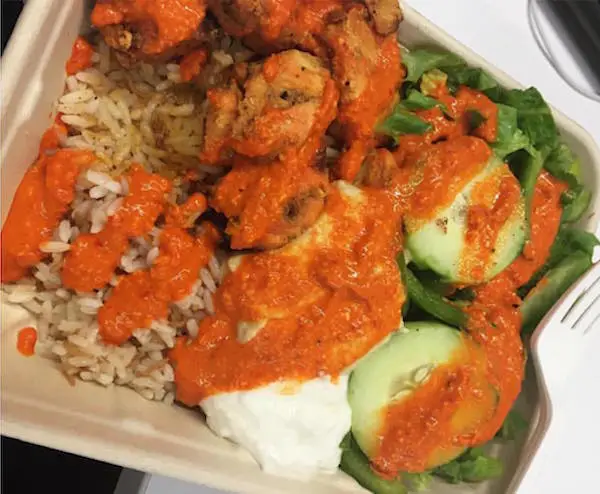 The Lebanese restaurant Balade Your Way in midtown gives you a nice, quick, filling lunch. Build your own plate with chicken or beef shawarma, among options like kebabs, falafel, or kafta. 144 W. 37th St., 212-695-6969, baladeyourway.com
The Best Shawaramas in NYC: East Village
At Balade in the East Village, go straight for the hummus shawarma platter with grass-fed beef, fresh veggies, pickles, hummus, and tahini. The lovely, homey setting will put you right at ease, and additional must-haves include the kafta manakeesh (flatbread with spiced ground beef) and any of their Lebanese beers. 208 First Ave., 212-529-6868, baladerestaurants.com
The Best Shawarmas in NYC: Williamsburg
In the market for a Brooklyn shawarma? Look no further than La Goulette, with a menu full of intriguing iterations of chicken shawarma. Get it with hummus, babaganoush (basically hummus with eggplant), cauliflower, rice, pita, or some combination of these ingredients. There's even "shalafel," a combination of chicken shawarma and falafel! Be sure to order some Tunisian fries as well, topped with parmesan and parsley. La Goulette is a great option for take-out as well, FYI. 159 Grand St., 347-689-4126, lagoulettewilliamsburg.com
Looking for Free Group Planning Services?
Get free advice on planning your group's trip to New York.
RESTAURANTS

Multi-concept restaurant offering modern Japanese cuisine, a...

THEATER

Gaston Leroux's famous period thriller is now one of Broadwa...

SHOPPING

An array of quality branded merchandise showcasing HBO's® aw...

SIGHTSEEING

Opened to the public in 1913 thanks to the ingenuity and amb...