Some seriously high-octane celeb power is spreading across Broadway at this very moment as the head count of award-winning actors from stage, film, and your favorite TV shows multiplies, probably breaking all kinds of new season records! Plentiful previews, outstanding opening nights...here's to indulging in the thrill of a great season as celebrities come to New York theatre for fall, 2016.
*Tony winner
#Tony nominee
+Broadway debut
THE CHERRY ORCHARD
This new adaptation of Anton Chekhov's masterpiece stars Diane Lane as a noblewoman who returns to her family estate. (Previews begin 9/15; opens 10/16; thru 12/4)
*Chuck Cooper (The Life)
Tavi Gevinson (This Is Our Life; film: Enough Said)
*John Glover (Love! Valor! Compassion!; Waiting for Godot)
*Joel Grey (Cabaret; Anything Goes; George M)
#Celia Keenan-Bolger (The Glass Menagerie; Peter and the Starcatcher)
Diane Lane (Runaways; film: Under the Tuscan Sun, Unfaithful [Oscar nomination])
THE ENCOUNTER
Creator, director, and star Simon McBurney of The Encounter (photo by Robbie Jack).

This truly breathtaking solo show follows a National Geographic photographer stranded in a remote area of Brazil.
(Previews begin 9/20; opens 9/29; thru 1/8)


#Simon McBurney (The Chairs; film: The Manchurian Candidate; The Last King of Scotland)
FALSETTOS
A revival of the award-winning musical about a charming, intelligent, neurotic gay guy named Marvin, his wife, lover, about-to-be-Bar-Mitzvahed son, their psychiatrist, and the lesbians next door. (Previews begin 9/29; opens 10/27; thru 1/8)
*Christian Borle (Something Rotten!; Peter and the Starcatcher)
#Andrew Rannells (The Book of Mormon; TV: Girls)
#Stephanie J. Block (The Mystery of Edwin Drood; 9 to 5; TV: Orange is the New Black)
THE FRONT PAGE
This classic 1928 comedy comes to Broadway with an all-star cast. (Previews begin 9/20; opens 10/20; thru 2/5)
#Dylan Baker (La Bête; TV: The Good Wife)
+Dann Florek (TV: Law & Order: SVU)
John Goodman (TV: Roseanne; film: Argo, The Big Lebowski)
*Nathan Lane (The Producers; A Funny Thing...; film: The Birdcage)
*Jefferson Mays (I Am My Own Wife)
*Robert Morse (How to Succeed...; Tru; TV: Mad Men)
#Sherie Rene Scott (Everyday Rapture; Dirty Rotten Scoundrels)
#David Pittu (LoveMusik; Is He Dead?)
John Slattery (Emmy winner: Mad Men)
#Lewis J. Stadlen (Laughter on the 23rd Floor; Candide)
#Micah Stock (It's Only a Play; TV: Deception)
#Holland Taylor (Ann; TV: Two and a Half Men)
FYI: Several members of this killer cast find themselves reuniting onstage with Nathan Lane. They include John Slattery (Laughter on the 23rd Floor); John Goodman (Waiting for Godot); Dylan Baker (November); and trifecta champ Lewis J. Stadlen (The Nance, A Funny Thing, and Laughter on the 23rd Floor).
HEISENBERG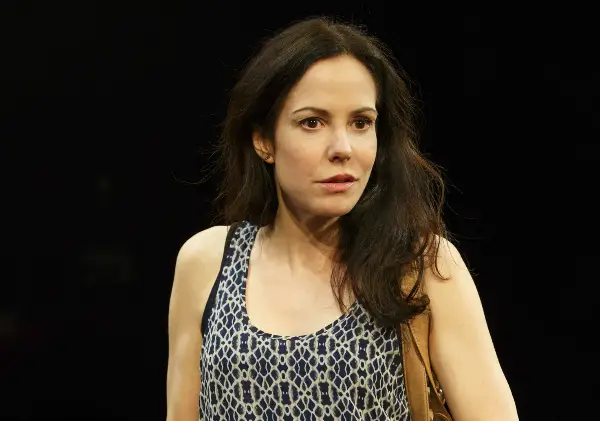 Mary-Louise Parker plays Georgie in Heisenberg (photo by Joan Marcus).
Amidst the bustle of a crowded London train station, Georgie spots Alex, a much older man, and plants a kiss on his neck.
(Previews begin 9/20; opens 10/13; thru 12/4)
*Mary-Louise Parker (Proof; TV: Weeds)
+Denis Arndt (TV: The Practice; L.A. Law; film: Basic Instinct)
HOLIDAY INN, The New Irving Berlin Musical
When Jim meets Linda they turn his farmhouse home into an inn celebrating American holidays with dazzling shows. (In previews; opens 10/6)
Corbin Bleu (Godspell; TV: High School Musical; Dancing with the Stars)
#Bryce Pinkham (A Gentleman's Guide to Love and Murder)
#Megan Lawrence (The Pajama Game)
#Lee Wilkof (Kiss Me, Kate TV: Law & Order)
LES LIAISONS DANGEREUSES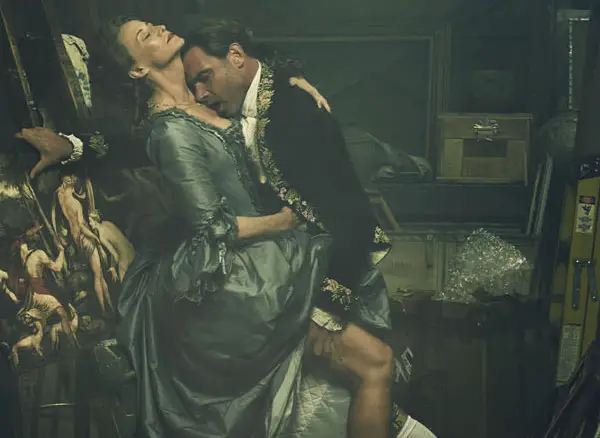 Former lovers compete in games of seduction, toying with the hearts and reputations of innocents. (Previews begin 10/8; opens 10/30; thru 1/8)
+Birgitte Hjort Sørensen (TV: Vinyl; Game of Thrones)
*Janet McTeer (A Doll's House; TV: Damages; film: Albert Nobbs [Oscar nomination])
#Mary Beth Peil (The King and I; Follies; TV: The Good Wife, Dawson's Creek)
*Liev Schreiber (Glengarry Glen Ross; Talk Radio; TV: Ray Donovan; Spotlight)
LEWIS BLACK: BLACK TO THE FUTURE
Stand-up comic, actor, and author Lewis Black hits the Broadway stage. (Opens 9/12; thru 10/24)
Lewis Black (Black on Broadway; TV: Lewis Black's Root of All Evil)
OH, HELLO ON BROADWAY
This two-man tour-de-force comedy features a pair of outrageously opinionated, 70-something, "legendary" New York bachelors. (Previews begin 9/23; opens 10/10; thru 1/8)
+Nick Kroll (TV: Kroll Show)
+John Mulaney (Netflix: John Mulaney: The Comeback Kid)