Pedal-to-metal doesn't begin to describe the annual frenzy surrounding Broadway's busiest time of year. Come spring, rehearsal studios in and around the Great White Way are booked to capacity; trucks crammed with newly minted scenery belly up to loading docks; preview performances take their first baby steps; paparazzi scramble for primo spots on opening nights; ticket holders snake their way into legendary Broadway houses; reviewers spill their critical guts with make-or-break gusto. In short, the dash to the Tony Awards finish line is officially on.
Spring 2018 is proving itself a "something- for-everyone" draw thanks to an eclectic catalog of choices from revivals to new musicals and dramas featuring A-listers from theatre, film, and television.
STAR-POWERED REVIVALS
Tony and Oscar winner Denzel Washington's stage buzz is stratospheric now that he's back on Broadway playing Hickey in Eugene O'Neill's The Iceman Cometh. His press-worthy costars include Tony winners Bill Irwin (Who's Afraid of Virginia Woolf?; Legion; Law & Order: SVU), Frank Wood (Side Man; The Night Of), and Tony nominees Reg Rogers (Holiday; Primal Fear) and Tammy Blanchard (Gypsy; Life with Judy Garland: Me and My Shadows).
Photo Credit: Julieta Cervantes
(Six degrees of separation alert: Blanchard's costar in Gypsy was Bernadette Peters, currently dazzling audiences in the Tony-winning musical revival Hello, Dolly!)
Also on the revival menu this spring are two musical theatre classics boasting impressive acting lineups: Rodgers & Hammerstein's Carousel starring Tony winner Jesse Mueller (Beautiful), Tony nominee Joshua Henry (The Scottsboro Boys; Shuffle Along…), and opera great Renée Fleming; and Lerner and Lowe's My Fair Lady, with Downton Abbey's Harry Hadden-Paton as Professor Henry Higgins, Lauren Ambrose (Six Feet Under) as Eliza Doolittle, Tony winner Norbert Leo Butz (Dirty Rotten Scoundrels), and Diana Rigg (yes, The Avengers' Emma Peel during the 1960s—definitely worth a YouTube visit), whose more recent credits include Game of Thrones and Victoria.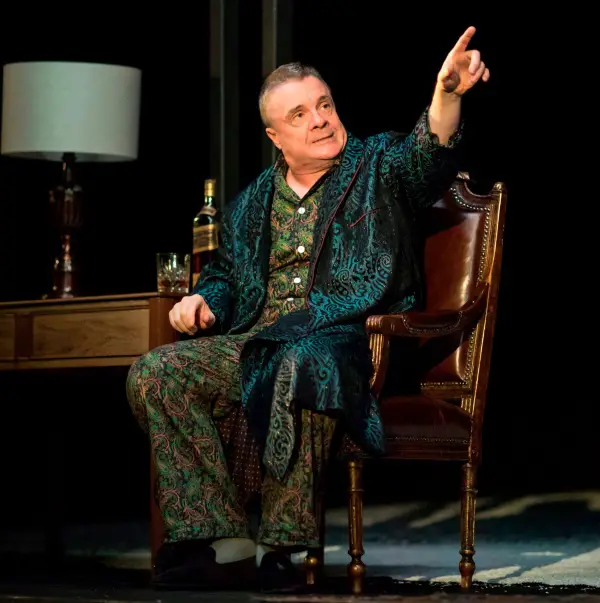 Nathan Lane as former Donald Trump mentor Roy M. Cohn in Angels in America: Millennium Approaches. Photo (c) Helen Maybanks.
Tony Kushner's Pulitzer Prize-winning Angels in America—with Tony winner Nathan Lane (The Producers; A Funny Thing Happened on the Way to the Forum) and Oscar and Tony nominee Andrew Garfield (Hacksaw Ridge; Death of a Salesman)—is back on Broadway in a mind-altering new staging by director Marianne Elliott. I know, it's a two-part commitment, but it is epic, blistering, beautiful, and unforgettable.

Angels in America is marking a quarter-century return to Broadway, but you can also find a much earlier and equally groundbreaking work. Mart Crowley's The Boys in the Band returns to Broadway in a 50th anniversary production with a killer cast that's led by Zachary Quinto (Star Trek; American Horror Story), Jim Parsons (The Big Bang Theory), Matt Bomer (The Normal Heart; White Collar), and Tony nominee Andrew Rannells (The Book of Mormon; Girls).
MULTI-GENERATIONAL APPEAL
Danny Skinner, Lilli Cooper, and Ethan Slater sing under the sea in the new SpongeBob SquarePants musical. Photo by Joan Marcus.
Kids are well served this season by some awesome new shows. Frozen—Disney's latest addition to its stable of must-sees (Aladdin and The Lion King are already bona fide hits)—is already selling out, but happily there are other options if you failed to book ahead. Anastasia is gorgeous and delightful from start to finish; SpongeBob SquarePants is a crazy fun surprise with a cast that ingeniously creates living cartoon characters.
Wicked is another show that keeps improving with time, as new Elphabas, Glindas, Fiyeros, Nessaroses, and Boqs take over Emerald City.
And should you have a Potter fan in your family or friend circle, beware: the sell-out London import Harry Potter and the Cursed Child is a coveted two-part wonder that requires pre-ordered tickets. If you have them in hand, congratulations. But if you don't, may I suggest another wizarding world saga now playing at Off-Broadway's New World Stages: Puffs, Or: Seven Increasingly Eventful Years at a Certain School of Magic and Magic.
This hyper-funny, majorly clever comedy centers on a gaggle of misfit kids sorted into a lesser house: The "Puffs," whose sole celebrity, Cedric, was chosen to represent them in the Wizard Tournament. Fans of certain famous books and films will love it…many show up in costumes. Inside jokes abound, but outsiders get the manic gist and enjoy it as well. I'm preparing for a return visit. One final thing: the regular show can be a bit bawdy for young kids, so two weekend matinees are totally "family friendly." Brilliant.
A.J. Ditty impresses as The Narrator in the majorly clever Puffs. Photo by Hunter Canning.