Let me be among the first to welcome you to a new season of theatre—New York style. If you detour from Times Square heading west down 44th or 45th Street on a weekday afternoon, you might catch new signage going up on a Broadway theatre or two, as well as trucks with stagehand types unloading the nuts, bolts, and set pieces for up-and-coming shows.
For theatre lovers, this annual influx is somewhat bittersweet. Yes, new stars and shows are what makes Broadway a dynamic work-in-progress—even long-running productions like Wicked, Chicago, and Disney's trio of megahits, The Lion King, Aladdin, and Frozen—welcome new performers all the time, but it also means saying good-bye to shows that have been a vital part of the Broadway scene. At the moment, one show, Beautiful—The Carole King Musical, is in its final stretch, playing its final performance on October 27th after nearly five years at the Stephen Sondheim Theatre.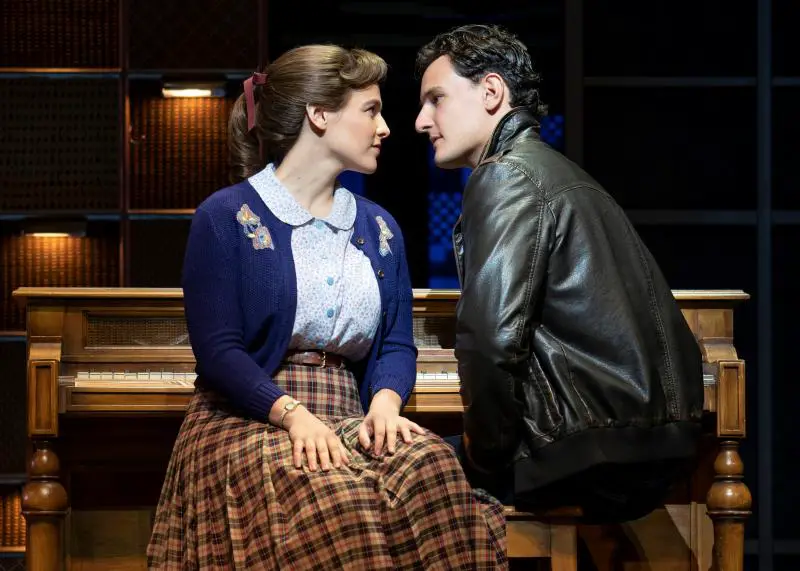 Sarah Bockel and Cory Jeacoma feel the earth move in Beautiful—The Carole King Musical. Photo by Joan Marcus.


As jukebox musical bios go, Beautiful ranks right up there with the best, capturing the trajectory of the life and career of one of pop's most influential artists, with a style as masterful as King herself. And while most of the production's original leads are no longer with the show (Sarah Bockel is the current Carole King), Tony nominee Liz Larsen, who plays King's mom, Genie Klein, has been there since the first preview. With time running down, you'll want to reserve your seats before "It's Too Late," baby.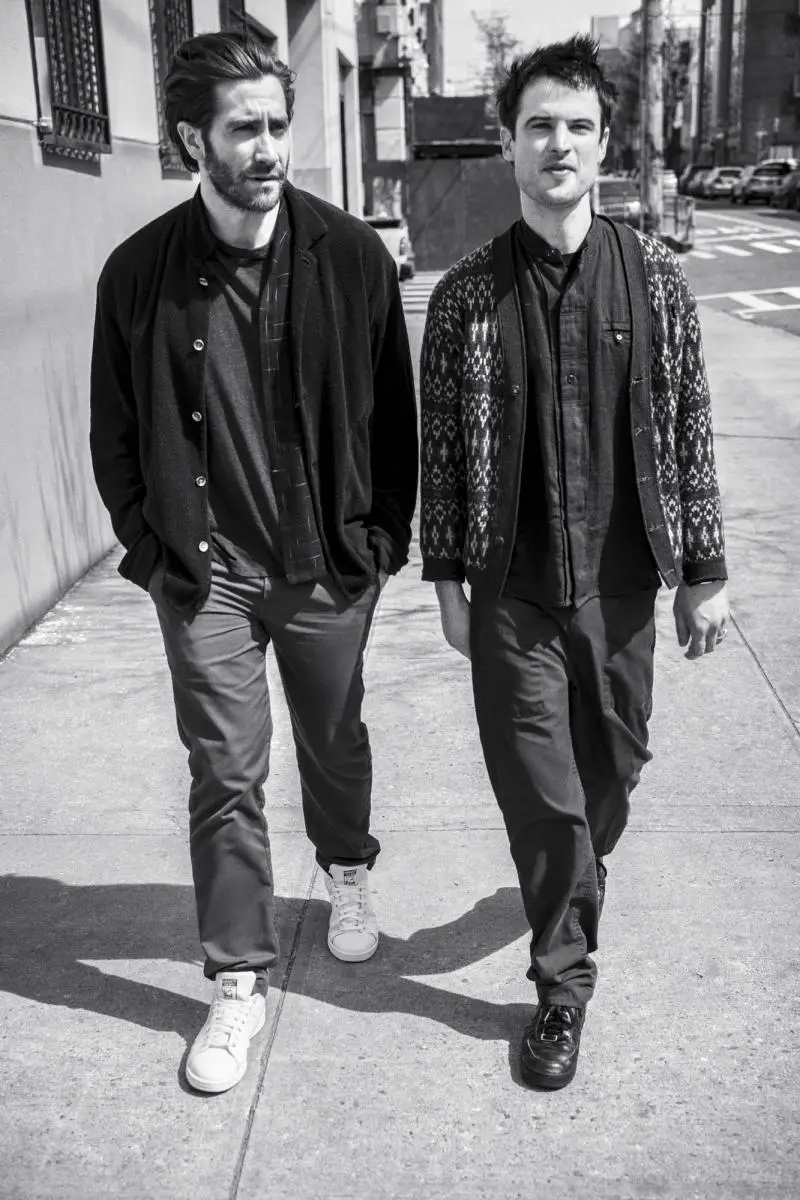 Oscar nominee Jake Gyllenhaal teams up with Tony nominee Tom Sturridge in Sea Wall/A Life.
Unlike Broadway musicals that open with the hopes of reaching The Phantom of the Opera longevity, dramas and comedies tend to sign on for limited runs. Such is the case with Sea Wall/A Life, two solo one-acts brought into focus by a couple of high-profile actors at the peak of their game: Tony nominee Tom Sturridge (Orphans; Sweetbitter) and Oscar nominee Jake Gyllenhaal (Brokeback Mountain; Sunday in the Park with George). Set to close on September 29th, nearly a month before Beautiful, each of these hauntingly etched plays will stay with you—as will Sturridge and Gyllenhaal's uncompromising performances.
Star Sweep
Switching gears to new arrivals, the news here is decidedly eclectic—in the best possible ways. On September 14th, Tony and Emmy winner Mary-Louise Parker (Proof; Angels in America) returns to Broadway as a college professor in Pulitzer Prize finalist Adam Rapp's drama The Sound Inside. Five days later, Oscar winner Marisa Tomei (My Cousin Vinny) takes on the role of widow Serafina Delle Rose in the third revival of The Rose Tattoo, Tennessee Williams's Tony-winning play of 1951.
Two legendary Brits, Tony winner Jonathan Pryce (Miss Saigon; Game of Thrones) and Olivier winner Eileen Atkins (Doubt; The Retreat from Moscow), have crossed the pond with their acting superpowers in tow to star in Tony nominee Florian Zeller's The Height of the Storm.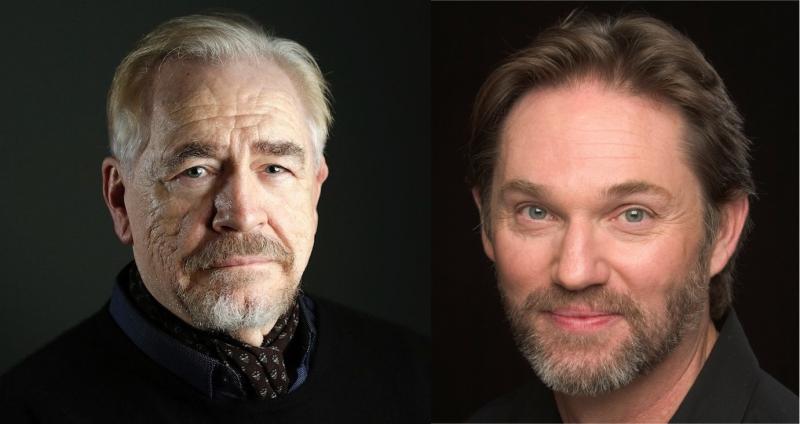 Brian Cox and Richard Thomas highlight the serious star wattage of The Great Society.
Hitting the Great White Way like gangbusters when it comes to acting, writing, and directing royalty is Pulitzer and Tony winner Robert Schenkkan's The Great Society. Bryan Cranston, who picked up his first Tony playing President Lyndon B. Johnson in Schenkkan's All the Way on Broadway (2014) and its follow-up HBO film, won't be reprising the character in this new work, which focuses on post-All the Way years. (My guess is Cranston's still recuperating from his nightly on-stage meltdowns in Network last season). His LBJ replacement, however, is one of stage, film, and TV's most coveted actors, Emmy winner Brian Cox, currently starring in HBO's Succession. He's joined by a staggering list of Tony nominees—Marc Kudisch (Richard J. Daley), Bryce Pinkham (Robert Kennedy), Gordon Clapp (J. Edgar Hoover), and Richard Thomas (Hubert Humphrey)—and Tony winner Frank Wood (Everett Dirksen). Making his Broadway debut as Martin Luther King Jr. is Grantham Coleman.
On the musical front—traditionally a lightweight category in the fall—David Byrne's American Utopia begins previews on October 4th. Rock & Roll Hall of Famer Byrne, who co-founded the new wave band Talking Heads in the mid-1970s, is tackling the Broadway scene vis-à-vis a concert format boasting an ensemble of diverse international musical performers.
Then there's Freestyle Love Supreme, the improvised hip-hop musical created by Thomas Kail, Anthony Veneziale, and Hamilton's Lin-Manuel Miranda, which blew the roof off the downtown music scene earlier this year. Featuring a core cast of hip-hop phenoms, plus surprise appearances from Broadway entertainers like Tony winner James Monroe Iglehart, Daveed Diggs, and Chris Jackson—and possibly Miranda.
Broadway Trivia
(…or How One Fun Theatre Fact Leads to Another)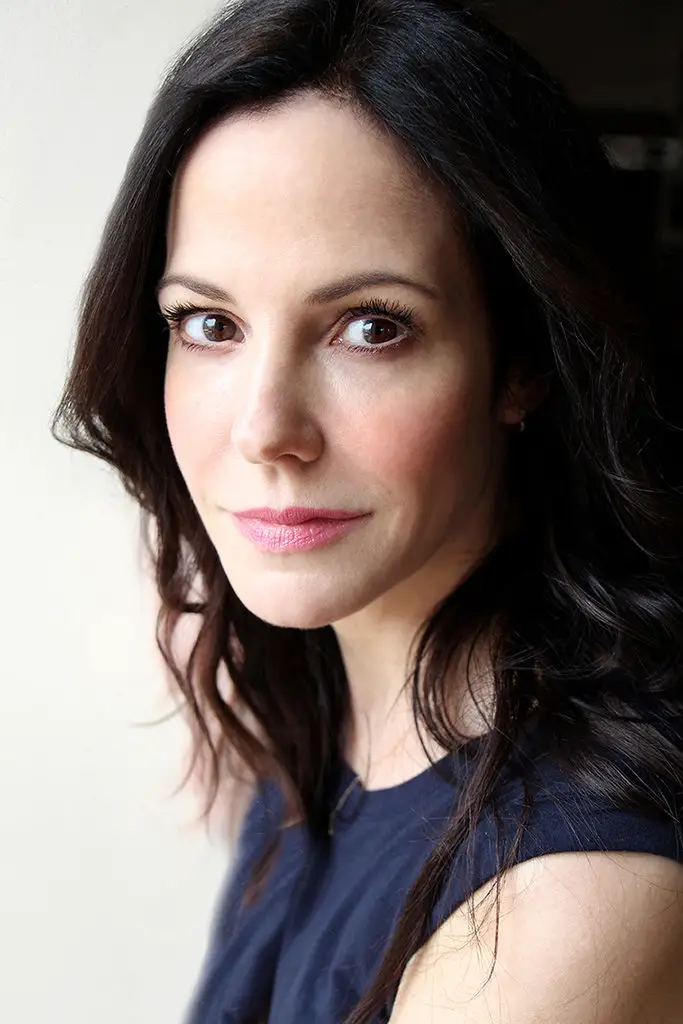 Mary-Louise Parker may be in The Sound Inside right now, but come next March 27th, she'll be reprising her award-winning 1997 Off-Broadway performance in Pulitzer Prize winner Paula Vogel's How I Learned to Drive. This time she'll be steering onto Broadway, alongside her original co-star, David Morse.
Speaking of Ms. Parker you may want to zero in on Red and Red 2 the next time they pop up on TV. One of her costars is Brian Cox of The Great Society.
As Hubert Humphrey to Mr. Cox's LBJ, Richard Thomas will be leaving 1960s politics for 1930s law when he takes on the role of Atticus Finch in the national tour of To Kill a Mockingbird, launching in August of 2020 at the John F. Kennedy Center for the Performing Arts in Washington, D.C. (FYI: Ed Harris will be replacing Jeff Daniels on Broadway as of November 3rd.)