It was with great excitement that I looked forward to my fourth BroadwayCon in New York City. As a theater lover who has collected so many Playbills that I can no longer keep them on one shelf, I was excited to join the ranks of my fellow Broadway "gleeks." For the 2019 version of this mammoth undertaking, BroadwayCon returned to its original home, the Midtown Hilton, where in 2016 a massive blizzard had nearly shut down the prepubescent conference.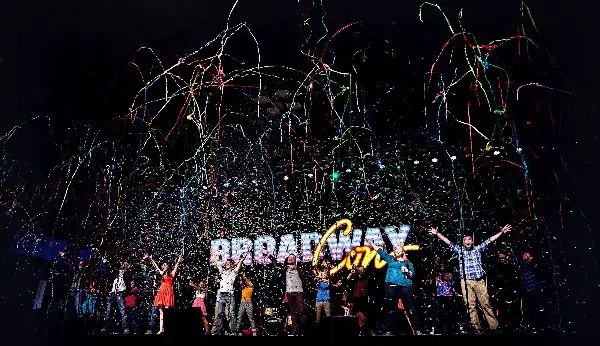 Image: Cheryl Root Photography
But the show must go on, and so it did in 2016 and it continues in 2019 with a heightened emphasis on the joy, sharing, diversity, and love that bond the group of fans who follow the comings and goings on the Great White Way, whether they live in Oklahoma, Australia, or just across Central Park.
BroadwayCon is a constantly moving mass of people of all ages. Many come dressed as their favorite Broadway character and hope to win the cosplay contest. Some change their cosplay costumes each day—BroadwayCon is a three-day event. Young, old, kids with their parents, couples on vacation, everyone at BroadwayCon shares the common love of theater, especially musical theater.
The most difficult part of BroadwayCon is trying to choose what you want to do. The schedule is packed each day with overlapping panels about subjects pertinent to theater, with performances and discussions about beloved or new shows, with a marketplace that offers everything from souvenirs to classes that nurture your inner Annie or Pretty Woman. And, of course, there are singalongs, meetups, and autograph signings where fans make new friends over a common love of theater.


A Broadway Musical and Character Showcase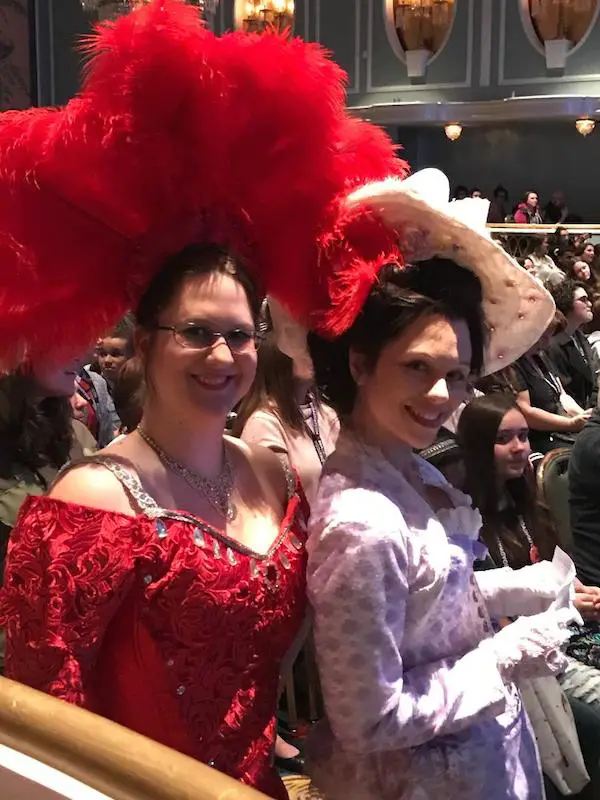 BroadwayCon attendees participate in cosplay, here in tribute to Hello, Dolly! 
Starting with the opening ceremony, playwright and theater director Tina Landau established BroadwayCon and theater as a home, "a space where all are welcome." Her speech set the tone for the days ahead, for the diversity of the people attending the conference to the myriad show-specific panels scheduled each day. It was hard to walk through the conference without humming—there seems to be music and impromptu a capella gatherings around every turn. At Marketplace, too, there was an open mic stage for hopeful singers who had been previously screened and who would be voted on by some of Broadway's most notable musical theater stars. I was particularly impressed by Adrian Escalona, a 14-year-old from Indiana who so astonished viewers on YouTube with his rendition of "She Used to Be Mine" from Waitress that he was invited to perform on the Mainstage. He pretty much brought the house down. I'll be looking for him next year on a stage in the Theater District. I was told that he has an agent now.
The first Mainstage show scheduled was the wildly popular Harry Potter and the Cursed Child. The entire lovable cast, all with their charming West End English accents, talked about what it was like to act in New York, compared to at home in London. "It's much louder here," one cast member mused. "There's quite a lot of enthusiasm. It's different." They also talked about how it would be when the cast change occurs on March 17. "We're really going to miss being with everyone. Our cast is family, too. " Another commented, "We're not sure what it will be like when we have to leave New York. This has been quite an experience."
Other spotlight shows that drew massive audiences were Mean Girls accompanied by writer Tina Fey, The Prom, Avenue Q, a preview of Be More Chill, and The Cher Show, where Stephanie J. Block spoke about the 400 costume changes in the show and the 600 costumes, all of which create an onstage frenzy unlike anything she had ever experienced before. "R&H Goes Pop," a concert celebrating 75 years of Rodgers and Hammerstein songs—here given modern interpretations by Broadway performers—was a fun complement to the panel about how to modernize Oklahoma for audiences in 2019.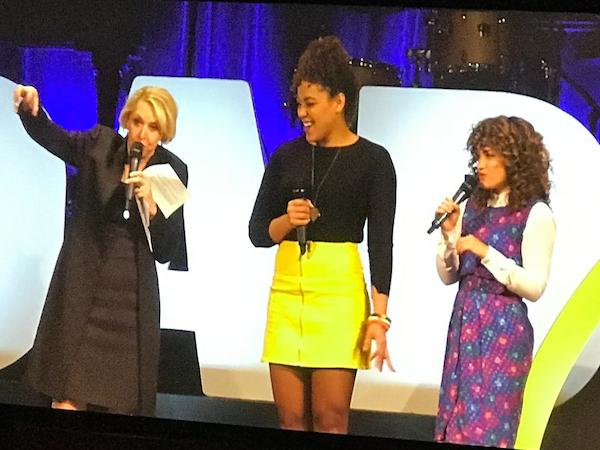 Julie Halson, Lilli Cooper, and Sarah Stiles will star in the Broadway version of Tootsie.
One of the most popular events was "First Look," where cast members from upcoming shows perform "teaser" songs, almost like gifts to their adoring fans-to-be. This year's lineup included the hotly anticipated Tootsie, Beetlejuice, and Hadestown, along with some video teasers from Moulin Rouge. What I saw promises a great season ahead.
The BroadwayCon Cosplay Contest was probably the most competitive in the four years of the conference and included individual characters as well as group ensembles from various plays. I particularly loved the group from Once on This Island and the Mean Girls' Plastics—the creativity was beyond amazing. But the contest was more than just parading in your uber-amazing costume. To win, contestants had to address a question posed by emcee Ben Cameron, answering in character. For example, Audrey 2 from Little Shop of Horrors was asked what color she would be. Naturally, the color was…green.
Panels, Seminars, and Play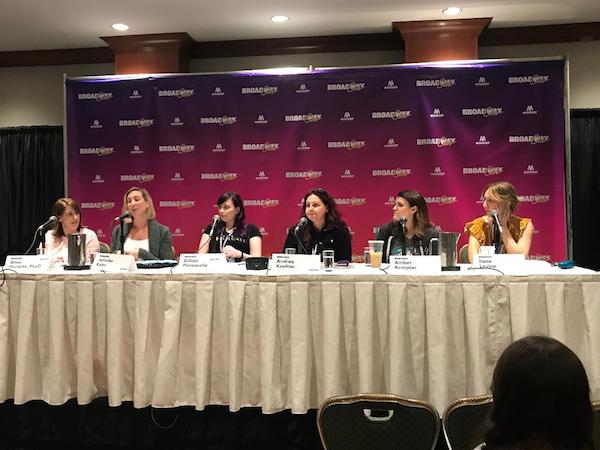 The BroadwayCon Makers' Panel: Alisa Hurwitz, Jennifer Kahn, Gillian Pensavalle, Andrea Kochler, Amber Kempter, and Ilana Levine.
While groups of teenagers seemed to prowl Marketplace looking for opportunities to perform or show off their costumes, older guests (meaning 20 and up) could be found filling the rooms at the various panels. It was a tough choice for me to decide between "Psychology of Sondheim" or "Turn Your Passion Into a Career." Both were fascinating and I ran back and forth to try to catch wisdom from each.
Other topics that caught my eye were the choreographer panel and the Disney 25th anniversary fan meetup that had a mashup of trivia contests, testimonials, and song.
Some of the wackier events that have become BroadwayCon mainstays are the BroadwayCon jukebox at the end of the first day, where singers are given a song to perform as chosen by real-time audience voting. The BroadwayCon Blizzard Party Line, where performers are contacted via computer and speak to the audience over a live feed, hearkens back to what actually happened during the blizzard of 2016 when performers weren't able to come to the Hilton and attendees spent a snowed-in night in their pajamas in the Hilton Grand Ballroom. And, if you ever doubted that Broadway fans are really fanatic Broadway fans, all you needed to see was the closing ceremony, where Broadway performers picked their favorite YouTube videos of Broadway plays past, and BroadwayCon attendees, numbering up to 75 at times, come to the front of the theater to sing along line-by-line, movement-by-movement in ensemble formation. The YouTube Sendoff Party is "Broadway as home," at its most literal.
Sharing the Good Work of Broadway
BroadwayCon organizer and Rent star Anthony Rapp.
The goodwill and good vibes shared by BroadwayCon attendees takes on a more serious and meaningful note with Marketplace stands and panels that focused on charitable endeavors. A panel about The Actor's Fund explained the importance of this organization in caring for the many people involved with putting on a show. At Marketplace, a t-shirt flea market sold show merch to the benefit of Broadway Cares/Equity Fights Aids, and numerous organizations solicited signups from young Broadway fans interested in scholarships to further their training.
The many, many volunteers at BroadwayCon exemplified the commitment that is seen through the Red Bucket Brigade and the volunteer ushers at the shows themselves. Without these volunteers, navigating the multiple floors and many rooms of BroadwayCon would definitely have been a daunting exercise.
A huge Broadway hug to organizers Anthony Rapp and Melissa Anelli for making BroadwayCon an enduring part of the New York City theater landscape, and for making dreams come true for so many fans from all parts of the globe.