On the night of September 11, 2001, after the World Trade Center landscape had been desecrated into Ground Zero, Canadians Irene Sankoff and David Hein and a handful of their fellow NYC students sat around a piano letting music mitigate their emotions.
Irene Sankoff and David Hein bring audiences together in Come From Away.
DH: Being in New York on that day and the days following, we wanted to help, we were all in the same boat—race, age, whatever, that moment eclipsed everything.
Seemingly, that stroke of shared empathy was a key factor in Sankoff and Hein's creation of Come From Away, their remarkable true-life musical about the 38 planes forced to land in Gander, Newfoundland on 9/11, and the generosity and friendship shown the 7,000 stranded passengers from across the globe by the people of Gander.
Sankoff and Hein, who married in 2001 and collaborated on the musical My Mother's Lesbian Jewish Wiccan Wedding before joining forces to shape Come From Away, launched themselves into firsthand research in 2011, when they headed to Gander for the 10th anniversary of the events that touched and reshaped so many lives. They began zeroing in on the heroic heartbeat of the show via interviews—a process that began with weeks spent living in Gander among the locals.
IS: They wouldn't let us stay in a hotel; they gave us the keys…
DH: Just feed the cats…and let yourself in and out.
Between interviews, emails, and international Skyping, Sankoff and Hein had massive amounts of material that they somehow managed to whittle into 100 stunning minutes of theatre.
DH: We have 12 actors representing really 16,000 people, when you add in the locals.  Naturally we had to create amalgamations of certain characters and details.
IS: We relied on the people who were there to tell us whether or not we got it right.
Calling the taking on of multiple characters a "Canadian aesthetic" insofar as being happy to step in when needed, the idea flows directly into the bedrock of Come From Away.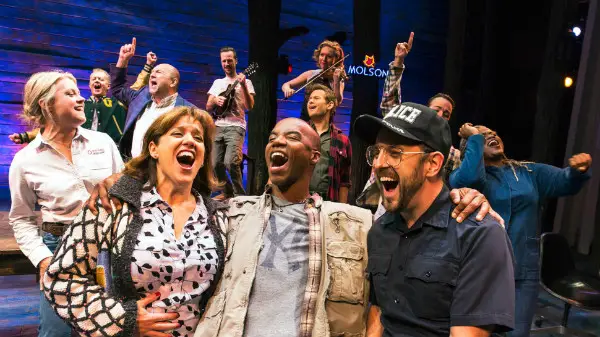 Come From Away image: Matthew Murphy.
IS: Playing different characters is kind of a metaphor for how we can all be in anyone's shoes.
In the end, everything you see unfolding on the Schoenfeld stage actually took place, including the budding romance between Dallas divorcee Diane and British oil engineer Nick. Notable as well is the pivotal character of pilot Beverly Bass (Tony nominee Jenn Colella), whose revelatory song, "Me and the Sky," stops the show.
IS: Beverly's probably seen the show 100 times.
DH: And I'd guess Nick and Diane have been around 60.
Indeed, Sankoff and Hein have built a show that not only inspires repeat visits but allows theatregoers to bond—even hug strangers next to them. To be uplifted.
IS: Be ready to laugh and to remember where you were. The message that comes through is that people matter…love is stronger than discrimination.
---
Come From Away is playing at the Schoenfeld Theatre, 236 W. 45th St. Call 212-239-6200 or visit comefromaway.com for tickets and more information.