Countryside, The Future, the massive exhibition now on display at the Guggenheim, is a sprawling display that winds from the bottom of the museum all the way to the top. It's not exactly an art exhibit—it's more art exhibit as treatise. It's been organized in collaboration with famed architect Rem Koolhaas and Samir Bantal, the director of AMO, the think tank of the office of Metropolitan Architecture. Koolhaas, of course, is a big name, and a big name that's largely associated with urban areas. (Although his buildings in New York are few.) Having spent much of his working life concentrating on the city, he now seems to have "discovered" the country; the show is posited as somewhat of an epiphany that seems as if it can, in many ways, be reduced to one sentence: industrialization has destroyed the countryside.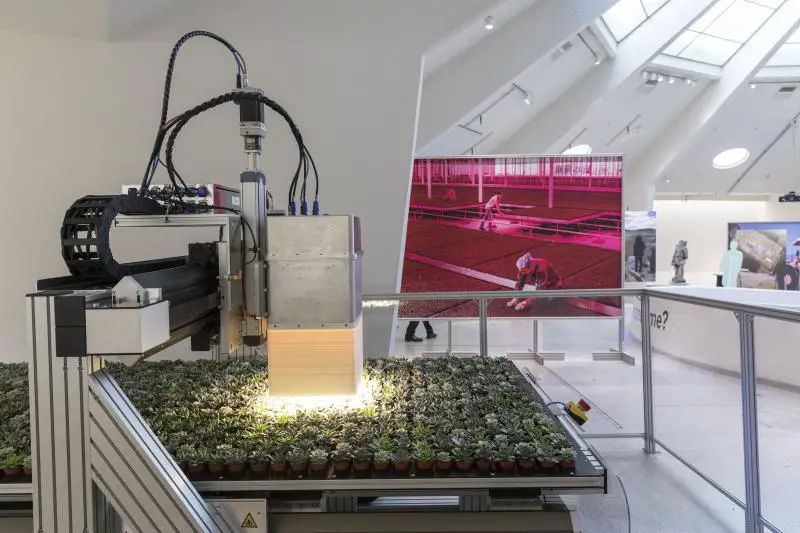 Laurian Ghinitoiu, courtesy AMO.


The exhibit actually starts outside the museum, where tomatoes grow in a large container under LED lights. There's also a large tractor. (It's unlikely that the tractor has anything to do with the tomatoes.) They're more the equivalent of clickbait: inviting the viewer to say, "Okay, I'll bite. What's going on here?" The truth is…it's not entirely clear. Upon entering the museum, viewers will notice that the bottom floor of the building is covered in cutouts. A large bale of hay hangs suspended from overhead; an underwater drone is paired with a replica of a Roman sculpture of a fisherman. They're certainly visually arresting, and it's always interesting to see the Guggenheim in its entirety used for an installation. But what exactly is going on?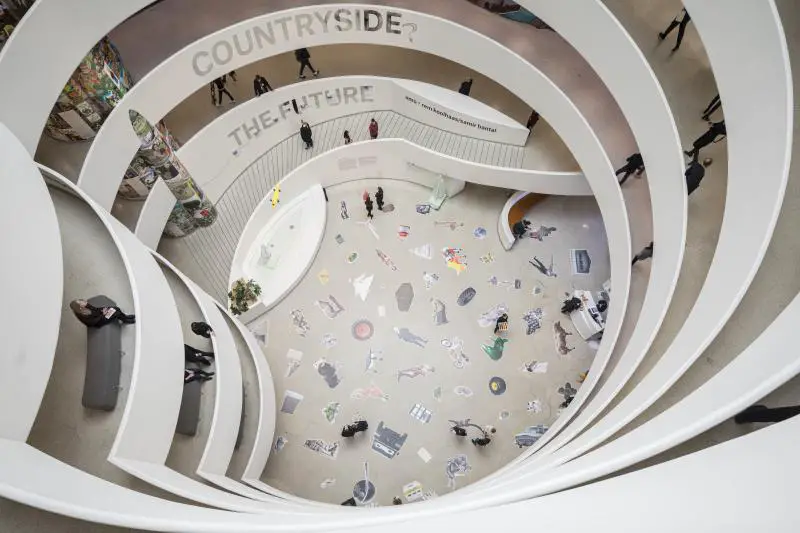 Installation View: Countryside, The Future. Photo: David Heald. © Solomon R. Guggenheim Foundation.
To say the show is text heavy is an understatement; it's almost nothing but text (okay, and plenty of images) swirling their way up the museum's rotunda. In a nutshell, the show attempts to look at what has happened to the countryside; there are no spoiler alerts here, although climate change and global warning are presented as something of a revelation, when much of it is not much of a surprise at all. Some of the pockets of information are fascinating—text on off-the grid communities, for instance, is certainly interesting—but to what avail?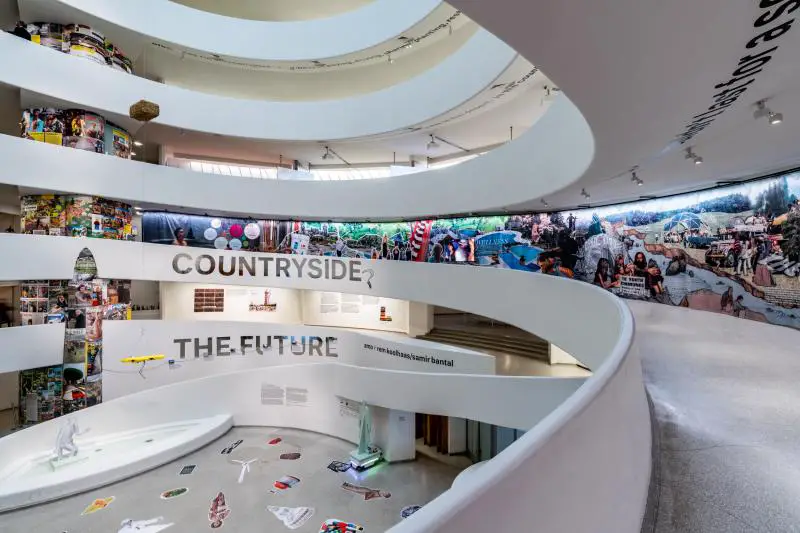 Installation View: Countryside, The Future. Photo: David Heald. © Solomon R. Guggenheim Foundation.
Koolhaas refers to the countryside as "an ignored realm," although who has ignored it is a little unclear. Some text focuses on leisure time in the countryside, and how the original uses have transformed into something else—villages in China into resorts; villages into spas in Italy. Other sections show the influence of politics on rural areas, from a prototype of a 19th century commune to a more recent food security program in Qatar. Additional sections look at preservation, experimentation, and Cartesianism, here interpreted as mathematical abstraction on various rural areas. Or maybe not. One of the only vertical elements shows stereotypical images of country life, designed by Niklas Maak and students at the Harvard Graduate School of Design. (Koolhaas is a Harvard professor.) They seem to be shorthand for…something.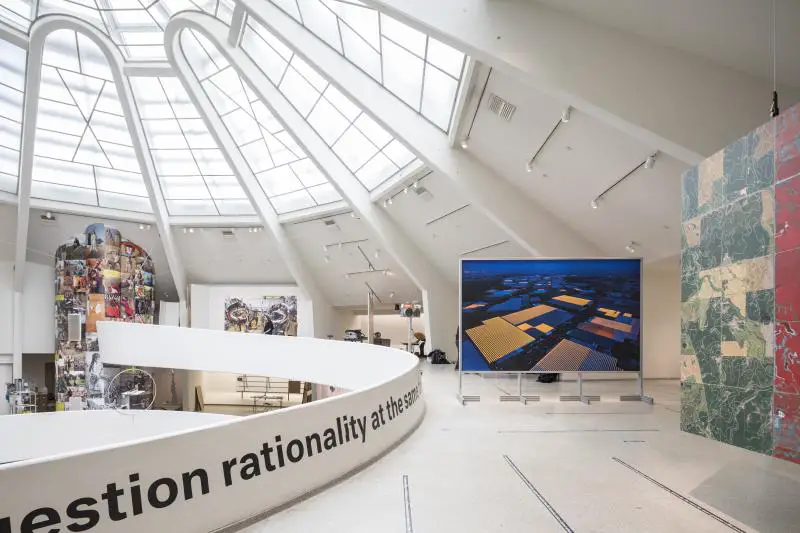 Laurian Ghinitoiu, courtesy AMO.
At times it's hard to make sense of what the overall aim of the exhibit is. Is it to reinforce that the countryside has been affected, most often negatively, by the intrusion of cities and mass production, and that something has been lost in the process? It's hard to argue with that thesis. Is it a call to action? If so, to do what? The amount of information is dizzying and often overwhelming. And while much of it is informative, it still often leaves the viewer wondering what to do with all of it. Take it in all once or in small pieces? Either way, viewers are bound to have questions—although what we could really use are more answers.
---
Countryside, The Future will be on display through August 14th, 2020. The Solomon R. Guggenheim Museum is located at 1071 Fifth Ave. Call 212-423-3500 or visit guggenheim.org for tickets and more information.