New York welcomes animals of all kinds, from poodles to parakeets. Whether you live in town or are coming to visit, all pet owners need a primer on traveling around the city with dogs or cats. As a precaution, be sure you have proof of ownership and vaccination records for your pet, as well as a collar with your contact info printed clearly. Then come enjoy the greatest city in the world with a furry friend!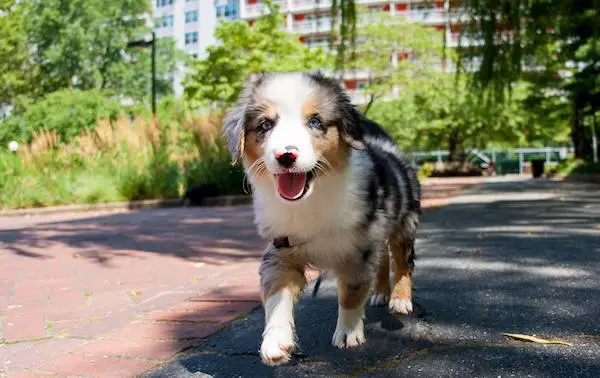 Photo: NYC Doggies/Facebook
Pet Travel Tips in NYC: Subways, Buses, & Cars
In the city, kennels or crates will be your friend as you tote your dog or cat from place to place. If you're using the subway or bus, your pet will need to be on its best behavior and be contained in a crate or appropriate bag. There's no size or weight limit on animals, but be advised that you'll have to tote them through the station and the city beyond.
These guidelines, established by the Metropolitan Transit Authority (MTA), apply even to emotional support animals, which need to stay contained and quiet on the subway. The repercussions might not be severe (unruly pets are rarely reported to the police), but expect a few dirty looks if your dog yelps from Canal to Columbus Circle.
Seeing-eye dogs and other service animals for the physically disabled are permitted to perform their duties and walk on leashes through subway stations, train cars, and buses.
If you take taxis or car services like Uber or Lyft, don't expect all drivers to accommodate your pet. Taxi drivers and members of major car services must accept all service dogs, but other pets may not get a ride, no matter how cute they are. Again, you improve your chances with a crate or bag, as well as a pet on her best behavior.
If possible, call or text your driver to notify him or her that you have a pet passenger with you. It's your driver's choice whether to accept or decline. If they decline, nothing personal—they probably don't want hair all over the car!  
If you need a rental car, companies like Hertz, Alamo, Budget, and Avis allow Fido but often charge a cleaning fee (again, pet hair is real!). Do your bit and be sure the inside of your ride is impeccable when you return your car, possibly escaping the fee. Zip Car also allows animal passengers in crates or other containers.
Animal taxi services abound, whether you need to send your animal to the hotel, the kennel, or the vet. Canine Car, for example, will transport a pet with or without its owner, taking the animal to a group of select vets including the Animal Medical Center. Is Fido walking down the aisle during Pride month? Canine Car will have someone stay with a pooch at the venue until the big moment and transport her home afterwards. Airport pickup is also available.
Similar pet taxis include Pet Taxi New York and Pet Chauffeur.
Photo: Kitty in NY (Facebook)
Pet Travel Tips in NYC: Dining Options
During warmer months, dogs can accompany you to restaurants with outdoor seating. Among welcoming eateries is the Barking Dog on the Upper East Side, the Boat Basin Café overlooking the Hudson River, and the Madison Square Park location of the ever-crowded Shake Shack.
City Guide has also compiled lists of outdoor dining spots in Hell's Kitchen, the Upper East Side, The West Village, and at fine dining restaurants throughout the city. You can take Scout to the park for a walk and a bite to eat at one of these restaurants inside city parks, or get silly at an outdoor happy hour.
Before you go any of these places, however, a courtesy call to the restaurant is always a good idea.
For restaurants and stores located indoors, dogs and other animals are typically not permitted. Plan ahead, and make other accommodations for your pet if you plan on spending lots of time inside on a given day.
Pet Travel Tips in NYC: Dog-Walking
Dog-walking services can be ultra-handy if you need to be out when Wags does, too. You can elect a solo or group walk and how long the walk should last. NYC Doggies takes dogs walking or "hiking." NY Tails also offers boarding and dog sitting (most walking companies provide boarding services, FYI). Bark Ave Dog Walkers largely deals with pooches in Manhattan. Or, call a vet and ask for a recommendation.
Pet Travel Tips in NYC: Pet-Friendly Hotels & Boarding
If you plan to stay in a hotel room with your pet, you're in luck! Hosting the yearly Westminster Kennel Club Dog Show, Hotel Pennsylvania charges just $25 for your pet to stay (cat or dog). Their location is convenient to Madison Square Garden, Macy's, and the Empire State Building. Also in Midtown West, The Affinia Manhattan has a VIPaws program; a stay here includes a dog bed, bowls, and treat.
The Roxy Hotel in Tribeca welcomes dogs and gifts your pooch with organic treats during your stay. Their sister hotel, Soho Grand, a five-minute walk away, offers a luxe private dog park. The James Hotels, with locations in Soho and NoMad, accept fuzzy plus-ones in style with Shinola dog beds and charitable donations to local no-kill pet shelters for each dog they board.  
The Kimpton Muse Hotel in Times Square goes one better with a pet concierge service for all pet-owning guests. The Director of Pet Relations will be on-hand at the hotel to orient you to pet-friendly restaurants and attractions in the city. There's also no additional charge to bring Moose or Mittens.
At JFK airport, there's The Ark (as in Noah's), a luxury airport hotel for creatures great and small. There are resting stalls for travelling horses, an aviary quarantine for birds, animal handling, and 24/7 vet care for all pets.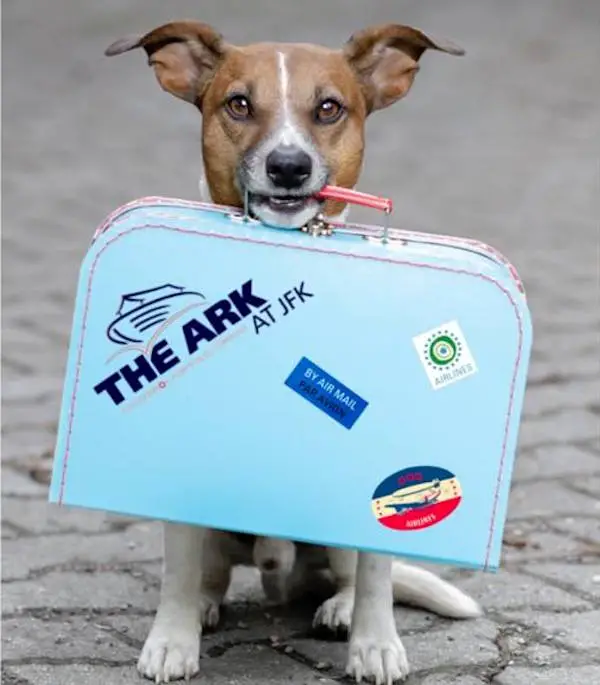 The aforementioned NY Tails boards dogs in addition to providing walks and specialized care. Dogs can stay at one of Biscuits & Bath's many locations throughout the city, offering personalized boarding for your pup, no matter its size, age, or personality.
For felines, Katie's Kitty, in business for 16 years, offers cat sleepovers in your home as well as cat sitting and boarding. Kitty in NY and Gotham City Cat Care provide similar services.
Pet Travel Tips in NYC: Activities
When traveling with dogs, select activities outside, and assume most indoors attractions will turn your pup away (sorry, no dogs at Top of the Rock!).
NYC parks are full of dog runs, fenced off areas where you and your dog can both make new friends. These parks include Washington Square Park in Greenwich Village, Madison Square Park in Flatiron, and of course, Central Park. Some, such as Brooklyn's Prospect Park, have specified off-leash times. These special hours give your canine pal the opportunity to burn off some energy and run free.  
For cat people, there are the new cat cafes like Meow Parlour and Brooklyn Cat Cafe, where adoptable cats roam around the space. But sadly, you can't bring your own cat to the party.
Most service animals can explore New York's top sites along with you, from Yankee Stadium to Carnegie Hall to the top of the Empire State Building. Therapy dogs and other animals won't be so lucky. Assume they need other accommodations while you travel to the Statue of Liberty or tour MoMA.