Drop-In Yoga Classes for Visitors to Midtown NYC
March 1, 2019 - by Merrill Lee Girardeau
If you're a yoga junkie or just need to de-stress in the hectic city, a yoga class lies right around the corner—guaranteed. Below are seven yoga studios in Midtown New York, offering drop-in rates for classes a la carte for visitors who don't want to buy a membership to a studio. From the Garment District to the Queensboro Bridge, you can downward-dog and cat-cow your way to a calmer mind and more limber body.
Drop-In Yoga in Midtown NYC: Yo Yoga!
If you're not from the city, you might get into Yo Yoga! This studio describes itself as a "very non-New York studio that just happens to be located in New York." Yo doesn't take itself too seriously, hosting many of its classes on its roof deck located near the Queensboro Bridge at East 59th Street. There are vinyasa classes for your sun sals, as well as Stretch & Restore and classes that combine high-intensity with gentle yin. Sound Off yoga gives you noise-canceling headphones to wear during your practice for full relaxation. Yo charges $25 for a single walk-in class, with $2 extra to rent a mat. 344 E .59th St., 646-490-7790, yoyoganyc.com
Drop-In Yoga in Midtown NYC: Sonic Yoga
For a $25 drop-in rate, Sonic Yoga invites new and experienced yogis to its space in Hell's Kitchen. Their vinyasa-forward schedule offers Beginner Flow, Flow 1, Flow 2, and Flow 3, numbered according to skill level (Flow 3 is for the most advanced students). Reflective, slower classes like Center and 30-Minute Meditations will calm your mind and ready you for your day in the city. Sonic Yoga also hosts donation-based classes, in which you determine your own price. 944 Eighth Ave., 212-397-6344, sonicyoga.com
Drop-In Yoga in Midtown NYC: Yoga Spa at Lounge 1881
In Midtown East, get your yoga with a side of spa time. A wide range of yoga styles is available at Yoga Spa, from yin to ashtanga to prenatal. Their affordable drop-in rate is $19 per class, and their expert teachers also teach private sessions and couple classes as well. Yoga Spa's packages can include a body scrub, a variety of massages, and a facial. A relaxing day awaits! 226 E. 54th St., 7th Fl., 212-308-6789, yogaspa.nyc
Drop-In Yoga in Midtown NYC: Atthena Yoga
Located near Rockefeller Center, Atthena Yoga is a convenient spot for all the triangles, dragonflies, and pigeons you can handle. Their most-offered class is Sweat Flow 60, a hot class for all experience levels. Atthena also leads meditation classes and a late-night option called Relax, Restore & Prepare for Sleep. Sounds like a plan! Atthena Yoga charges $32 for single classes and provides mats, props, and towels. 43 W. 46th St., 3rd Fl., 856-840-9436, atthenayoga.com
Drop-In Yoga in Midtown NYC: Yoga to the People
Affordable yoga can be found at the democratic Yoga to the People, which offers pay-by-donation classes on West 38th Street. This popular studio hosts ten hot yoga classes throughout the day, Monday through Thursday, as well as several classes Friday through Sunday too. The recommended donation is $8, with $2 extra for mat rental. Remember to bring cash and come as early as you can to secure a good spot, as YFP gets pretty crowded. 1017 Sixth Ave., 3rd Fl., 917-573-YOGA, yogatothepeople.com/38th-street
Drop-In Yoga in Midtown NYC: Om Factory
Om Factory offers something a little different. In addition to basic yoga classes for a wide spectrum of skill levels, Om also specializes in aerial yoga. That's right: you'll wind yourself up in fabric to help you flip upside down for a killer headstand, as well as learn other moves unique to aerial yoga. Om's Midtown location is located in the Garment District near Penn Station. They offer a week of unlimited classes for first-time students ($50), $20 for a single yoga class, and $25 to drop into an aerial yoga class. 265 W. 37th St., 17th Fl., 212-616-8662, omfactory.yoga
Drop-In Yoga in Midtown NYC: Yoga & Fitness Herald Square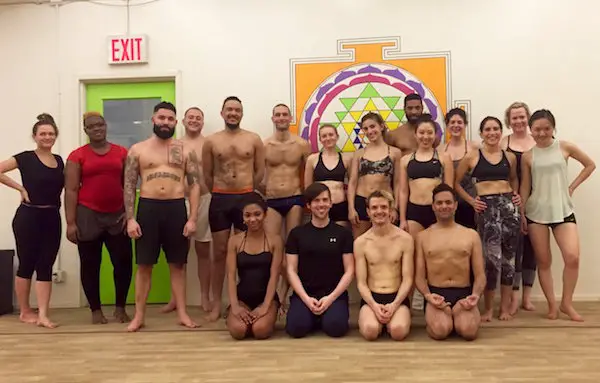 All classes are served hot at Yoga & Fitness Herald Square. Whether it's cold outside or you need a detox (or both), give Yoga & Fitness a try. They teach traditional Hatha, power yoga, vinyasa, and yin, all in a heated room. For non-yoga, go for toning Hot Pilates and Hot Body Tease (that's a yoga, barre, and pilates combo). Yoga & Fitness Herald Square charges $29 for a single class and $4 to rent a mat. 139 W. 35th St., 8th Fl., 917-940-8935, yogaheraldsquarenyc.com
Looking for Free Group Planning Services?
Get free advice on planning your group's trip to New York.
RESTAURANTS

Multi-concept restaurant offering modern Japanese cuisine, a...

THEATER

In a heartbeat, 38 planes with 6,579 passengers were strand...

SHOPPING

Specializing in the great vineyards of California, France, A...

SIGHTSEEING

The 9/11 Memorial honors the nearly 3,000 people killed in t...