Mating Call – Make a First Date on Broadway
September 5, 2013 - by Melanie Baker
We've all been there – that treacherous first date. Whether "blind," set up through friends, or arranged via the tangled world wide web of online romance, we've faced that killer combination of awkward glances, elbow grazes, and the perpetual, dangling uncertainty of a second date. Dating, especially in New York, a city crawling with singles, can be a daunting task. Scrap the romance. Dating is work. It's a game. Play or be played. So, what better way to get us through the woes of messy metropolitan meet-ups than through song, dance, and a heap of smartly timed comedy?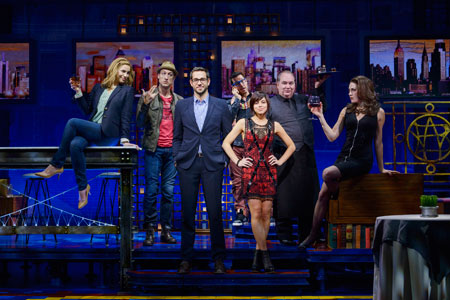 Photo: Chris Owyoung
First Date, the brand new Broadway musical from Austin Winsberg (book), Alan Zachary, and Michael Weiner (music and lyrics) ditches the façade of a perfect first encounter (is there a single one in history?), shoving Aaron, an overeager, buttoned-up corporate hunk played by Zachary Levi (TV's Chuck; Less Than Perfect), with Casey (Krysta Rodriguez of TV's Smash; Broadway's The Addams Family; Spring Awakening), a confident, edgy femme fatale who could make Aaron's thick-rimmed glasses fog up in a heartbeat. Casey knows what she likesm -- and it's not Aaron, setting this first date up for a whirlwind 90 minutes of speed bumps and songs.

Zachary Levi and Krysta Rodriguez (Photo: Chris Owyoung)
Both protagonists endure a slew of cutaway encounters via their inner monologues: Aaron's Jewish grandmother returns from the grave with chutzpah galore to offer her two cents when Casey divulges that she isn't Jewish; Casey is haunted by the ghosts of lovers past – bad boys with all of the ink and rebelliousness she craves but who can't give her the stability she doesn't yet realize she desires; Aaron suffers frequently from visions of his ex-flame, putting her on a sky-high pedestal, and must rely on his college buddy to remind him that she was, indeed, a three-headed she-monster.
With visions of wacky friends, relatives, and exes dancing in their heads, Casey and Aaron seem past redemption for their doomed date in Bar Land, USA. Can they look beyond their qualms with hookup culture, and their hang-ups over old breakups, and make a real love connection? Head to the Longacre Theatre to find out if this first date takes it to the next level.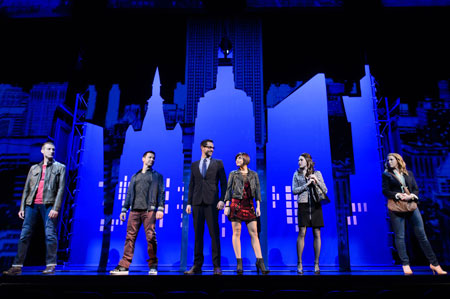 Photo: Chris Owyoung
Sara Chase, Kristoffer Cusick, Blake Hammond, Kate Loprest, and Bryce Ryness round out the cast.
Longacre Theatre, 220 W. 48th St. For tickets, call 212-239-6200 or click here.

Looking for Free Group Planning Services?
Get free advice on planning your group's trip to New York.
RESTAURANTS

Guy's American Kitchen & Bar is a dynamic restaurant introdu...

THEATER

A new musical following a wannabe rock star who poses as tea...

SHOPPING

Specializing in the great vineyards of California, France, A...

SIGHTSEEING

In addition to 360-degree views from Midtown Manhattan, the ...