A Potential Summer Blockbuster with Pomp, Circumstance, Dimension, and Style: The Great Gatsby
May 9, 2013 - by Ellis Nassour
F. Scott Fitzgerald critically acclaimed, prose-laden novel The Great Gatsby is set in 1922 against the mansions of Long Island amidst the Roaring 20s — with its loose morals, the birth of the Jazz Age (a term coined by Fitzgerald), skyrocketing stocks, prohibition, social climbers, and bobs-and-feathers flappers doing the shimmy. It's considered one of the great novels of the 20th century. It's also considered unfilmbable, which hasn't stopped Hollywood and TV from several attempts.
The eagerly anticipated, latest The Great Gatsby (Warner Bros./Village Roadshow), opens Friday, produced for an estimated $127-million, co-written, and directed by Australian stage and screen visionary, Baz Luhrmann, director of the 2002 avant garde stage version of La Boheme. It stars Oscar nominee Leonardo DiCaprio as Jay Gatsby, Oscar nominee Carey Mulligan as Daisy, Tobey Maguire (a previous Spider-man, as Nick Carraway), and Aussie Joel Edgerton (Zero Dark Thirty, as Tom Buchanan).
DiCaprio says he wanted to play Jay Gatsby "because I was drawn to the idea of a man who came from nothing and created himself from his imagination. He lifted himself up by his bootstraps as a poor youth and wanted to emulate Rockefeller. He found ways to get rich quick. We can relate to the dreamer in him and his ambition."
He not only gave Jay Gatsby a lot of thought before filming. It turns out it was one of his favorite books in junior high. "He's this hopeless romantic so in love with Daisy that he's schemed to accumulate immense wealth to draw her back. Though he's hollow, Gatsby has great hope in the search for meaning in his life.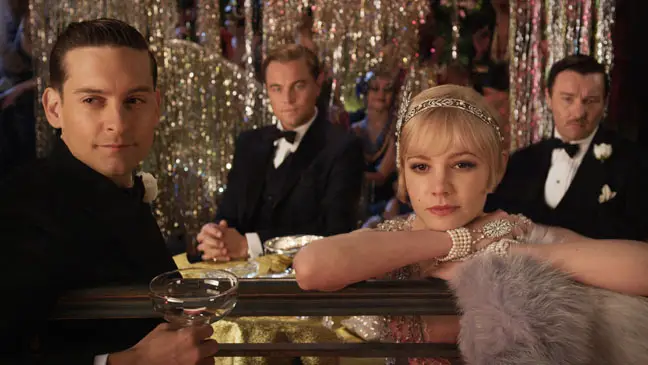 Tobey Maguire, Leonardo DiCaprio, Carey Mulligan. Photo: Warner Bros.
"The Gatsby I remembered," he continues, "was different from the one I discovered when I reread it. For the first time, I was struck by the sadness in him. I looked at him as attaching himself to this relic from his past. Daisy's a mirage. He's desperately holding on to this image. Even when he's finally holding her in his arms, he's still searching for this thing that he thinks will complete him. Nick's the only one who really sees what going on."

There's been buzz about Luhrmann's superstylized vision, which some describe as "orgiastic," a word actually used in the novel. There's not only the wild party scene, which, even according to the director, got wilder than he imagined; but also non-Fitzgeraldian elements such as tunes by Beyoncé, Fergie, Bryan Ferry, Florence + the Machine, will.i.am, Amy Winehouse, and co-producer Jay-Z – similar to the non-traditional elements in his films Moulin Rouge and Romeo + Juliet.
Critics and fans of the book have long surmised one of The Great Gatsby's inherent problems is that Fitzgerald never gives a vivid description of his dark title character, other than referring to him as "an elegant young roughneck."
From Luhrmann and the stars on down, all were aware that many consider the novel a sacred text.
"Everyone has a connection to Gatsby as a character," says DiCaprio. "The Great Gatsby is one of those novels that's talked about almost a 100 years later for a reason. It's one of the most celebrated of all time, like American Shakespeare. It's incredibly nuanced and existential. Everyone who reads the novel has their interpretation of who the characters are. They're attached on a personal level. When you're making a movie, you have to be much more specific."

Maguire says, "The hard part was determining what could be left out, while also figuring out a way to externalize Nick in whose head the story unfolds."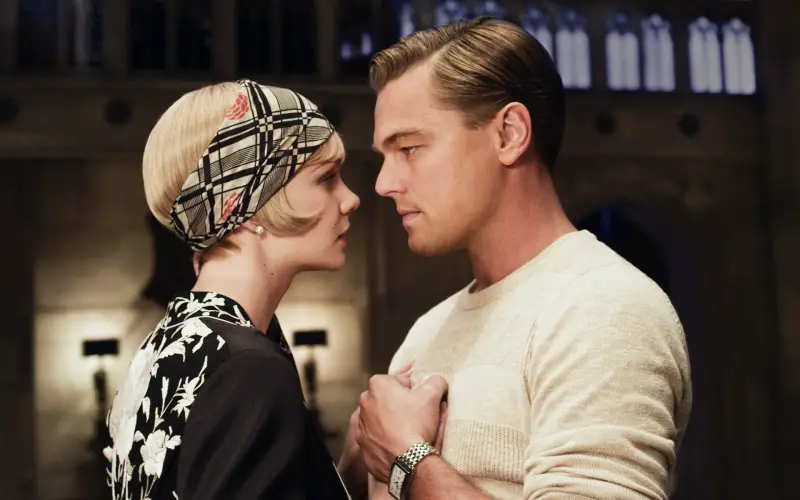 Mulligan and DiCaprio
Venturing into a project of such magnitude took a core unit of trust for DiCaprio and Maguire. "To know that someone I've known for 20 years (Maguire) and 17 years (Luhrmann) were involved was a great comfort," explains DiCaprio. We were always extremely honest with each other. We needed those checks and balances."

Because of their close friendship, Maguire states that he and DiCaprio "had a comfortable dialogue about the work. The Nick and Gatsby relationship was interesting to explore. Nick realizes that Gatsby had an agenda, but ultimately they have a real friendship. Perhaps his only one. I have affection for Leo, so it was easy to have affection for Gatsby."

Luhrmann saw evidence of this during rehearsals. "With nervousness and dealing with all the props, I called 'Action' on the first scene we shot. The back-and-forth between Leo and Toby was pure and connected. It came from a depth of relationship that existed before we began."
Aspects of the film and some of the performances are over the top. Take the "near-orgy" party sequence early in the film at Gatsby's castle. While it captures the craziness of the Roaring 20s, it borders on bawdy Cirque du Soleil on steroids and might have audiences thinking they're back at infamous Studio 54.
Shot in Australia in 2-D and converted into 3-D. The extra dimension adds depth to the picture, but some sequences that should dazzle (eyepopping arrangements of flowers, for instance) have lost contrast. One scene, such as the long shot of the Buchanan estate, is an exception. In spite of phone book credit list of CGI artists, some of the special effects fall flat.
Looking for Free Group Planning Services?
Get free advice on planning your group's trip to New York.
RESTAURANTS

The handsome, 12,000 square foot Times Square location offer...

THEATER

An epic love story about the relationship between John, an A...

SHOPPING

The world's largest source of cameras, camcorders, and more ...

SIGHTSEEING

In addition to 360-degree views from Midtown Manhattan, the ...