Lamano ("by hand") NYC has opened its third location, as well as its largest, in Hell's Kitchen, following the success of its Chelsea and West Village outposts. Tapas, anyone?
Photos: Bennett Hall.
A striking, yet simple, lit logo of a hand symbol is clear to see upon entry, a reminder of how one savors tapas. The handsome, elongated restaurant walls are adorned with artwork by Joan Miró. The moderately priced menu zeros right in on what you came here for-cocktails (martinis and margaritas, a variety of gin and tonics with choice of strawberry shrub, grape, or fig), homemade white and red sangria, and a generous selection of wine and beer. (You can sit up at the bar in the front, if you just want to grab a drink.)
Then it's on to Spanish tapas, such as chorizo y tetilla (sausage and cheese), coca de carrillera (cheek), an assortment of cheeses, and the delectable croquetas de jamon (ham croquettes) served with a chipotle sauce, in addition to staple paella entrees (choice of seafood or chicken).
For dessert, choose from favorites almond cake and mouthwatering churros, cut and presented with a caramel dip.
Restaurateur Jorge Guzman is also the co-owner of the popular Mexican restaurants Black Ant, Ofrenda, and Temerario.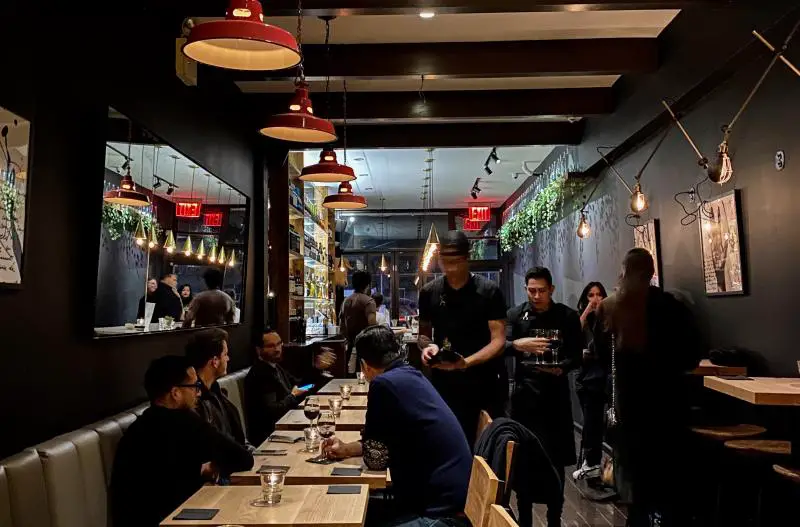 In the near future, Lamano NYC will be serving up brunch, as well as pre and post-theatre menu options.
Lamano, 688 Tenth Ave.. Call 646-559-0989 or visit lamanonyc.com for more information.