It was only two months ago that Wheelhouse Theater Company's production of playwright Aaron Posner's ingenious riff on Chekhov's Uncle Vanya—Life Sucks.— wrapped up its run. Performed at downtown's Wild Project, it generated a wave of ecstatic reviews and extensions.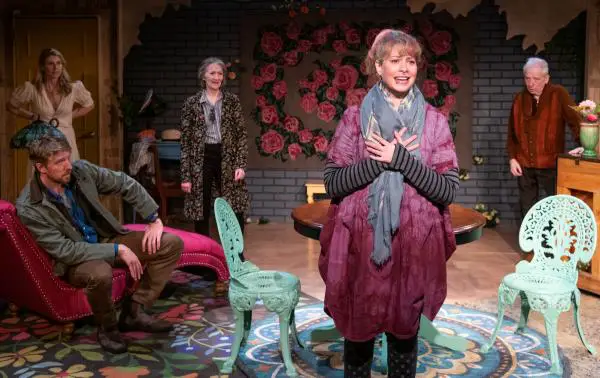 Michael Schantz (Dr. Aster), Nadia Bowers (Ella), Barbara Kingsley (Babs), Stacey Linnartz (Pickles), and Austin Pendleton (The Professor) remix Uncle Vanya in Life Sucks. All photos by Russ Rowland.


Thankfully, for those of us unable to navigate the production's initial run, it has returned to take up residence at 42nd Street's Theatre Row for a summer of blissful Weltschmerz (minus the anti-depressants). Still, no matter how you slice and dice, characters are going to indulge in some degree of self-hatred and despair. Maybe not all of them, but definitely the majority. It's a juicy Chekhovian perk.
To be honest, Life Sucks. seduced me the moment I saw the poster: an absurdist painting of Chekhov, eyes at half mast done up like the rest of his face in garish makeup and a clown nose, reclining with a revolver clutched nonchalantly in his lap. I knew in a heartbeat this production had to be constructed way outside the box…and that I would love it.
I wasn't wrong. Posner's reimagining of Vanya comes with freeform/contemporary/overlapping dialogue, an upbeat character or two (Pickles, e.g., is described as "a relentlessly positive utopian lesbian"), and audience interaction. The latter starts with the company addressing the room at the get-go with the prerequisite "cell phones off" and the not so obvious reveal that the play is "…about the audacious, ludicrous, and protean nature of the obstreperous and ever-feckless human heart."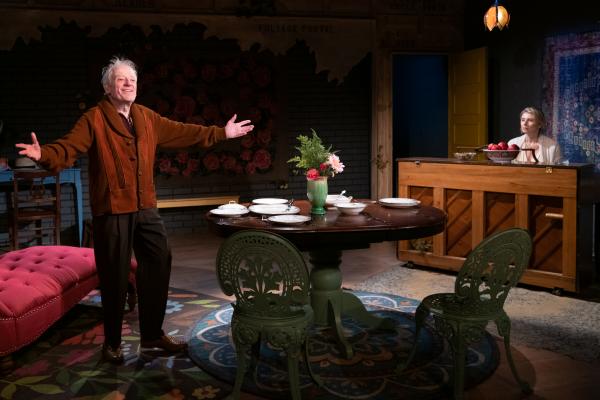 Austin Pendleton (The Professor) and Nadia Bowers (Ella).

"Chekhov aficionados do love Posner's play and in jokes, but you don't have to have a knowledge of Vanya to enjoy it," says Jeff Wise, the show's director and Wheelhouse's artistic director. Some of this universal appeal comes from the show's emotional core. "What Aaron's done is crafted rich characters while taking Vanya's subtext and lifting it to the surface," Wise continues. "Feelings are right out there and you can't help but experience them."

With the exception of Vanya (now played by Kevin Isola), the cast is the same as it was downtown. But as Wise observes, Isola's arrival brings a different energy, which "significantly affects the rest of the cast." [Subtext: even if you've already seen the show, do not hesitate to experience its new dynamic.]

Wise, who has a reputation for mounting shows within unnervingly brief time frames, lives by a seemingly counterintuitive process of working very, very slowly. "I think rushing the final product is boring," he says, adding that his process is one of experimentation. "I never come in with a lot of ideas. Instead I encourage discovery."

He also likes the idea of working with a pool of performers he knows. "There's a shorthand and trust among ensemble actors," he notes.

The end result says it all, according to Wise: "Young and old, men and women…they all really responded to the humanity of this play. I saw wet eyes, but smiles, and heard much discussion as people came out of the theater."


Stacey Linnartz (Pickles) and Nadia Bowers (Ella).
Considering the wit ("Drinking and falling down go together, like cheese & crackers... or Laurel & Hardy...or Marx & Engels..."); lust ("Dirt boys in boots who played the drums...God, I loved to nibble on those..."); and savory word play ("I fantasize about a life before we knew how to fantasize...") and how it's brought to life by a perfectly cast cast (yes, it's contagious), I suspect Life Sucks. is positioned to be one of the hottest tickets Off-Broadway. And, as Wise puts it, Off-Broadway is "Where it's at!!"—intimate, immediate, and innovative.

"Just as some of the best art will never end up in a museum, some of the best theater will never end up on Broadway," says Wise. But at least in New York you can find Off-Broadway masterpieces everywhere—particularly just west of Broadway.
---
A Short Story About How Life Sucks Ambled Into the Big Apple
Once upon a dramatic moment, Wheelhouse Theater Company found itself in need of a new show. Chekhov's Uncle Vanya came to mind. But it didn't pan out and the group did Happy Birthday, Wanda June instead. It was a hit and transferred to another theatre, but eventually closed. About a year and a half later, Wheelhouse learned that the Wild Project had an available theatre. So spunky Wheelhouse artistic director Jeff Wise scooped it up.
But he didn't have a show. Until Matt Harrington, another Wheelhouse VIP, suggested Wise check out Aaron Posner's follow up to his first Chekhovian tweak-a-thon, Stupid F***ing Bird., Life Sucks.
Wise read the script and called Posner. It was January. "Hi, Aaron, I'd like to do Life Sucks. in March." Posner laughed. He told Jeff he was crazy. And then he said, "Let's do it."
But Posner was working on a show at the Arena Stage so he couldn't be part of the two month rehearsal period, so Wise was it ("We do this all the time.") and it turned out very wonderful. The End.
Life Sucks. is playing Off-Broadway at The Acorn at Theatre Row, 410 W. 42nd St.
For reservations call 212-239-6200 or visit lifesucksplay.com.