It's a musical that soars from the opening notes…rising sun…pockets of grass emerging from the ground anthropomorphized…gracefully stilted giraffes strolling the Pridelands…herds of gazelles vaulting in joyful sync…the flowing silken lionesses leaping…and the birds twirling in blissful abandon…zebras…even the lumbering elephants are nuanced within their puppet frames…and then Pride Rock rises...towers…and King Mufasa raises the cub Simba skyward so he becomes the highest point…
Stephen Carlile as Scar and Ensemble. Photo by Deen van Meer.
Yet even as the "Circle of Life" surges upward, one character remains nefariously low. Scar: Simba's uncle; Mufasa's younger brother; and the most complex character in Disney's The Lion King. Particularly in the hands—or claw-like paws—of Stephen Carlile, an engaging Brit who's endowed Scar with the ultimate three-dimensional malevolence.
"You love to hate him and hate to love him. He's ugly inside and out, and he's constantly in pain from a bad back," says the actor, whose damaged leonine incarnation includes a leg that is "noticeably wobbly." To compensate for his character's physical frustration when walking or standing, Carlile's Scar often drapes himself languidly on a rock or crevice when interacting with other characters—all of whom he abhors.


"There's this luscious moment when I get to say 'I'm surrounded by idiots,'" he says in Scar's velvety voice.
A graduate of Guildford School of Acting in Surrey, England, where he trained in musical theatre, Carlile spent several years as a struggling actor on the UK's regional circuit, playing mostly quirky character types. "I'd just take whatever came along, until I finally began to say no to low-budget productions and understudy roles."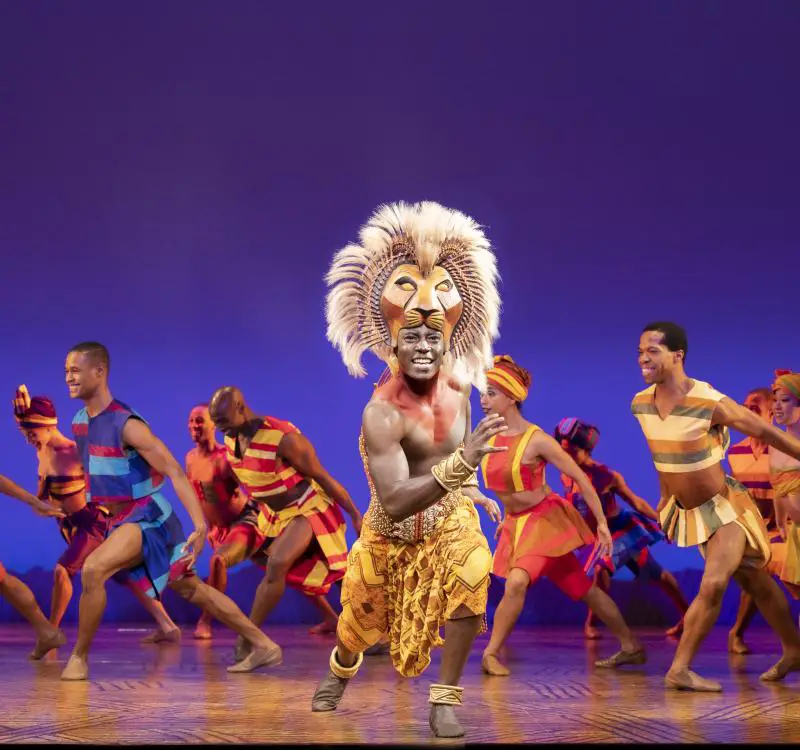 Brandon A. McCall, The Lion King. ©Disney.  Photo by Deen van Meer.
Then, in 2012, came a significant career turning point: a two-year stint with the U.K. touring company of The Lion King.
Joining the Broadway company in 2017, Carlile remains fascinated by the cogs and wheels that keep the show running smoothly and, of course, the many facets of Scar. "It seems so fresh every night—I sort of go out on stage and evolve," he says.
Backstage at the Minskoff Theatre, racks of costumes and headpieces are everywhere, sort of an extended menagerie only the cast and costume crew can safely navigate. And, like most Broadway theatres that are home to mega-musicals, there's a labyrinthine passageway to the dressing rooms, including the one Carlile shares with Welshman Cameron Pow, who plays/operates Zazu, the large-beaked bird puppet who is the King's loyal servant. 
The chemistry between the two actors is obvious both offstage and on. "One of my favorite parts of the show is the 'Madness of King Scar' scene in Act II that I play with Zazu," says Carlile. 
Camaraderie aside, Carlile recognizes the impact a show of Lion King's caliber has on theatregoers.
"You have to think of the audience. Most of them have never seen a Broadway show. I try to see through their eyes. So what we do up on the stage is really a great responsibility," he says. "I want to inspire the audience."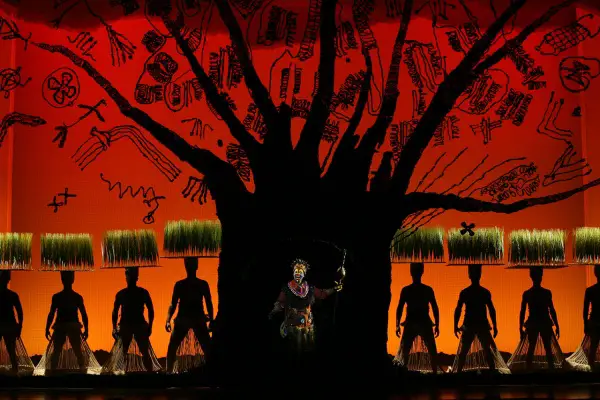 Photo by Joan Marcus.
Happy Anniversary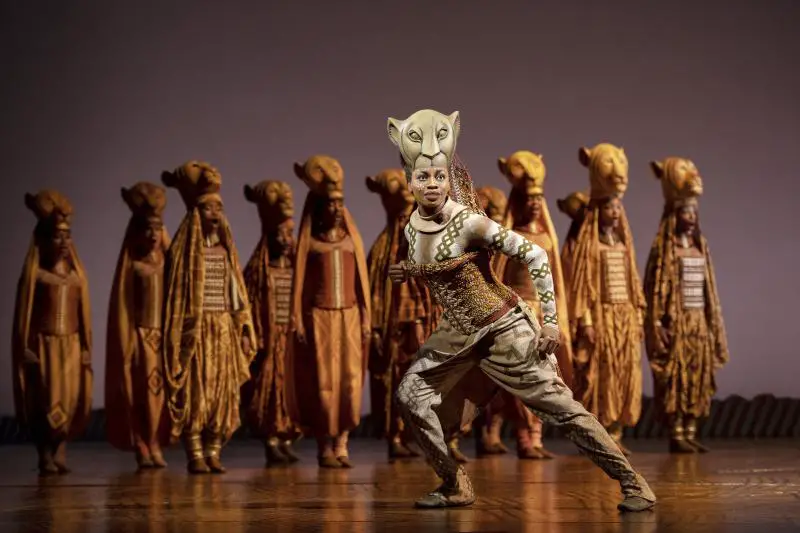 Adrienne Walker as Nala and Ensemble. Photo by Deen van Meer.
On November 13th, the Broadway production of The Lion King will be adding an impressive 24-carat "jewel" to the King's royal crown—a fitting lead-in to the show's quarter-of-a-century anniversary in 2023. But before the countdown begins, here are a few notable facts about the stage adaptation of Disney's 1994 animated classic:
In 1998, The Lion King won six Tony Awards, including Best Musical, followed a year later by a Grammy for Best Musical Show Album.
Not only did Elton John and Tim Rice up the song ante from their film score by three, but South African composer Lebo M and Mark Mancina, Jay Rifkin, Julie Taymor, and Hans Zimmer contributed additional musical material, resulting in a fusion of Western pop and African sounds and rhythms. 
Tony-winning director/costume designer Julie Taymor collaborated with Michael Curry on the show's famously ingenious puppets and masks. The latter, worn over the head, allow performers to register emotions in what Taymor calls the "Double Event," i.e., the coming together of human spirit and mask.
Since debuting in 1997, 25 global productions of The Lion King have been seen by nearly 110 million people.
The Lion King is playing at the Minskoff Theatre, 200 W. 45th St. For reservations call 866-870-2717 or visit disneyonbroadway.com.