The American Folk Art Museum, on the Upper West Side near Lincoln Center, has unveiled a New York City-themed exhibition. Made in New York City: The Business of Folk Art opened on March 19 and runs through July 28. This is a cultural institution for everyone: admission to the American Folk Art Museum is completely free!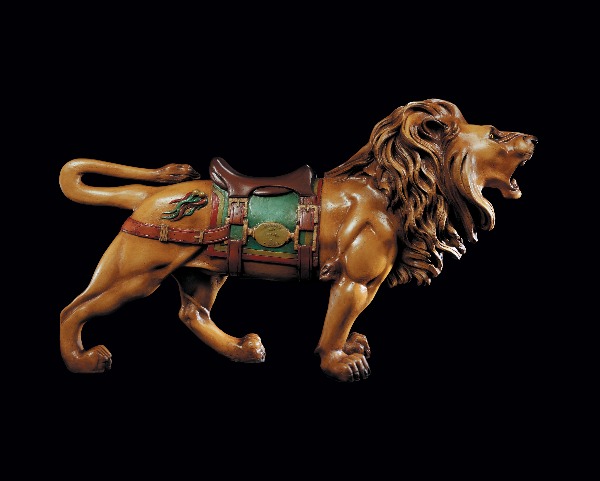 Carousel Lion, Marcus Charles Illions (1865/71–1949), Brooklyn, New York, 1910, paint on wood with glass eyes, 51 x 84 x 20. Collection American Folk Art Museum, New York, gift of Jacqueline Loewe Fowler from the Mary Lawrence and Walter Youree Collection, Oregon. Photo by Paul Foster.
The museum showcases the work of self-taught artists in a range of media from the pre-Revolutionary era to the present. These artists often represent rural communities across the country, but Made in New York City challenges that narrative, showing how much artisanship started in the city and migrated to the countryside. The museum curators have unearthed a body of folk art that dates to the 18th century and is sourced not only from the museum collection but from other institutions like the New-York Historical Society as well.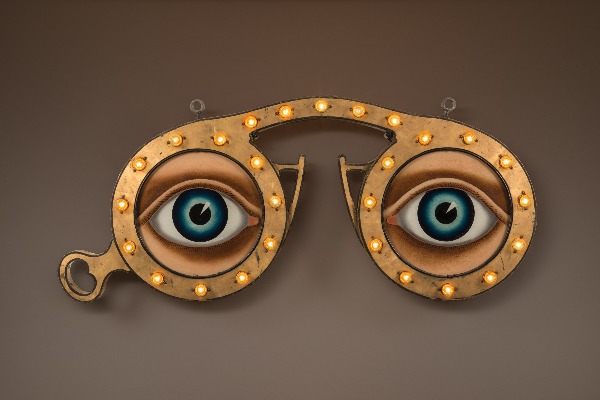 Optician's Trade Sign, E. G. Washburne & Co. 207 Fulton Street, New York City, c. 1915. Paint and gold leaf on zinc and iron, with glass and light bulbs 26 x 54 x 4". Collection of Penny and Allan Katz. Photo by Gavin Ashworth, New York.
On view will be an electric street sign for an optician, depicting eyes behind glasses, made circa 1915. A 19th century painting of New York Harbor and an 1867 quilt by Brooklyn artisan Lucinda Ward Honstain will also be displayed. A pot decorated with an eagle, made circa 1869, was crafted in what is now the Meatpacking District.
The exhibition was curated by Elizabeth V. Warren.
Herman Raub Engaged in Weighing Gold at the Manhattan Bank at New York (detail), artist unidentified (possibly Mr. Thompson), New York City, 1805, watercolor and pen and ink on paper, 12 1/4 x 9 3/4 in., private collection. Photo by Gavin Ashworth.
Throughout the exhibition's run, the museum will host programs for the community that relate to the history of folk art in New York. As part of the Families and Folk Art series, children aged 4 to 12 are invited to explore the exhibition space, learn, and make crafts. Families and Folk Art will be hosted for free at the museum March 30, May 4, and June 1.
Other tours and talks include a Curator's Perspective Tour on March 28 and The Black Gotham Experience with Kamau Ware on June 12, exposing forgotten African American stories in New York City's history.
The American Folk Art Museum honors the tradition of self-taught artists, both American and international. Its collection of over 8,000 artworks represents those working outside the mainstream of commercial and critical success from America's early days to the present. These often marginalized voices made quilts, paintings, sculpture, and pottery that speak to the rich diversity of American history and culture.
Come on March 19 to see a transformed gallery space, and be sure to stop by the museum gift shop while you're around. The American Folk Art Museum has returned to its normal schedule; it's open Tuesday through Sunday.
Made in New York City: The Business of Folk Art will be on view through July 28.
---
The American Folk Art Museum is located at 2 Lincoln Square. Call 212-595-9533 or visit folkartmuseum.org for more information.