In the Broadway scheme of things, only a handful of shows ever reach the euphoric 20-year mark, but Wicked will turn the two-decade corner on October 30th with effortless panache. That's thanks to its enchanted storyline, score, and visuals, as well as its dedicated creative team, ever-growing fan base, and reputation for casting phenomenal actors.
As for Wicked's current company: world-class awesome.
Heading the cast are Alyssa Fox as Elphaba, aka the sensitive and studious witch with green skin who winds up sharing a dorm room with ultra "pop-u-lar" Glinda, played by McKenzie Kurtz.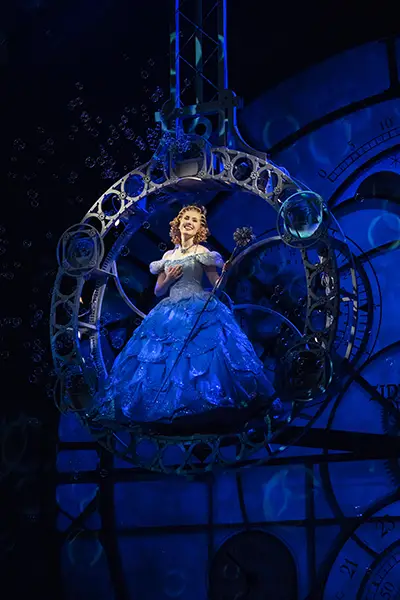 Photo by Joan Marcus.
A Georgia native, Kurtz's infatuation with the show took hold when she was nine and she saw Wicked on Broadway for the first time.
"My mom had bought us all separate tickets so we could be as close to the stage as possible," she recalls, adding that after Act I's closing "Defying Gravity" number, "I had tears streaming down my face. It was a beautiful private moment and I immediately knew that this is what I wanted to do".


Fortunately, Kurtz already had two years of voice lessons under her belt when she decided to immerse herself in musical theatre. As fate would have it, a year later she made her professional debut playing a Munchkin in an Atlanta production of The Wizard of Oz.
Fast forward to February, 2023 and the role of Glinda on Broadway.
Act I, scene 1, the Glinda the Good's "Bubble" entrance revealing Kurtz in an enormous sequined ballgown, as dreamy as it is weighty. And when she sings the words "Let us be glad", it's in a crystalline soprano that will morph into a lyrical belt by scene 3 to match her bubbly campus persona in flashbacks to her Shiz University days.
"There's a lot of physical comedy," says Kurtz, citing stamina as an ongoing challenge. "Throwing my body around stage eight shows a week, while it is one of the most fun parts of this role, definitely takes its toll. I have to make sure to take care of myself by getting plenty of sleep, resting my voice and keeping in shape."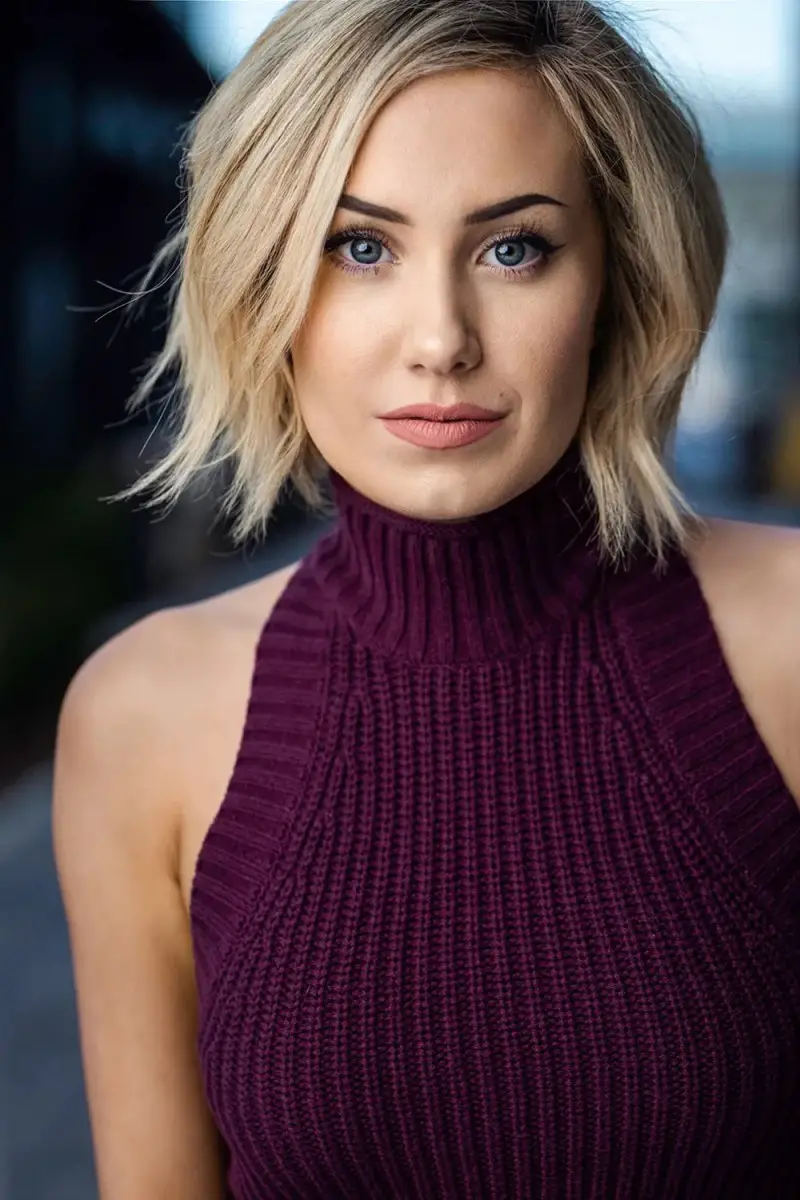 And, like all performers, she has to contend with inevitable onstage derailments, like tripping over her ballgown during a serious moment, and trying to corral a wayward wand. Thankfully, she's more than adept when it comes to playing off these mini mishaps…and she has clearly put her stamp on one of Broadway's most iconic roles.
"I feel so lucky that I was given a lot of creative freedom in my comedic choices," she says. "I mean, I've been singing and acting out these songs in my bedroom since hearing the cast recording at eight years old, so I've had plenty of time to come up with some bits!"
Ultimately, Kurtz's commitment to her role mirrors that of her cast mates and the spirit of the show itself. "Coming into a show is always a little nerve-wracking, but I had the warmest welcome," she says, noting that even though they're working together six days a week, they still hang out on their days off. "It very much feels like a family," she adds.
During the time (or tick of the Time Dragon Clock) she's been with the show, celebs Ryan Reynolds and Blake Lively (along with two of their daughters), Pink, and Reba McEntire have been part of the audience, joining Wicked enthusiasts and newly minted devotees.
"It's incredible to see how this show impacts so many peoples' lives across the globe," says Kurtz. "It's truly a magical experience: the songs are fantastic, the choreography is spectacular…there truly is something for everyone."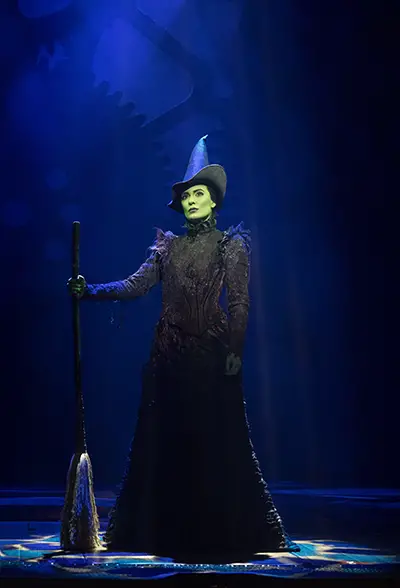 Photo by Joan Marcus.
Wicked Cool Facts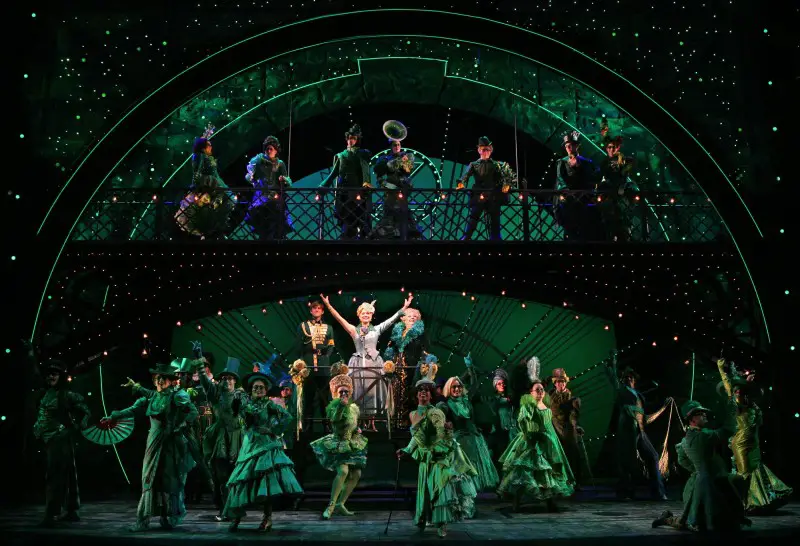 Photo by Joan Marcus.
Wicked at the Gershwin Theatre…
…is the 4th longest-running production in Broadway history;
…is the first Broadway show to gross over $3 million in one week;
…has seen 21 actors play Glinda and 24 in the role of Elphaba;
…has received a staggering number of award nominations, winning three Tonys, seven Drama Desk Awards, four Critics Circle Awards, and a 2005 Grammy  for Best Musical Show Album
The Basics
Based on the 1995 Gregory Maguire novel Wicked: The Life and Times of the Wicked Witch of the West, the musical features a score by Stephen Schwartz, with a book by Winnie Holzman that references L. Frank Baum's 1900 novel The Wonderful Wizard of Oz, as well as the 1939 Judy Garland film The Wizard of Oz.
The show's official opening was June 10th, 2003, in a pre-Broadway run at  San Francisco's Curran Theatre.
The Bonus
Maguire derived the name Elphaba from Baum's initials: LFB.
Wicked (2 hrs., 45 mins.) is playing at the Gershwin Theatre, 222 W. 51st St., 877-250-2929; wickedthemusical.com