In many ways, the brilliant Broadway revival of My Fair Lady at Lincoln Center's Vivian Beaumont Theater is very much like the smash musical when it premiered on Broadway in 1956, starting with the plot.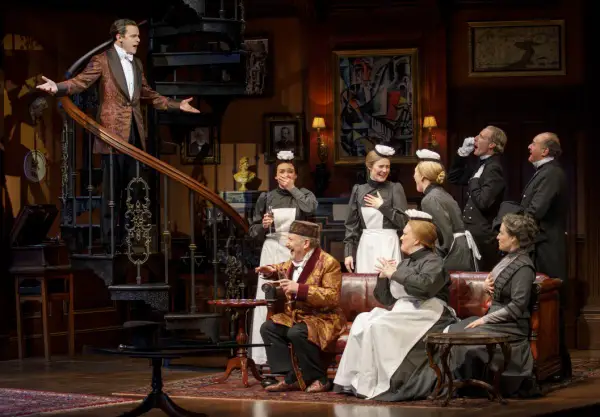 Harry Hadden-Paton and company by Joan Marcus.
Henry Higgins, a priggish speech professor (a role Rex Harrison created on Broadway and reprised in the 1964 film), sets out to teach Eliza Doolittle, a poor Cockney flower girl, how to speak the Queen's English.
The score as well—by Alan Jay Lerner and Frederick Loewe—remains its iconic self and one of musical theatre's finest, with memorable songs like "I've Grown Accustomed to Her Face," "Wouldn't It Be Loverly," and "The Rain in Spain."


However, this current Broadway version of the show is notably different in tone. Under the deft direction of Bartlett Sher (The King and I; South Pacific; Fiddler on the Roof), My Fair Lady now offers audiences an Eliza influenced by the change in attitudes towards women demanded by the #metoo movement in the theatre and elsewhere.
Laura Benanti and Harry Hadden-Paton of My Fair Lady. Photo of Harry Hadden-Paton by Joan Marcus.
Eliza, played by the always-terrific Laura Benanti (who recently succeeded Tony-nominee Lauren Ambrose), is now a fiercely ambitious character and worthier adversary to Harry Hadden-Paton's Higgins.
She refuses to be subservient to her arrogant tutor and desperately wants to improve herself. Higgins is her vehicle.
"Bart set us up to be equals, and we've avoided any of that older man-younger woman stuff," said Hadden-Paton. "We're all about the same age."
Playing Higgins—self-righteous, clueless,  and somewhat misogynistic—is not easy. But Hadden-Paton looks upon the characters with empathy. "Higgins is searching to understand himself and his emotions," he says. "He doesn't get emotions—his or others's. Today, you'd place him on the autistic spectrum, which gives me license to work out what that means for his behavior."
To balance the Higgins-Eliza relationship, Sher tweaked Lerner's book by cherry-picking lines from the musical's source: George Bernard Shaw's 1913 play Pygmalion, and his script for the 1938 film that starred Leslie Howard and Wendy Hiller.
"What we're doing is way closer to Shaw's intentions," observes Hadden-Paton. "He said that the best ending is for them to end up as equals."
A veteran British stage actor, Hadden-Paton is making his Broadway debut after becoming known to television audiences as Bertie Pelham in Downton Abbey and Martin Charteris in The Queen. In fact, he recently took off a month from the show to film the Downton Abbey movie in England, returning to the Beaumont in time for Benanti to start her run as Eliza. "I flew back on a Monday, and Tuesday afternoon we had two hours of rehearsal and a show that night," he says. "So it was live theater at its best."
As for his new costar, Hadden-Paton says: "What's wonderful about Laura is that she has this huge fan base that's very vocal and adoring and we came back to a great reaction."
Benanti, who picked up a Tony for her portrayal of Gypsy Rose Lee in the 2008 Broadway revival of Gypsy, notes "Eliza has been my dream role since I was a child." All the same, her excitement was balanced by feeling a bit terrified at replacing Ambrose, this being the first time Benanti had stepped into the role of the actress who originated it.
"But everyone has been so warm and welcoming—especially Harry, who is such a wonderfully generous actor," she says. "I immediately felt comfortable and supported by him on stage."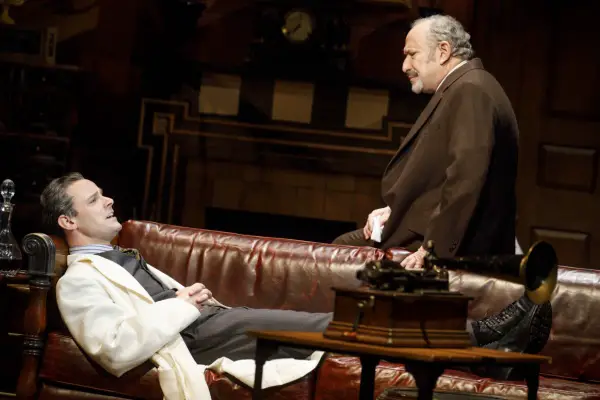 Allan Corduner with Harry Hadden-Paton. Photo by Joan Marcus.
Benanti joined a stellar cast that also includes Tony winners Norbert Leo Butz as Eliza's disreputable father, Alfred (watch for his spectacular "Get Me to the Church on Time" production number!), and Rosemary Harris as Higgins's socialite mother. Also wonderful is Allan Corduner as Colonel Pickering, the dialect expert who bets against Higgins's boast that he can transform Eliza's accent.
With a Tony nomination for his first Broadway outing on top of outstanding reviews, Hadden-Paton is nonetheless modest about his reception here.
"New York audiences are a lot more vocal than they are in London and I had to get used to that," he says. "I thought, 'Wow, I thought I must be really good,' but it's a tradition. They're very appreciative and the applause at the end is like nothing I've ever experienced."
---
My Fair Lady is playing at Lincoln Center Theater's Vivian Beaumont Theater,
150 W. 65th St. To reserve tickets call 212-239-6200 or visit lct.org.