In recent years, the vast stage size of Lincoln Center's Vivian Beaumont Theater has allowed it to mount a seminal collection of musical revivals including South Pacific, The King and I, and its present masterful production of My Fair Lady. Gorgeous and wonderfully cast when it opened in April, 2018, the production's longevity has opened it up to a handful of distinguished replacements, starting with Laura Benanti who stepped into the role of Eliza Doolittle.
Photo by Joan Marcus.
Benanti, who picked up a Tony for her portrayal of Gypsy Rose Lee in 2008, has created an Eliza with a lighter edge than her predecessor, Lauren Ambrose, whose performance beautifully etched her character's growth into an independent woman. Eliza à la Benanti is a study in determination from the first scene. With humor, a lustrous voice, and a spotlight that cherishes every facial expression, she brings a lightness to Eliza that soars during "The Rain in Spain" dance and flows into "I Could Have Danced All Night."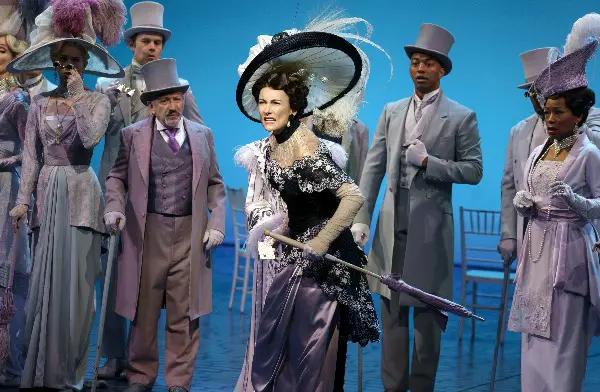 Photo by Joan Marcus.
Other newcomers to the cast are Christian Dante White, who lends a endearingly puckish quality to the role of Freddy, and whose delivery of "On the Street Where You Live" made me wish it would go on at least another verse or two; and the legendary Rosemary Harris, who succeeded Diana Riggs as Henry Higgins's mother. At 91, she is luminous as the matriarch who, in stunning period dress, dispenses wisdom with a sly twinkle.
And then there's Danny Burstein, who entered the Alfred P. Doolittle fray on the uninhibited heels of Norbert Leo Butz. Playing Eliza's dustman dad, Burstein, a Tony nominee and a veteran of countless Broadway productions, gives a performance that's one part vintage music hall and two parts cockney philosopher—all to perfection. (Burstein is slated to remain with the show through April 28th, after which he'll be gearing up for Moulin Rouge! The Musical, set to debut on Broadway in late June.)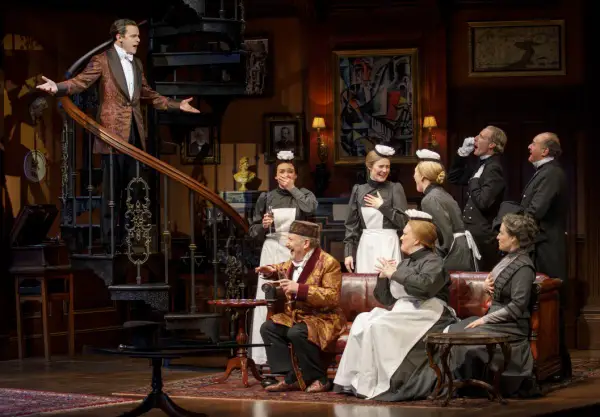 Harry Hadden-Paton and company by Joan Marcus.
As for original leads, Harry Hadden-Paton (Henry Higgins) and Allan Corduner (Colonel Pickering) are even better than I remember from the first go round, with time bringing a rich patina to their performances.
---
My Fair Lady is playing at Lincoln Center Theater's Vivian Beaumont Theater, 150 W. 65th St. To reserve tickets call 212-239-6200 or visit lct.org.