One would think passion and religion would be natural allies; certainly, they team up together regularly in houses of worship, turf and ethnic conflicts, and literature dating back to the Bible. Nevertheless, in My Name Is Asher Lev, Aaron Posner's beautiful stage adaptation of the Chaim Potok novel currently running at Off-Broadway's Westside Theatre, these two ideals struggle to find a common ground in the orthodox Jewish world of Asher Lev and his parents circa 1950s Brooklyn.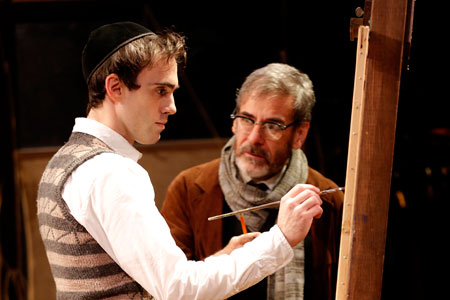 Lev's Brand & Nelson
The pivotal character of Asher, played with compelling insight by Ari Brand, grows up with a passion for art so pervasive and potent that it develops into what his father perceives as blasphemy. And therein lies the crux of this play that traces Asher from six-year-old "prodigy in payos" to rebellious young artist at odds with his father (Mark Nelson) and his Hasidic roots as he becomes enamored by the transformative world of museums and paintings. Not surprisingly, his gentle mother (Jenny Bacon) is caught in the crosshairs.
Deftly directed by Gordon Edelstein—the current Artistic Director of the Tony-winning Long Wharf Theatre, where My Name Is Asher Lev was developed—the production is at once heart-wrenching and riveting. On the night I saw it, the entire audience appeared spellbound, myself included. It is also compact, with Nelson and Bacon masterfully taking on numerous characters—every one convincing. asherlevtheplay.com