Cinephiles rejoice! The New Directors/New Films Festival is returning for its 47th year in New York. The slate of up-and-coming filmmakers at the 2018 festival will represent talent from around the world. Past festivals have shown work from then-obscure filmmakers like Spike Lee and Christopher Nolan. The screenings, which will occur at the Museum of Modern Art and the Film Society of Lincoln Center, will often accompany appearances by the films' creators and Q&As with them after the films. The festival will begin Wednesday, March 28 and end Sunday, April 8.
The films in the lineup this year come from Denmark, Corsica, Brazil, Portugal, Japan, Taiwan, and elsewhere, and will be presented with English subtitles. In documentary and fiction features, as well as short films, you'll see arresting visuals like a sunset over dirt roads in the Congo and red light cast over a child's face as she gazes into the middle distance of a living room.


M.I.A. (Wikipedia)
On March 28, the opening night film will be Matangi/Maya/M.I.A., a documentary feature about the popular Sri Lankan rapper M.I.A. This look back at M.I.A.'s past shows footage from video diaries she once made and depict the formation of the musician's public persona. The film was directed by Stephen Loveridge, a friend of M.I.A.'s from art school.
Another documentary will close out the festival on April 6. Hale County This Morning, This Evening represents five years' worth of filmmaker RaMell Ross studying Hale County, Alabama. Ross follows two young black men named Daniel and Quincy with a lyrical eye and crafts a loving portrait of black life in America.
Other films examine themes of workers' rights and the daily practice of hard labor worldwide. The documentary Makala, full of breathtaking visuals, details a one-man charcoal operation in the Democratic Republic of the Congo. A Danish limestone mine serves as a bleakly beautiful backdrop for the story of two brothers in Winter Brothers. A narrative film in 16mm, The Nothing Factory shows workers in revolt in a Portuguese elevator factory (we're also told that the film contains a delightful musical number).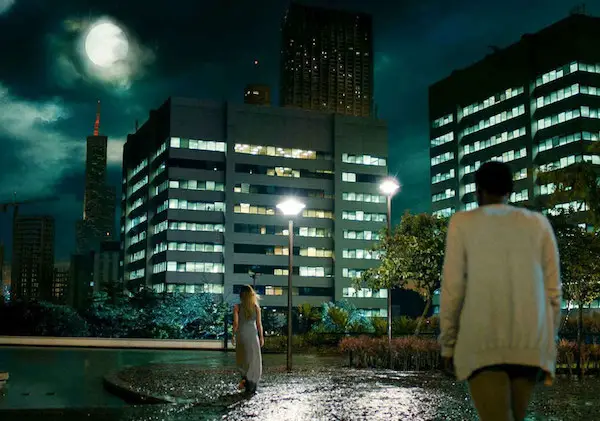 Good Manners
Speaking of surprising genre riffs, the film Good Manners, appearing April 5 and 6, begins as a quiet relational drama about a pregnant woman and ends as a tale about a werewolf. A quiet tale about a Swiss millennial running a telemarketing scam becomes a wider meditation on dystopia in the ambitious satire Those Who Are Fine. Recalling the surreal work of David Lynch, the Japanese film Our House tells the dual narratives of two pairs of women who seem to be living in the same house. A family drama with a blackly comic tone, Scary Mother is set in Estonia and shows a mother escaping her family to write poetry.
Women's stories throughout the world are another major focus of the films on display. Nervous Translation shows a Filipino girl diving into an imaginary world, while Milla follows a teen mother in France. A TIFF jury prize-winner, Ava examines the unique anxieties of a teen girl living in Tehran. In the atmospheric documentary Black Mother, the lives of female sex workers abut those of religious leaders in a Jamaican community. A woman in a Jewish enclave of Russia struggles against a claustrophobic and dangerous environment in Closeness.
If three or more of these films sound interesting, check out the festival's special offer here, which allows you to view your desired selection of films for just $10 apiece. Tickets are $17 for a la carte films, excluding opening and closing night films. Most of the films in this festival will show twice for your convenience.
New Directors/New Films 2018 will show at the Walter Reade Theater at the Film Society of Lincoln Center and at the Museum of Modern Art. Walter Reade: 165 W 65th St., 212-875-5600. MoMA: 18 W 54th St., 212-708-9400. For tickets and more, visit newdirectors.org.