Get ready for some serious sizzle, theatre lovers: New York is looking forward to a serious summer of dramatic entertainment. From the stardust still floating around this year's Tony Awards to the altogether fabulousness of this season's Off-Broadway shows, 2016 marks one A+ summer in the city! We're excited to see brand-new productions by the Rockettes and Cirque du Soleil, plus a song-and-dance spectacular centered on NYC's own tough guy in tap shoes, Robert Cagney.
Riding this tide is the New York Spectacular Starring the Radio City Rockettes, a gloriously whirlwind tour of Manhattan, featuring a clever storyline by Drama Desk winner Douglas Carter Beane and teeming with such NYC must-sees as the Empire State Building, Wall Street, Central Park, Times Square, and the Statue of Liberty (with a few boasting incredible techno-magic!). All of this, of course, is punctuated by fabulous dance extravaganzas showcasing the world-famous Rockettes.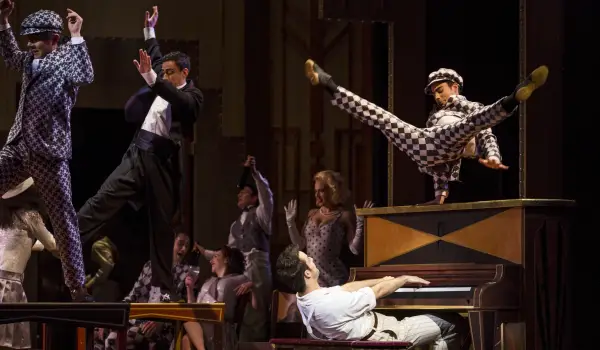 Cast of PARAMOUR, photo by Joan Marcus.
Another pull-out-all-the-stops show is Paramour, Cirque du Soleil's groundbreaking Broadway debut at the Lyric Theatre. According to the show's creative director Jean-François Bouchard, "Paramour blends many of the elements that characterize Broadway productions—storytelling, live musicians, and actors in lead roles—with Cirque du Soleil's signature aesthetic to offer a new experience set in the world of Golden Age Hollywood." In short, the book and score's sumptuous love triangle is punctuated by first-rate physical feats, incorporated to enhance the storyline. (FYI, get ready to be awestruck by aerial straps artists Andrew and Kevin Atherton...yikes, wow, etc.)
The musical Cagney, on the other hand, may not have the kind of supersized-venue wherewithal of Radio City or The Lyric that allow for jaw-dropping pyrotechnics—it plays on a modest-sized stage at Off-Broadway's Westside Theatre—but that doesn't stop it from guaranteeing an unforgettable theatre experience with its own brand of show-stopping ammo.
Loaded with flashbacks and flash-forwards, this gem of a bio shoots through its two-hour time slot like a bullet, with a masterly cast of six, five of whom take on more than one character. The sixth performer is the show's star and co-creator, Robert Creighton, who channels James Cagney's personal life and career, jumping from his early song-and-dance vaudeville days to his rise to fame as Hollywood's most formidable tough guy to his break from studio hotshot Jack Warner, whose relationship with the actor was beyond volatile.
And for the record, Creighton is a revelation, from his singing and acting to his nitroglycerin infused taps. He and his fellow cast members are a standing ovation waiting to happen, bringing pure vintage joy from a contemporary Yankee Doodle Dandy who manages to set off fireworks every performance—including the Fourth of July!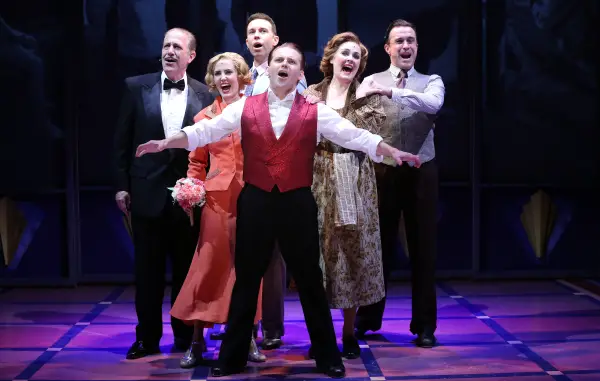 Image: Carol Rosegg