Explore the Power of Intention at The Rubin Museum of Art
April 12, 2019 - by Merrill Lee Girardeau
Although "setting an intention" has become a common phrase, its deeper meaning is often ignored. The Rubin Museum in New York's Chelsea neighborhood explores intention with its new exhibition The Power of Intention: Reinventing the (Prayer) Wheel. Opened on March 1, this show draws on the Buddhist tradition of the prayer wheel and is part of the museum's "Year of Power."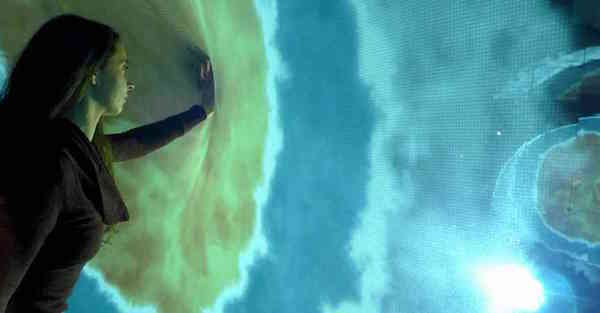 Many of the works in this exhibition allow you, the visitor, to step inside them and interact, exercising your intentions in the process. An exciting installation called Metamorphy, created by Scenocosme's Grégory Lasserre and Anaïs met den Ancxt, is a touchable installation creating kaleidoscopic tie-dye colors that fill the gallery as you interact with it. Another engages the sense of smell with incense in the room-sized installation Spiral Incense Mantra by Charwei Tsai.
The exhibition begins in the lobby of the museum and integrates its stately spiral staircase. The Wheel of Intentions invites visitors to type their intentions into a digital prayer wheel in the lobby and turn the wheel. The intention is sent up the spiral staircase in a digitized cosmic array of other visitors' intentions, all of which are depicted in the Collected Intentions experience on the fifth floor, an additional feature of this exhibition. This dazzling experience was created by both Potion and Ben Rubin.
Work from artists like Monika Bravo, Alexandra Dementieva, and Youdhistir Maharjan are also on view in this exhibition. Historical art and artifacts, including an antique silver prayer wheel embedded with rubies and turquoise, are displayed alongside the contemporary art works. Among the historical pieces is a 14th-15th century painting of Avalokiteshvara, a figure with 11 heads and a thousand arms. According to tradition, he used this bodily form to demonstrate compassion to many people at once.
To set an intention is a form of exercising power: it is stating a desire for change in the self and in the world. A powerful intention can translate to powerful action, whether offered as a prayer or stated as a personal affirmation. For Buddhists, intentions become prayers offered while turning a prayer wheel, the central thematic object of The Power of Intention.
The prayer wheel is a rotating cylinder containing a papers inscribed with ancient prayers. A prayer wheel can be handheld or the size of a building and functioning as a water wheel. The prayers contained inside the wheel are activated when someone turns the wheel; no need to speak the mantras aloud. Buddhists in Tibet and Nepal commonly turn prayer wheels during religious activities.
The Power of Intention is organized into six sections, each a guiding principle of the prayer wheel: intention, commitment, repetition, engagement, accumulation, and belief. These principles and the works contained in each respective section show the power of dedication and habit, especially when we apply these concepts to acts of kindness and connection-building. The Rubin's yearlong theme, "Power: Within and Between Us," invites us to consider the power of good intentions and how they can change the world.
The Power of Intention is on view until October 14, 2019. It was curated by Elena Pakhoutova, Curator of Himalayan Art at the Rubin. The Rubin Museum is located at 150 W 17th Street. Call 212-620-5000 or visit rubinmuseum.org for more details.
---
Want free advice on what to do and see in New York? Join our Facebook group Everything to Do NYC, a place for people to ask questions and get tips on how to make the most of the city.
Looking for Free Group Planning Services?
Get free advice on planning your group's trip to New York.
RESTAURANTS

Beloved midtown spot takes inspiration from local tradition,...

THEATER

Kander and Ebb's "musical vaudeville" in which Roxie Hart ga...

SHOPPING

A premier destination for family entertainment....

SIGHTSEEING

Hop aboard these environmentally friendly twin-hulled catama...