Mean Girls, Tina Fey's über-popular musical based on her 2004 cult movie, thrives on the themes of fitting in, girl power, and competition—all cooked up in the familiar high school petri dish of cliques and one-upmanship.
Ten seconds in, expect the flashbacks to begin as semi-Goth art freak Janis and congenially flamboyant Damian welcome us as Freshmen and begin their overtly cautionary tale of Cady Heron, from her homeschooled world in Kenya ("lions and birds and stuff") to her arrival at way-more-feral North Shore High School in Chicago, home to jocks, freaks, geeks, strivers, stoners, and the hot girl trio known as the Plastics.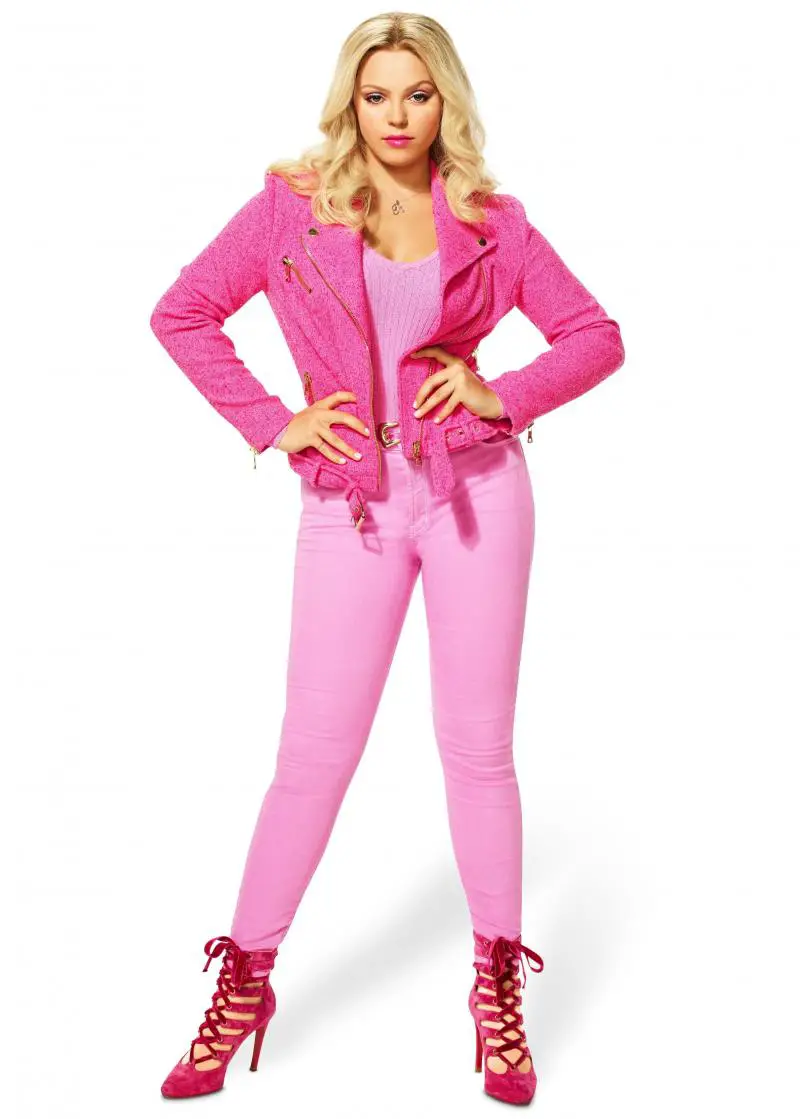 Reneé Rapp shines as apex predator Regina George. Photo by Mary Ellen Matthews.


Reneé Rapp, the youngest and most recent addition to the cast, has the challenging task of embodying the bossy, predatory leader of the Plastics, Regina George. Her posse is made up of adorable Kate Rockwell as dumb-as-a-rock Karen and Krystina Alabado as neurotic wannabe Gretchen. And while Regina is a blonde bombshell puppet master who dominates her adoring followers, Rapp's ambition is far more positive than that of her stage persona.
"My mom and dad always said 'you need to show who you are to become what you want to be.' I call this manifestation, putting it into the universe so it becomes a reality," she says, drawing a parallel to Regina's mantra (sort of): "Never apologize for being a boss. Becoming the boss of yourself and being your authentic self will help achieve your dreams."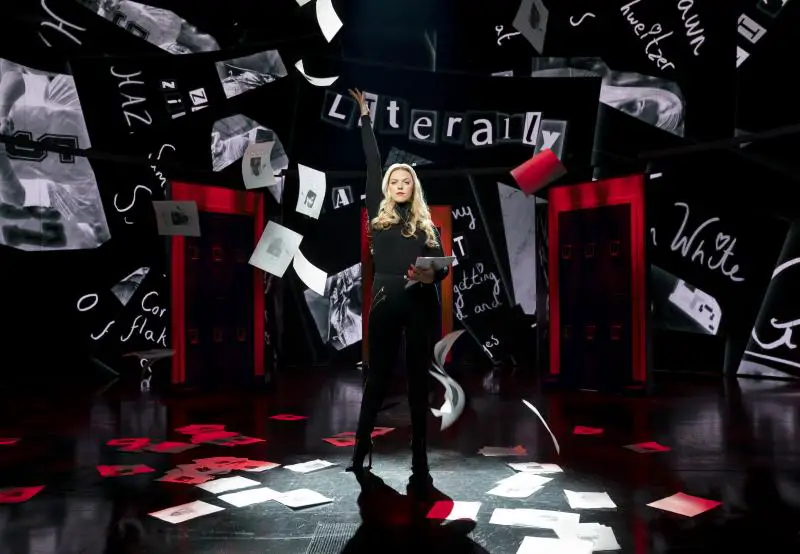 Photo by Joan Marcus.
As it happens, Rapp came straight to Broadway from an environment where competition was paramount. She recalls the Northwest School of the Arts in Charlotte, NC, where "the teachers, the students, the parents, they all competed." It was the assemblage of talent there that pushed her to compete, and ultimately win, a Jimmy Award (the national competition for musical high school students), which led her to the role of Regina.
"I was sitting with Tina Fey and Lorne Michaels some time after my Mean Girls audition, and they just offered me the role," she recalls.
Rapp went on to work closely with Fey to develop her own version of Regina while remaining true to both the movie and stage character. "Everyone has experienced some bullying or has bullied someone during their lives. This has helped me portray a person who I'm not at all like when I leave the stage," she says.
Still, the undercurrent of competition is a constant. "I'm part of a team that's competitive, but in a good way. We're driven to produce the best play every night, and I learn from everyone around me. My professors are the audience and my fellow actors," observes Rapp.
And, of course, competition is integral to Mean Girls, popping up in plot twists like Cady and Regina vying for the hot guy, a tense Mathlete faceoff, and the choosing of Spring Fling King and Queen crowns. It flows naturally thanks to Fey's savvy book, Nell Benjamin's biting lyrics, and music by Fey's Tony-nominated husband, Jeff Richmond.
Photo by Joan Marcus.
While Mean Girls makes a big deal of "fat shaming" and the perils of not fitting into some sort of box, Rapp hears grateful comments from show goers who are happy she doesn't conform to the "hot girl" stereotype. More curvy than her Regina predecessors, she finds it abhorrent that past equations of thin as popular, or thin as beautiful, have created today's obsession with changing to please others. "Acceptance is the key to body positivity," she states, "and I'm happy to share that message."
As for the show itself, the North Carolina native never fails to appreciate all that goes into keeping the production fresh and upbeat, from the moving projections that function as set changes to the brilliant ensemble that morphs into a flawless stream of students, parents, and teachers—aided and abetted by the effervescent choreography of director Casey Nicholaw.
"If you want to see some of the best dance on Broadway, you should come to Mean Girls," says Rapp. "The show isn't just about the Plastics and the music. You need to see the dancers, too."