More than a million people every year make their way to the historic streets of Little Italy to experience the Feast of San Gennaro, NYC's largest and longest-running Italian festival. Now celebrating its 96th anniversary, religious processions, parades, live music, and authentic Italian eats highlight the festivities. The 2022 Feast of San Gennaro starts on Thursday, September 15th and runs through Sunday, September 25th.
© Stu99 | Dreamstime.com - Little Italy Photo


San Gennaro legends like deep-fried Oreos, sausage 'n' peppers, and zeppole (a beloved Italian pastry) are all available, along with new favorites from the neighborhood's latest generation of cafes and restaurants. There's even a cannoli eating contest: on Friday, September 16th, Ferrara Bakery and Cafe will sponsor the 26th Annual Cannoli Eating Competition.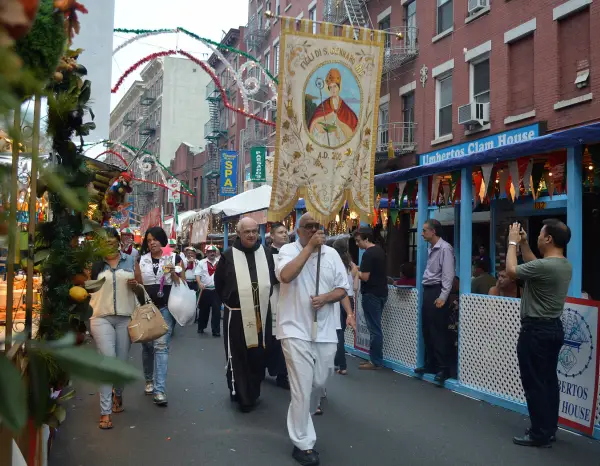 Star attractions include the Blessing of the Stands on Thursday, September 15th at 6pm. A parish priest parades through the Feast blessing the shops, restaurants, vendors, and merchants.
Saturday, September 17th at 2pm sees the Grand Procession, led by former astronaut Michael Massimino. Following the Grand Procession, at 4pm Massimino will be on the Feast Stage at Grand and Mott Streets for a Question and Answer session and will sign autographs. At 7pm Mike Sergio will sing Sinatra standards.
The 19th Annual Enrico Caruso Opera Night will be held Tuesday, September 20th at 7pm. On Saturday, September 24th at 2pm there will be a vocal tribute to our Armed Forces. That evening, there will also be a live radio broadcast on WCBS FM hosted by Joe Causi. On Sunday there will be vocal tributes to Frank Sinatra, various Italian dance groups, and finally a performance by Jenna Esposito starting at 6pm.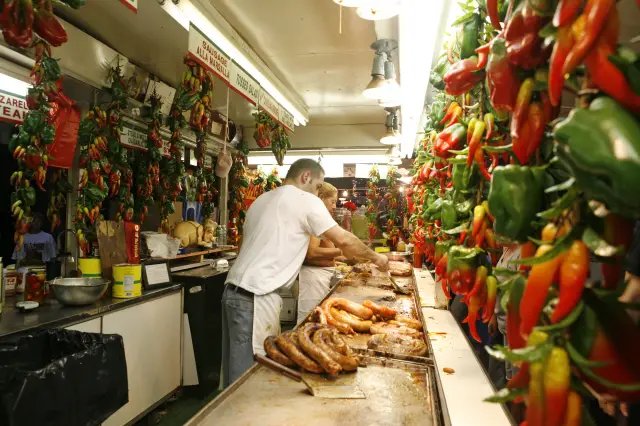 Wednesday, September 21st is the 3rd Annual Zeppole Eating Competition sponsored by Danny on the Corner. The 2nd Annual Pizza Eating Competition takes place on Friday, September 23rd at 2pm, sponsored by local Italian favorite Rubirosa. The 5th Annual Meatball Eating Competition sponsored by Alleva Dairy in memory of John "Cha Cha" Ciarcia, the unofficial mayor of Little Italy, is slated for Sunday, September 25th at 1pm.
Figli di San Gennaro (Children of San Gennaro), a community organization, now runs the Feast, keeping alive the original spirit of September 19, 1926, when new immigrants from Naples celebrated their city's patron saint, Saint Januarius, and the day in 305 A.D. when he was martyred. On the saint's feast day, Monday, September 19th, a celebratory mass is held in the Shrine Church of the Most Precious Blood at 6pm, followed by a religious procession with the San Gennaro statue through the streets of Little Italy.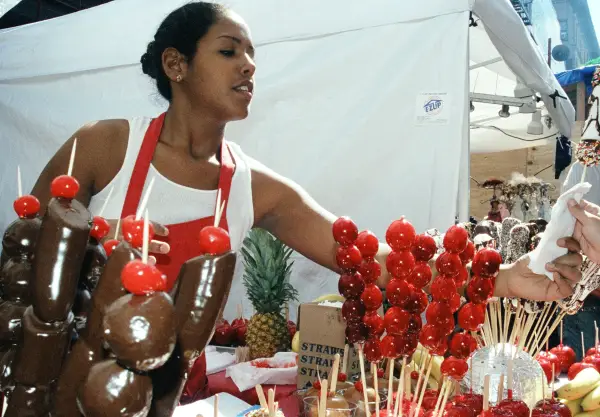 Image: Lisa Chamberlain/Flickr
The Feast of San Gennaro runs daily 11:30am-11pm, extended to midnight on Fridays and Saturdays. There is free music (most nights 7-9:30pm) and free music and/or food talks (every afternoon 2-5pm) on the Festival Stage at the corner of Grand and Mott Streets. The festival takes place on and around Mulberry Street between Canal and Houston Streets in Little Italy. The Feast brings the world to Little Italy and Little Italy to the world. sangennaronyc.org