Celebrate the 91st Feast of San Gennaro in Little Italy
August 16, 2017 - by City Guide News Desk
More than a million people every year make their way to the historic streets of Little Italy to experience the Feast of San Gennaro, NYC's largest and longest-running street fair. Now celebrating its 91st anniversary, the San Gennaro has expanded from a one-day festival to a gala 11-day event. Religious processions, parades, live music, and authentic Italian eats highlight the festivities. The 2017 edition of the San Gennaro will run from Thursday, September 14th through Sunday, September 24th. Look for Tony Danza, who will be hosting the second annual meatball-eating contest, and Chazz Palminteri, who will be serving as the Grand Marshall.
© Stu99 | Dreamstime.com - Little Italy Photo
San Gennaro legends like deep-fried Oreos, sausage 'n' peppers, and zeppole (a beloved Italian pastry) are all available, along with new favorites from the neighborhood's latest generation of cafes and restaurants. There's even a cannoli-eating competition. (Speaking of cannoli, you do not want to miss neighborhood legend Caffé Palermo on Mulberry Street, which serves some of the best desserts in the city. On top of cannoli, they have fantastic cheesecakes, tiramisu, and coffee as only Italians can do it—just ask fans like Danny DeVito, Ray Romano, and Ryan Seacrest.)
The original Feast took place on September 19, 1926, when new immigrants from Naples celebrated their city's patron saint (Saint Januarius) and the day in 305 A.D. when he was martyred. Figli di San Gennaro (Children of San Gennaro), a not-for-profit community organization, now runs the Feast, dedicated to keeping the spirit of the early Italian immigrants alive. The central focus of the celebration is September 19th, San Gennaro's feast day, when a celebratory mass is held in the Shrine Church of the Most Precious Blood on Mulberry Street, followed by a procession of San Gennaro's statue from from its home in the church through the streets of Little Italy. In the words of Joseph Mattone, President of Figli di San Gennaro, Inc., "The Feast brings the world to Little Italy and Little Italy to the world."
San Gennaro 2017 Special Events

Saturday, September 16th
LIVE RADIO BROADCAST on WCBS FM
Hosted by JOE CAUSI 7-10 PM

Saturday, September 23rd
LIVE RADIO BROADCAST
on Sirius Satellite Radio
Hosted by COUSIN BRUCIE 7-10 PM

Saturday, September 23rd at 1 PM
2nd Annual Meatball Eating Contest
Hosted by TONY DANZA in memory of JOHNNY 'CHA CHA,' the unofficial mayor of Little Italy. Stage at Grand and Mott Streets. To sign up, call 212-764-6330.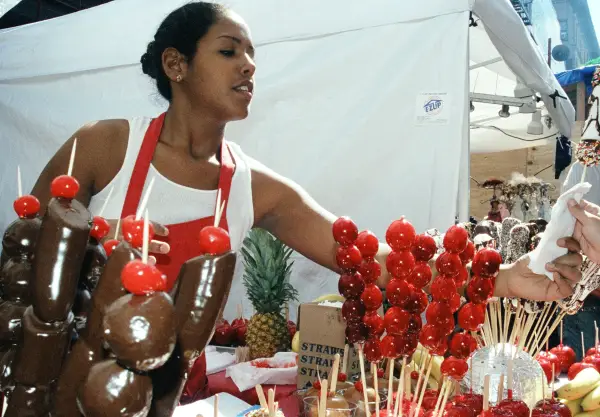 Image: Lisa Chamberlain/Flickr
San Gennaro Special Attractions
Thursday, September 14th at 6 PM
Blessing of the Stands
Friday September 15th at 2 PM
Annual Cannoli Eating Competition
Stage at Grand and Mott Streets
To sign up, call 212-764-6330
Saturday, September 16th at 2 PM
THE GRAND PROCESSION with CHAZZ PALMINTERI as the Grand Marshal
Floats • Celebrities • Gondola • Cathedral H.S. All Girls Marching Band • The Giglio Band
Red Mike Festival Band • Xavier Marching Band • and the STATUE OF SAN GENNARO
Tuesday, September 19th at 6 PM
Solemn High Mass Celebrating the Patron Saint of Naples
Shrine Church of the Most Precious Blood (113 Baxter Street)
Religious Procession with the Statue of San Gennaro

Saturday, September 23th 2 PM
On stage at Grand and Mott
100TH BIRTHDAY TRIBUTE TO DEAN MARTIN
Celebrities, Trivia Quiz, Birthday Cake, Vocal Competition
To sign up, call 212-764-6330

Sunday, September 24th 11:30AM - 6:30PM
The Annual Feast of San Gennaro Blood Drive with the Red Cross
at 268 Mulberry Street (between Prince & Houston)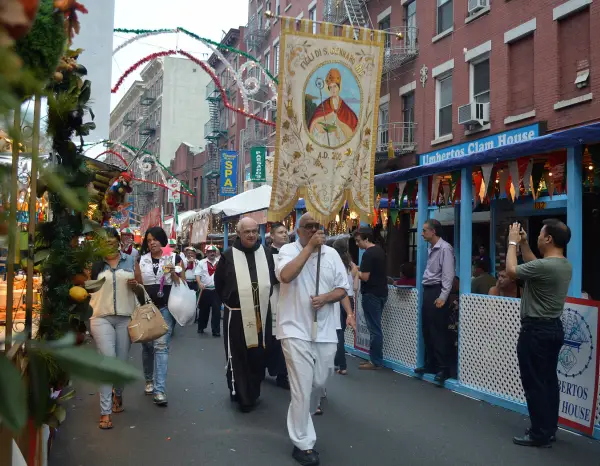 The San Gennaro opens daily at 11:30am and closes at 11pm except Fridays and Saturdays, when it's extended to midnight. There is free music most every night (usually from 7:30 to 9:30pm), and free music and/or food demonstrations and lectures most every afternoon between 2 and 5pm on the Festival Stage at the corner of Grand and Mott Streets.
San Gennaro 2017 Performance Schedule
Thursday, September 14
JOHNNY MANDOLIN 5-7 PM
FREE PASS 7:30 PM
Friday, September 15
VITO AND THE ELEGANTS
Sunday, September 17
GIANNI RUSSO
Monday, September 18
OPERA NIGHT 7 PM
Tuesday, September 19
NEOPOLITAN NIGHT 6 PM
Wednesday, September 20
THE DEVOTIONS
Thursday, September 21
LALA BROOKS AND THE CRYSTALS
Friday, September 22
MANHATTAN SKYLINE
Sunday, September 24
JENNA ESPOSITO 6 PM
The San Gennaro can be found on and around Mulberry St. in Little Italy, sangennaro.org.
Looking for Free Group Planning Services?
Get free advice on planning your group's trip to New York.
RESTAURANTS

The handsome, 12,000 square foot Times Square location offer...

THEATER

The story of cosmetics titans and fierce competitors Helena ...

SHOPPING

Shop or sell at this weekend bargain hunters' paradise....

SIGHTSEEING

CitySights' hop-on, hop-off bus tours are operated on a flee...