The renowned NYC confectionery and eclectic gift shop — a favorite of Warhol, Monroe, Jackie O, and others — prepares to celebrate its 60th anniversary.
---
Having a penchant for sweets such as the Lemon Icebox Pie, once-aspiring artist Andy Warhol would frequent Serendipity 3 in its early years, paying for food with drawings. Marilyn Monroe loved the Milton's Lovely Fudge Pie. Former First Lady Jacqueline Kennedy Onassis would often bring her children, John and Caroline, and sip on Frrrozen Hot Chocolates. The renowned NYC confectionery and eclectic gift shop — with a history as rich as its desserts — now prepares to celebrate its 60th anniversary.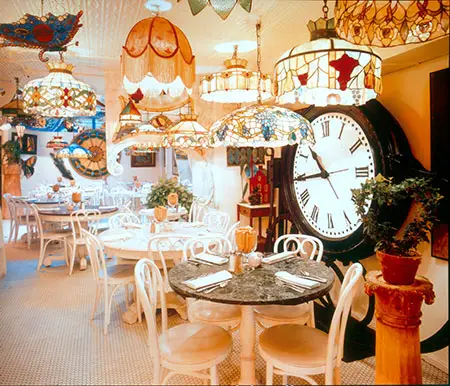 UPDATE: On behalf of NYC Mayor Bill de Blasio, Chris Heywood, SVP of Global Communications with NYC & Company, will bestow Serendipity's owner/founder, Stephen Bruce, with a Mayoral Proclamation declaring the anniversary, September 14, Serendipity 3 Day!
The Mayoral Proclamation reads:


Our city is full of rich culinary surprises, no matter where you live, work or relax, all New Yorkers have experienced the pleasure of "Making Happy Discoveries" when it comes to food.  Today I'm delighted to join Serendipity 3 as the restaurant celebrates 60 years of helping residents and visitors find "the unexpectedly pleasant" within its antique-adorned dining rooms.
Six decades after Stephen Bruce opened New York's first coffee house boutique, Serendipity has earned a reputation for delicious fare, whimsical décor and a memorably sweet experience.  Patrons – the most loyal whom once included artist Andy Warhol – indulge on items like foot-long hotdogs and, of course, the signature Frrrozen Hot Chocolate while taking in the 19th century-inspired design and fascinating items for sale in the shop.
We're grateful to everyone associated with Serendipity 3 for continuing to bring the delectable, the decadent, and the eclectic together in one iconic New York City gastronomic institution.  On behalf of the City of New York, I offer my best wishes for an enjoyable Diamond Anniversary celebration and many more years of success.
Now therefore, I, Bill de Blasio, Mayor of the City of New York, do hereby proclaim Monday, September 15th, 2014 in the city of New York as: "Serendipity 3 Day"
Serendipity 3 was founded by friends Calvin Holt and Patch Caradine, both from Little Rock, Arkansas and Stephen Bruce, from New Jersey. The three men, who met in New York City while taking acting/dancing classes, soon decided they needed a job to subsidize their dreams of fame and fortune. Pooling their resources, they opened a basement coffee shop on September 15, 1954 on East 58th for a modest $300, before moving to their well established, three story, 165-seat location at 235 E. 60th Street a short time later.
One day Caradine, while doing the London Times crossword puzzle, came across the word serendipity. Coined by Horace Walpole and based on a Persian tale of three princes of Serendip (Sri Lanka), Caradine instantly connected with its meaning: "the art of finding the pleasantly unexpected by chance or sagacity," explains Bruce. "We had found the perfect name. We added a 3 at the end to represent the three of us, the founding princes."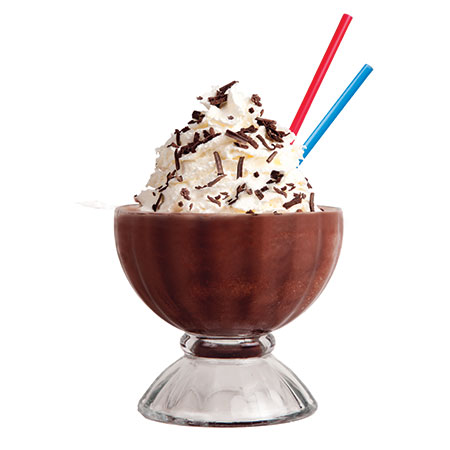 Serendipity 3 has a universal appeal with persons of all ages, and from all walks of life-locals, tourists, celebrities, even presidents. Innovative, tasty desserts, beautifully presented with a touch of whimsy, have made it a New York City treasure for 60 years, and will be for generations to come.
---
"I came to New York 57 years ago and I didn't know what serendipity meant. I sure as hell do now." - Elaine Stritch
---
Serendipity 3 served as a pivotal location in the 2001 film of the same name. In the film, Sara Thomas (Kate Beckinsale) and Jonathan Trager (John Cusack) meet by chance at Bloomingdale's, and then dine together — a strong romantic connection ensues. Written by screenwriter Marc Klein, Klein reached out to the owners for permission to use the restaurant, admitting that he'd often brought dates there. The restaurant has also figured prominently in other films including One Fine Day and Trust the Man.
---
"In 1976, I stopped in New York City on my way home from England, where I had just finished shooting Star Wars. The shoot had been difficult and I was a bit depressed. Brian DePalma and Steven Spielberg were in New York, so we decided to get together and go to Serendipity. I ordered not one Frrrozen Hot Chocolate, but two. My mood improved immeasurably." - George Lucas
---
Over the years, Serendipity 3 continued to step up the decadent variety of its menu, putting its own unique spin on frozen drinks, such as Frrrozen Espresso, Pink Ice and Oreo Express. One particular treat that is known the world over is their Golden Opulence Sundae, first introduced in 2004, honoring Serendipity 3's 50th anniversary. With ingredients including Tahitian vanilla bean ice cream, topped with a gilded sugar flower and served in a Baccarat Harcourt Crystal goblet (which you get to keep after), served with an 18-carat spoon, the dessert was listed in the Guinness Book of World Records as the most expensive ($1,000.)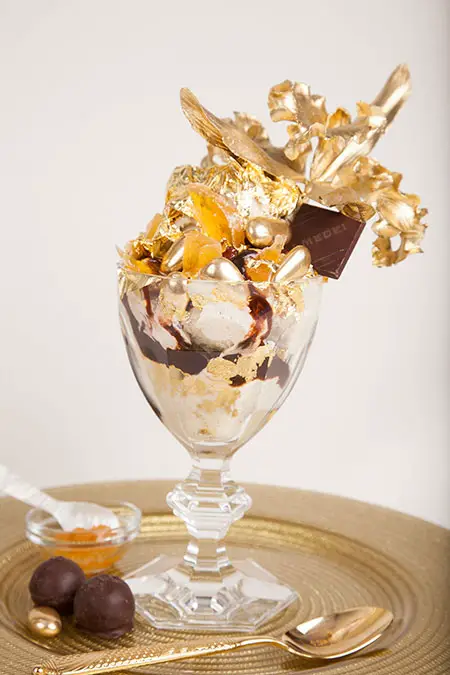 ---
"Serendipity is where you go to feel like a kid again." - Alec Baldwin
---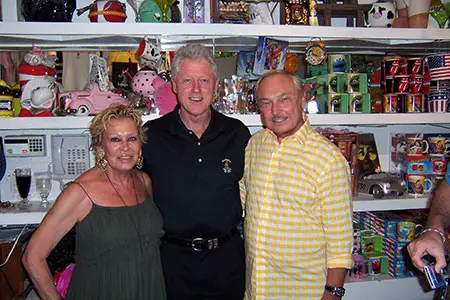 Bill Clinton with Serendipity 3's Stephen Bruce
Preparations are underway for Serendipity 3's 60th anniversary. First, their bestselling cookbook, Sweet Serendipity: Delightful Desserts & Devilish Dish, written by Stephen Bruce with Brett Bara (which includes recipes and celeb quotes), is going into its 15th reprint, with a new foreword written by Joan and Melissa Rivers. There will be a mayoral proclamation. Serendipity 3 is also working with designer Anna Sui to create a special t-shirt, along with signmyshirt.com, with personal messages written by celebrities. Proceeds from the sale of this shirt will go to the Bowery Mission, to help the homeless.

Andy Warhol at Serendipity 3